This post may contains affiliate links for your convenience. If you make a purchase after clicking a link we may earn a small commission but it won't cost you a penny more! Read our full disclosure policy here.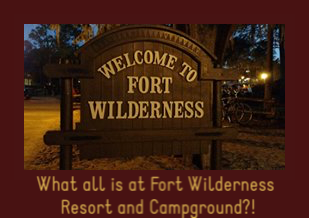 It's not the "wildest ride in the wilderness," but it's still wild, and it's still wilderness! Disney's Fort Wilderness Resort and Campground is Walt Disney World's largest resort with 750 acres of forest housing campsites and cabins for guests to stay in. Going to Walt Disney World growing up, this was the resort my family and I primarily stayed in due to our love of RVing. But why would staying at a campground perhaps be an option on a Disney Vacation? Let me tell ya!
Site Options
You have many options for what kind of site you may like to stay at. These sites differ on amenities, and the price goes up with more room and accomodations. The different camping sites are as follows:
Tent or Pop-Up Campsite: a 10 by 25 concrete pad is provided with enough room for 2 tents, a pop-up camper
Full Hook-Up Campsite: a 10 by 50 concrete pad providing room for an RV plus a tent; sewage hookup
Preferred Campsite: a 10 by 45 concrete pad providing for an RV plus a tent; sewage hookup; close to the marina
Premium Campsite: a 18 by 60 concrete pad that accommodates a larger RV; sewage hookup;

 

Cabin: One Queen bed, one bunk bed, one double-size sleeper sofa; kitchen;

 full bathroom
Whichever site you may choose, they all have their advantages. Now, obviously, unless you stay in one of the cabins, the campground and resort require you to bring your own sort of amenities, such as a tent, or RV along with anything you might usually use in a room at any of the other resorts. If you are avid campers and travelers, however, this is no problem. Even if you are not avid campers and travelers, it is a different and fun way to travel, especially to Walt Disney World! You can use your own space in which you have brought your own belongings.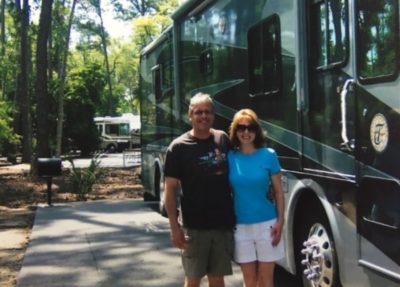 Recreation
There is so much to do at Fort Wilderness, themed with a "woodland" style. When looking at these extra activities, keep in mind some of them may require additional fees. The resort has a wonderful swimming pool with a slide at Meadow Swimming Pool, along with trail rides on horseback at Tri Circle D Ranch!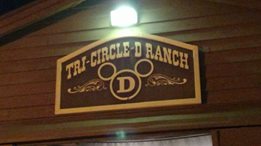 For rainy days, there are small arcades at Meadow Swimming Pool and Pioneer Hall, along with various general stores with Disney merchandise and grocery items available for purchase throughout the resort. Be sure to pick up a times guide for all the scheduled activities that go on in the resort, such as movie screenings, Chip 'n Dale's Campfire Sing-A-Long, horse drawn wagon rides, and the Fort Wilderness Archery Experience!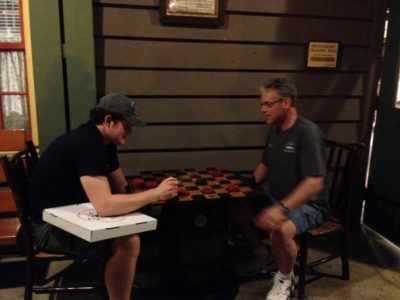 Dining
Fort Wilderness provides dining options all across the spectrum, from simple take out to dining with a show. The Hoop-de-do-Musical Review provides an all you can eat smorgasbord while enjoying a Vaudeville sing-a-long of skits of comedy and dancing! Trail's End Restaurant is one of my favorite restaurants due to serving old-fashioned, home-cooked comfort food with delicious desserts.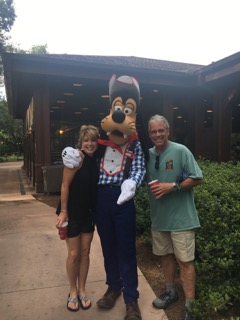 And for a quick bite, there's the Meadow Snack Bar, P&J's Southern Takeout next to Trail's End, and Chick Wagon Fresh Fixin's Food Truck, which looks like an old RV, complete with old school Walt Disney World stickers. An RV food truck with Disney stickers? Count me in!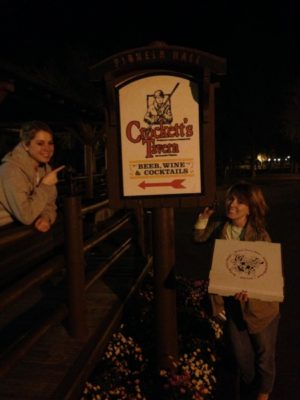 Transportation
If you feel staying at a campsite will be too far from the bus stop, there is no need to worry because Disney has it covered. Bus stops are located at each loop to take vacationers to wherever they need to go. Whether you need to get to the marina to hop on a boat to Magic Kingdom, or head to the Outpost to grab a bus to EPCOT, your destination is not far away at all. Disney's bus transportation is available for traveling to the parks, of course. Also, the marina provides boat transportation on Seven Seas Lagoon to Magic Kingdom, Disney's Contemporary Resort, and Disney's Fort Wilderness Resort. 
Fort Wilderness is a fun and very unique resort option for you Walt Disney World Vacation! What do you love about Fort Wilderness? Let us know in the comments below or on Facebook or Twitter!
Did you like this article? Make sure to share it with your friends! Check below for easy ways to share!
Want to visit the Walt Disney World Resort? Contact The Magic for Less Travel for more information and a free, no-obligation quote.