This post may contains affiliate links for your convenience. If you make a purchase after clicking a link we may earn a small commission but it won't cost you a penny more! Read our full disclosure policy here.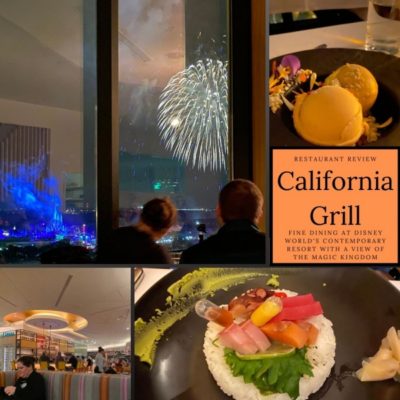 Editor's Note: This article was written prior to the parks closing due to COVID-19.
Disney is magical. Disney's California Grill turned the frustration of being delayed an hour on the monorail into an extra special magical evening. California Grill turns out to be the perfect place for a fantastic meal and to view the Happily Ever After nighttime spectacular.
Disney's California Grill is THE place for romance
Disney's California Grill is one of the most romantic locations at Disney World. The romance is especially evident during dining times when the fireworks fly. Couples to the right and the left us wrote out love notes with sparkly letter confetti. One table emptied and a new batch of confetti came out for the next couple. Our table had no confetti. This was a father and son trip.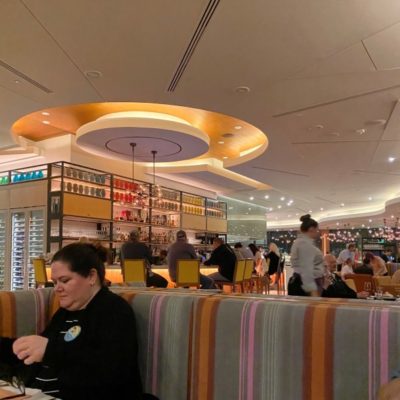 Your California Grill experience begins at the second floor check in. After you check in the staff calls you to the elevator where an elevator operator whisks you up to the rooftop, fifteenth floor restaurant. There the hostess greets you. Since we were an hour late we were brought to our table immediately.
The romantic lighting is indirect and imbedded in the ceiling. Glittering star lights add sparkle. Supporting beams are not found here. The clean lines give you unfettered access to the star of the décor; floor to ceiling windows overlooking the Magic Kingdom. I've eaten here before, so I gave Stu the seat with the best view.
Disney's California Grill has the best sushi in the World
Very few restaurants can beat the complexity, variety of flavors and food presentation than Disney's California Grill. California cuisine is the culinary theme. This emphasizes freshness, pacific rim influences with western meats. There is a large selection of sushi along with the other appetizers like salads, soups, cheeses, charcuterie, mussels, ravioli and short rib wontons. There are even three flatbread pizzas to choose from.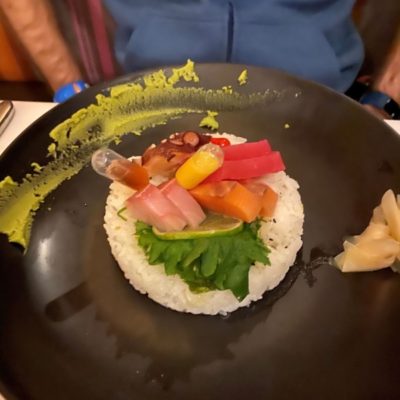 We both went started with sushi. Stu had the Sashimi; four different fishes served with Citrus Ponzu (a tart citrus flavored sauce) and Furikake Rice (rice with spices and seaweed sprinkled on top). Also on the plate was a smear of wasabi and sweet seaweed. Stu loved the dish. I enjoyed watching Stu eat rice fish and seaweed with chop sticks.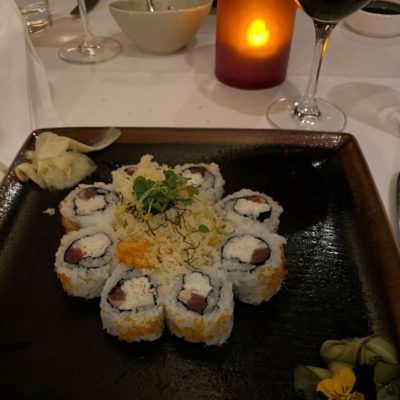 I had the Spicy Kazan Roll. A Kazan roll is how American's traditionally view sushi; fish surrounded by rice and then seaweed served in small pieces. There was a generous eight pieces that surrounded the fireball sauce. Atop the sauce was this delightful, light crunchy goodness we never identified. If you know what it is, leave a comment.
You cant go wrong with a California Grill Entrée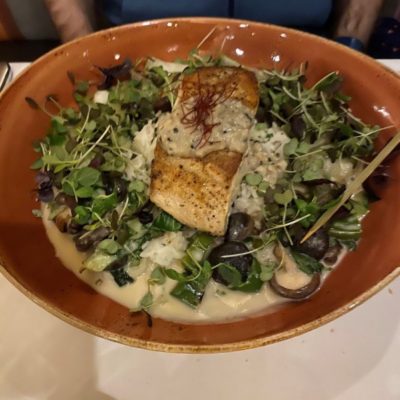 The entrées were even better. Stu devoured the Black Grouper. It was served with herbed Basmati Rice, Cashew Chutney, Bok Choy, Baby Shiitake, and Kaffir Lime-Coconut Nage (a seafood broth flavored with lime and coconut). Of all the dishes this one disappointed in it's presentation as it seemed to be a bit of a mess. That didn't stop Stu as there was nothing left for me to try.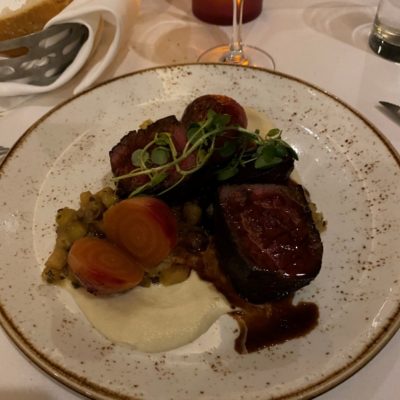 While he ate, I was busy with my Grilled Colorado Bison Loin. Presentation was on a bed of celery root and apple puree with an apple chutney and the largest roasted red and yellow roasted baby beets I've ever seen on the side. The meat was perfectly grilled and the flavor combinations with the accompaniments highlighted the flavor exquisitely.
We finished with two spectaculars; Fireworks and dessert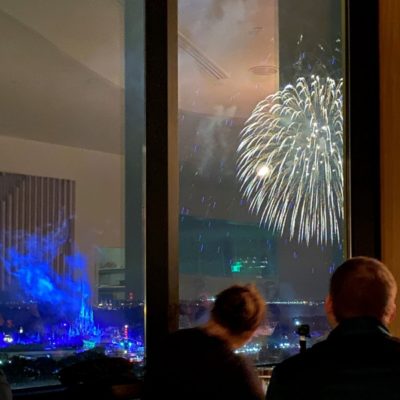 The lights dimmed and the sound system piped in the Magic Kingdom soundtrack prior to the start of Happily Ever After.   I moved onto the bench next to Stu to enjoy the view. Guests at Disney's California Grill have the perfect seats to enjoy the nighttime spectacular.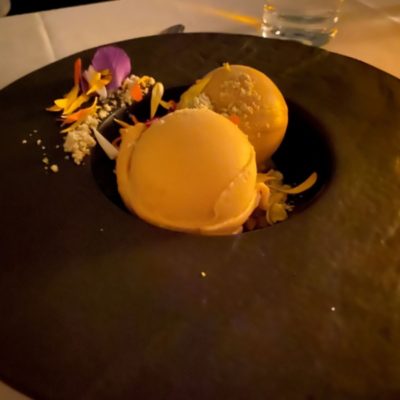 Shortly after Happily Ever After began our server quietly slipped our desserts in front of us. Now came the hard part. Do we pay attention to dessert or to the fireworks? Somehow, we managed to do both. Stu was happy to enjoy the dairy free apricot sorbet with a black tea infused apricot compote and pistachio powder. I had the strawberry crème brûlée with a cornflake crunch, coconut cake and sponge cake.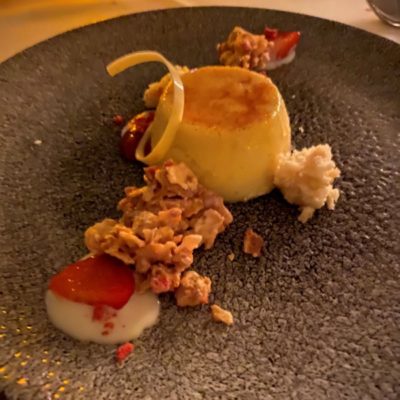 It is incredible to see fireworks explode at eye level during desert. Colorful blasts illuminate the darkened restaurant. It's not unusual to hear oohs and aahs (it may have been over the food). You have to restrain yourself from occupying the window with your camera phone (I've seen it done). Only a fireworks show outside your window could stop you from paying more attention to these beautiful and delightful desserts.
Truth be known, a California Grill dinner viewing of the nighttime spectacular was part of our original Disney plans. The late addition of Disney After Hours tickets caused us to move our reservation forward an hour to 6 PM. Only Disney magic caused us to be an hour late and to be there during Happily Ever After. Thanks Disney!
Have you dined at the California Grill? What were your thoughts? Share yours in the comments or on Facebook or Twitter!
Did you like this article? Make sure to share it with your friends! Check below for easy ways to share!  
Want to visit a Disney Destination? Contact The Magic for Less Travel for more information and a free, no-obligation quote.

Incoming search terms:
https://www themouseforless com/blog_world/disneys-california-grill-review/
beat meals california grill
disney california grill