This post may contains affiliate links for your convenience. If you make a purchase after clicking a link we may earn a small commission but it won't cost you a penny more! Read our full disclosure policy here.
The Earl of Sandwich in Downtown Disney
A Disneyland vacation can be an expensive affair. Transportation, lodging, park admission, souvenirs and dining can add up to a hefty price tag. However, in every one of those categories, there are ways to save money.
Sometimes you will want to splurge on a really exciting and special meal. But other times, you want good food for a decent price that will keep you energized for your park going adventures.
Here are some tasty, filling meals to be found throughout the Disneyland Resort for under $20.
THE JOLLY HOLIDAY BAKERY CAFÉ

The Jolly Holiday Bakery Cafe is an adorable little spot is located on Main Street, U.S.A., near the entrance to Adventureland. It is themed to Mary Poppins, and has outdoor seating under umbrellas. Whether you stop here for lunch of dinner, you can find tasty sandwiches and salads for well under $20. In fact, you could grab one, plus a Matterhorn Macaroon and a drink and still be below that price point.
This past September I grabbed the Mediterranean Chicken Salad, which is pictured above. It featured grilled chicken, mixed greens, olives, roasted red bell peppers, and feta cheese, served with a cheesy breadstick. The salads here are seasonal, and a quick glance at the current menu shows a Grilled Chicken and Apple-Pecan Salad instead, for $9.99.
THE EARL OF SANDWICH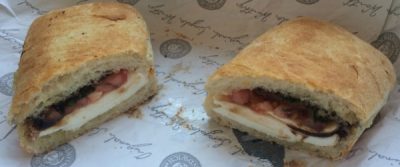 If you happen to be in Tomorrowland and don't find any of the restaurants around you appealing (or if they're packed, which happens often at peak lunch times) consider hopping on the monorail to Downtown Disney. (Make sure to get your hand stamped for re-entry!)
A short walk away from the monorail station is The Earl of Sandwich, which features tasty sandwiches and salads under $20. On a hot June day I ordered the Caprese Sandwich, pictured above. It featured whole wheat bread, tomatoes, mozzarella cheese, balsamic vinegar and basil. At $6.99, this was a serious bargain, and I was able to add a serving of grapes and ice water and still make it well under the $20 mark.
REDD ROCKETT'S PIZZA PORT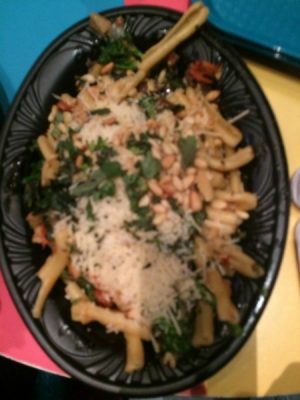 As you can expect from the name, Redd Rockett's Pizza Port is a quick service location, in the heart of Tomorrowland, serves pizza. The slices are quite large and are priced at $7.99 a slice. A hungry family can also buy an entire pie for $39.99.
What surprised me, however, was the number of tasty salads and pastas available, each one for under $20. On a cold January day, I wanted something warm, so I opted for the Forest of Endor Pasta for $11.99, pictured above. It featured pasta tossed with cremini mushrooms, loads of veggies, chili flakes and grated Romano cheese. It was a good sized portion and really hit the spot. These pastas are tossed to order, so if there's something you'd like to omit they can do that for you.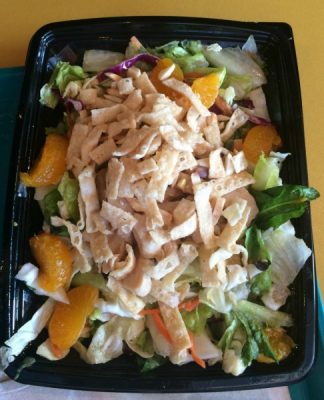 Asian Chicken Salad at Redd Rockett's Pizza Port
On a steamy September day, I opted for something cold: the Asian Chicken Salad, for $9.99. It featured marinated grilled chicken breast, lettuce, mandarin oranges, cabbage and carrots.
THE FRENCH MARKET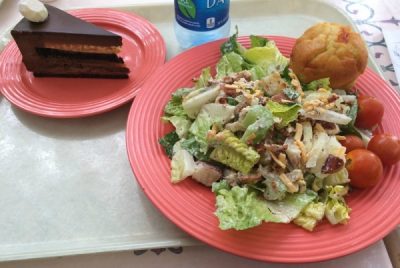 One of my favorite places to eat in Disneyland Park is The French Market, located in New Orleans Square. Sitting outside under shade with a view of the Disneyland Railroad and (if you time your meal right) listening to the Royal Street Bachelors play, you feel like you're getting a table service meal instead of quick service.
Every entrée on the menu is under $20. In January I ordered the New Orleans Salad, for $11.99. It featured Romaine lettuce, roasted potatoes, crispy bacon, cheddar cheese, and hard-cooked egg, although I asked them to leave off the egg. I also got a bottle of water and a slice of cake, and my total was under $20.
THE SMOKEJUMPERS GRILL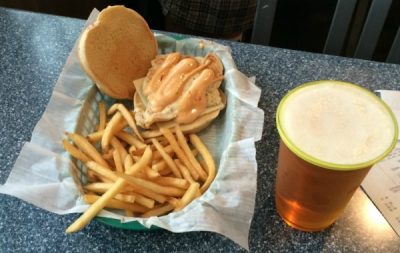 Located right next door to Soarin' in California Adventure, Smokejumper's Grill has both indoor and outdoor seating. My husband ordered the Grilled Chicken & Jack Sandwich for $10.49. It featured a grilled chicken breast with Monterey Jack cheese, Chipotle Aioli and came with either cole slaw or French fries. He also ordered a Karl Strauss beer for $8.50, so this meal came to slightly OVER $20 after tax. However, the sandwich and fries themselves were very filling and well under $20.
So it is possible to eat a filling, tasty lunch or dinner at the Disneyland Resort without breaking the bank!
What is your favorite place to grab a great meal under $20 at Disneyland Resort? Share in the comments.
Did you like this article? Make sure to share it with your friends! Check below for easy ways to share!