This post may contains affiliate links for your convenience. If you make a purchase after clicking a link we may earn a small commission but it won't cost you a penny more! Read our full disclosure policy here.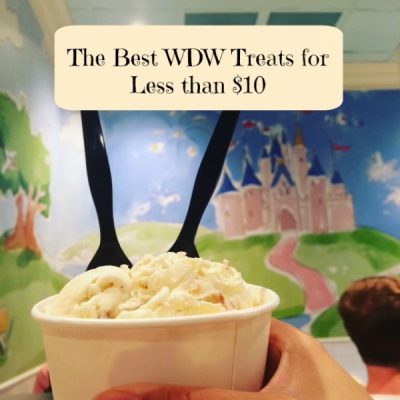 We all know that Walt Disney World vacations can be pricey; between resort stays, park passes, and special splurges, the price tag on a Disney trip can be pretty steep! Finding the occasional great value on a Disney vacation can feel like a victory. In my opinion, you can enjoy quite a few delicious treats that don't break the bank on your Walt Disney World vacation. Some of my very favorite Disney foods and beverages cost less than $10! Here are a few of my favorite bargains!
1. Sleepy Hollow: Fresh Fruit Waffle Sandwich
When I'm in the Magic Kingdom, it's almost mandatory for me to make a stop at
Sleepy Hollow
in Liberty Square. This counter service location serves up sweet and savory waffles that are big enough to split! My personal favorite is the fresh fruit waffle sandwich (a fluffy waffle topped with hazelnut chocolate spread, strawberries, banana, and blueberries), coming in at $7.49. If you're looking for something savory, check out the sausage and cheddar stuffed pretzel for $7.49.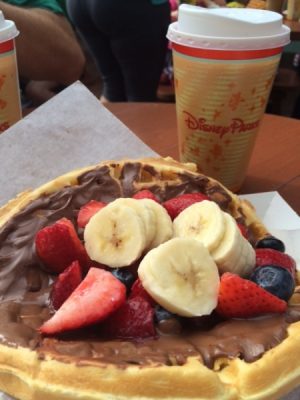 2. Tamu Tamu Refreshments: Chocolate Waffle
Tame Tamu Refreshments, located in Animal Kingdom, is a spot I've walked past a million times, but never stopped for a bite until recently. This counter service spot is located in Africa, and has some of the very best treats in all of Walt Disney World, if you ask me! If you're a chocolate lover, the chocolate waffle is an absolute must. This hot waffle is served up with your choice of chocolate mousse or vanilla ice cream; my pick is always the chocolate mousse, but you really can't go wrong with either option! At only $5.39, this sweet snack is perfect for sharing with a friend. Everything on the Tamu Tamu Refreshments menu costs less than $10, including the pineapple Dole Whip with dark rum, the Mickey ice cream sundae, and the chocolate covered espresso beans!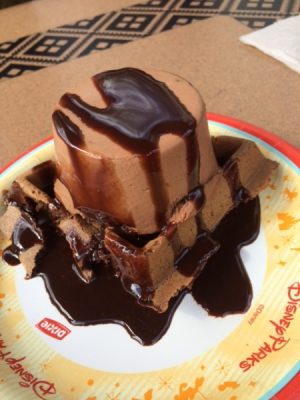 3. Sprinkles: Salty Caramel Cupcake
Living in New York City, I've been a Sprinkles fan for years. Needless to say, when
Sprinkles
opened up at Disney Springs, I was beyond excited! These cupcakes are phenomenal; fluffy cake topped with not-too-sweet frosting. For less than $5, these cupcakes make a perfect dessert. My personal favorite is the salty caramel cupcake; the caramel cream cheese frosting has just a touch of sea salt, which really brings the flavors together. Cupcake milkshakes, sundaes, and cookie sandwiches all come in at less than $10, too!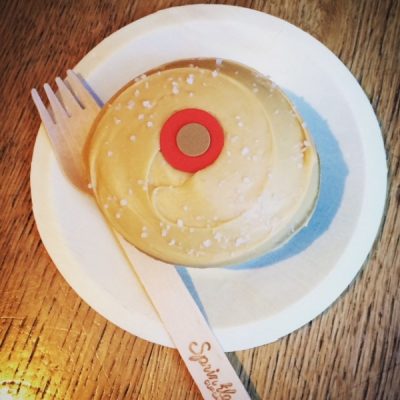 4. Sweet Spells: Carrot Cake Cookie
The carrot cake cookie has been my Hollywood Studios go to treat for years, so it had to make my list! This treat used to be located in the now closed Writers Shop; people loved this cookie so much that it was moved on to Sweet Spells! This cookie is gigantic; similar to a whoopee pie, the carrot cake cookie consists of two huge carrot cake cookies held together with boatloads of creamy cream cheese frosting. I usually split this cookie with a friend, and bring the rest home to eat later; it's that big! For $5.69, this cookie is a steal!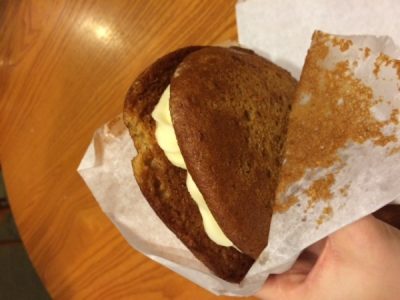 5. Kringla Bakeri Og Kafe: School Bread
Epcot is home to approximately 20 of my favorite treats; if you're looking for something to snack on, the World Showcase has to be one of the best places to look! One of the most popular World Showcase treats is located in the Norway pavilion: the school bread from the
Kringla Bakeri
. This sweet bun is filled with vanilla cream and topped with toasted coconut. For $3.19, this treat is a great value. If coconut isn't your thing, be sure to try the viking chocolate mousse!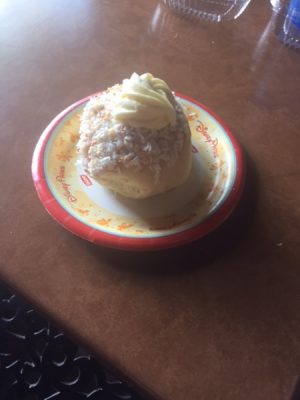 6. Ample Hills Creamery: Ooey Gooey Butter Cake Ice Cream
Anyone that knows me is aware of my obsession with
Ample Hills Creamery
. This Brooklyn-based ice cream shoppe serves up the best ice cream on earth, and they've recently opened a location at the Boardwalk Resort! This ice cream is a bit on the pricey side, but it's high quality ingredients and unique flavors are well worth the price tag! Trust me on this one: get a scoop of the ooey gooey butter cake ice cream. This ice cream is simple, yet perfect: creamy vanilla ice cream loaded with gooey butter cake chunks! A small cup of ice cream will run you $5.79; upgrade to a pretzel cone or a cookie cone for $7.99. This is the best ice cream on property!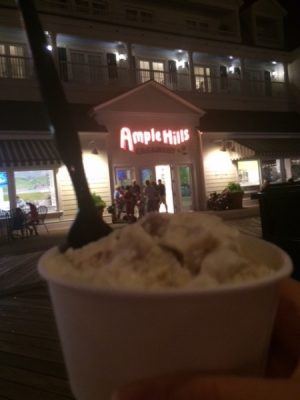 What is your favorite treat to get at Walt Disney World that's less than $10? Share what is is and where it is in the comments.