This post may contains affiliate links for your convenience. If you make a purchase after clicking a link we may earn a small commission but it won't cost you a penny more! Read our full disclosure policy here.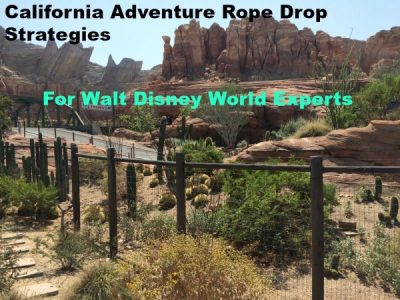 Radiator Springs Racers – not to be missed
In a previous post, I made suggestions for rope drop strategies at Disneyland Park for Walt Disney World veterans. Today, I'd like to share with you my strategies for Disney California Adventure.
Let me make this clear: this is not a strategy for first time Disney park goers. If you'd never been to a Disney park before, I'd probably make different suggestions. But if you've maxed out the score on Toy Story Mania, soared over both California and the World, and dropped on the Tower of Terror so many times that you can recite the spiel, this is for you.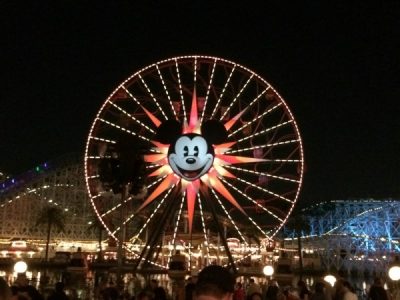 Mickey's Fun Wheel
As soon as that rope drops at Disney California Adventure, you're going to want to make your way to Carsland as soon as possible. (In fact, the rope drop here is actually a gas hose drop.) The first time I visited Carsland, Mater himself escorted the throngs to Carsland. Keep in mind that that cast members will walk the rope back slowly rather than simply drop it to ensure that the crowd moves in an orderly manner.
When you step foot in Carsland, you are going to be tempted to stop and gape, and maybe take a bunch of photos. Resist this urge! You can do that later. Right now, you're going to want to head straight to Radiator Springs Racers. This is an insanely popular ride, but both times I've ridden this right after rope drop, my family and I got OFF the ride 25 minutes after park opening.
If you have small children or simply want to ride every single Disneyland exclusive ride, by all means check out Luigi's Rolickin' Roadsters. This is a very cute ride but in my opinion not really a must do.
However, I highly suggest you ride Mater's Junkyard Jamboree, unless you have problems with spinning rides. Once you are done here, by all means, stop and gape and take photos.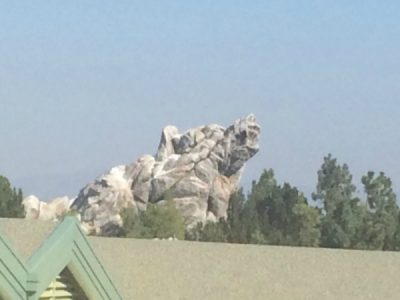 Grizzly Peak, home to the Grizzly River Rapids
Your next stop on the Disney California Adventure tour is to head towards Paradise Pier. There may or may not be long lines for California Screamin'. If there are, by all means grab a FastPass. (Remember, Disneyland still employs the paper Fast Pass system.) But it could be that the crowds are hitting Radiator Springs Racers and Toy Story Midway Mania now, so if the wait is short, hop on.
The same goes for Goofy's Sky School. If there is a short line, get right on. If not, see if you can grab a FastPass. (This will depend on whether or not you grabbed one for California Screamin'.)
You may want to ride Mickey's Fun Wheel. Honestly, I'd check what the posted wait time is, and decide. This is basically a beautiful ferris wheel in which many of the gondolas swing. There are breathtaking views from the top, but it loads notoriously slowly.
I feel the same way about Silly Symphony Swings. This is a fun ride, but you can pretty much ride this type of ride in amusement parks throughout the world, although not with the Disney theming. So check out the line; if it's short, go ahead and ride.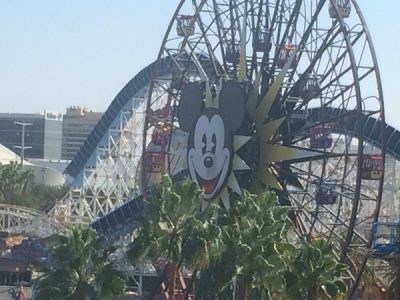 Paradise Pier, with California Screamin' and Mickey's Fun Wheel
Unless it's cold out (yes, that does happen in sunny California!) head for Grizzly River Run next. This raft ride is wilder and, in my opinion, more fun than Kali River Rapids at Animal Kingdom. This also has a FassPass option, so keep that in mind if the lines are already long.
Finally, if there are any little Frozen fans in your group, go to the Frozen: Live at the Hyperion show. This runs on a limited schedule, so if this show is important to you, grab a Times Guide, figure out which performance you want to see, and line up early! Every seat in the large theater offers a good view, but since this show is new, it's been very popular.
What are your rope drop tips for Disney California Adventure? Share in the comments!
Incoming search terms:
https://www themouseforless com/blog_world/disney-california-adventure-rope-drop-strategies-walt-disney-world-experts/