This post may contains affiliate links for your convenience. If you make a purchase after clicking a link we may earn a small commission but it won't cost you a penny more! Read our full disclosure policy here.
My daughter and I are both huge animal lovers. We love Disney's Animal Kingdom.  It's a different experience every time because the animals never act the same.  Some of our favorite things we like to do is walk the Gorilla Trails, watch Siamangs over by Expedition Everest and also the Maharajah Jungle Trek and Gorilla Falls Exploration Trail.  The fruit bats are adorable and the little mole rats are the cutest to watch as well.  I could sit for hours and just watch these beautiful creatures.
My daughter has a keen interest in animals and I hope to encourage her to pursue a career in this someday.  This is what prompted our booking of the Wild Africa Trek.  I wanted her to see that what opportunities she might be able to encounter in this field.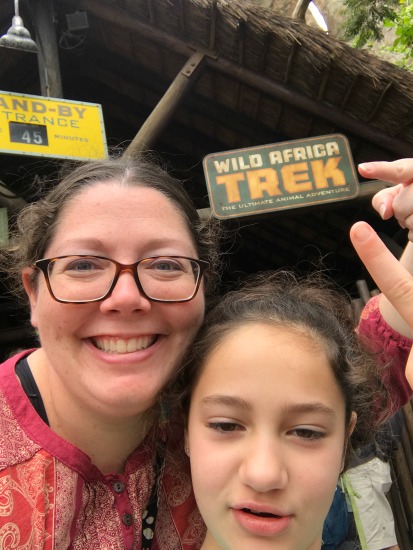 We booked it for the afternoon in January. It wound up being beautiful, even a tad bit chilly during certain points.  We checked in right next to Kilimanjaro Safaris.  After our whole group was there, we began to put on all of our gear.  They had lockers for us to leave our stuff behind in that we weren't taking with us, but they were able to secure our phones to our gear, as well as a water bottle they provided for us.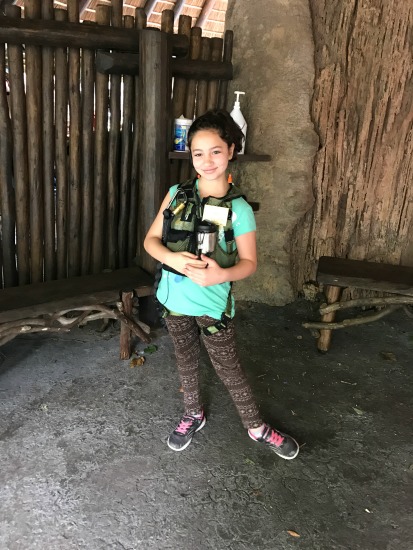 We set off through the Gorilla Falls Exploration trail and at one point set off the path from there into the back area of the safari.  Our first stop was down by the hippos.  An animal researcher came out to feed the hippos and tell us some interesting facts about them and answer any questions.
Next up, we hiked a bit further and then we went across two bridges.  This part was really fun!!  At the end of the second bridge was a crocodile pit.  Here, we met with another animal expert who told us all about crocodiles.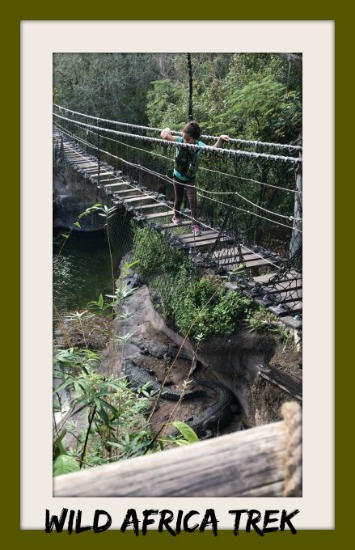 From there, we hiked up to our safari vehicle.  We went out on the savanna.  It's the same area that the Kilimanjaro Safari, but we were able to stay out there for a while.  We got to hang out by the giraffes for quite a while, then down to the elephants.  We got to see the baby giraffe, baby elephant and baby rhinos.  After the elephants, we went up to a gazebo on the savanna to have a light snack of some tandoori shrimp, curry chicken salad, fruit salad and truffles.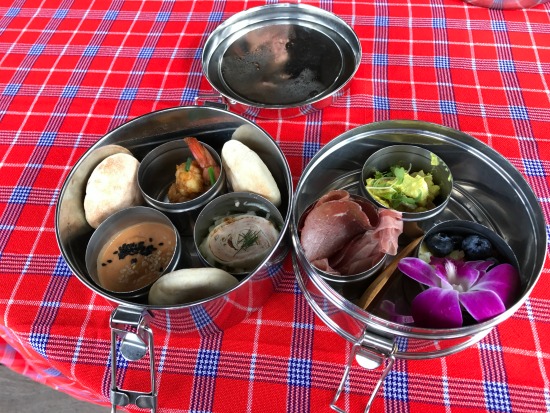 We got back on our safari vehicle and finished our tour of the safari.  We made our way back and got our gear off.  Then we gathered our belongings and the tour ended.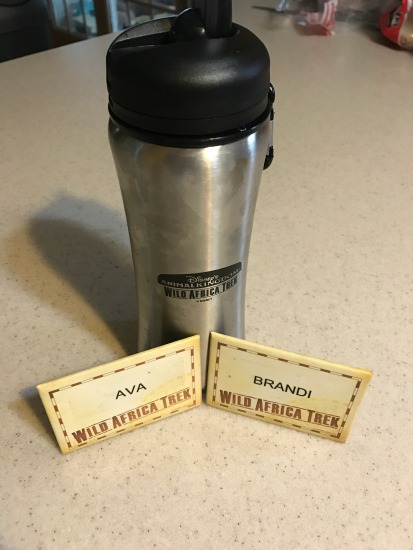 I would highly recommend the Wild Africa Trek and can't wait to take my daughter on some of the other animal-based tours. It was a great experience that we will never forget.  It was nice to take our time out on the safari and get to really observe the animals.  One of the best parts was that all the pictures they take are included!
Have you participated in the Wild Africa Trek? What were your thoughts of your experience? Share in the comments!
Incoming search terms:
animal kingdom trek review
https://www themouseforless com/blog_world/disney-animal-kingdom-wild-africa-trek/