This post may contains affiliate links for your convenience. If you make a purchase after clicking a link we may earn a small commission but it won't cost you a penny more! Read our full disclosure policy here.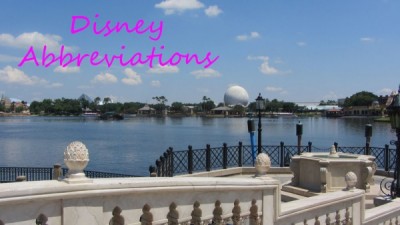 Have you ever felt that Disney has its own language and you have no idea what it means.  Or do you feel like people just throw random letters together and claim it means something.  Have no fear we can help you become familiar with Disney's abbreviations.
Let's start with the big picture.  Each of the four Disney parks have an abbreviation as well as Disney itself.  You will often see WDW for Walt Disney World.  Next each park uses the following abbreviations : Magic Kingdom, (MK) Animal Kingdom (AK), Hollywood Studios (DHS) and Epcot (EC or E).  Writers will use these abbreviations when referring to the parks.  Along with the four main parks, each of the water parks have an abbreviation: (TL) Typhoon Lagoon and BB (Blizzard Beach) as well as Downtown Disney (DTD) which is transitioning to Disney Springs (DS) can also be abbreviated throughout writings.
Once you have decided to book your WDW vacation, there are few more abbreviations that you will need to be aware.  When booking through Disney, you will use My Disney Experience  (MDE) an online program, as well as an app for phones, that will help you throughout your planning as well as once you are in Disney.  
Now that you have that taken care of, more decisions come with more abbreviations.   You will have to determine if you want Magic Your Way tickets and packages (MYW).  Packages include tickets, resorts and dining.  Tickets can add a park hopper (PH) option which allows you to travel between Disney's four main parks.  Another option to add is water park fun and more (WPF&M) which can be added to your basic ticket and allows you to enjoy the water parks.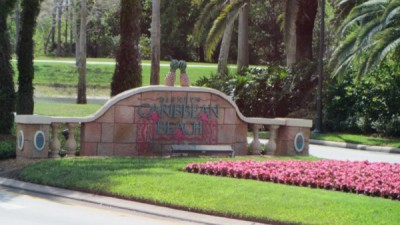 Disney's Caribbean Resort
After you have determined what ticket you would like, where you want to stay comes with an overwhelming amount of abbreviations.  Each Disney resort has an abbreviation which I won't list all of them here but I would suggest getting familiar with the abbreviations of those resorts you might be interested in.  For example, we know we will typically stay at a moderate resort, so I have learned that CBR is Disney's Caribbean Beach Resort and PORS is Disney's Port Orleans Riverside.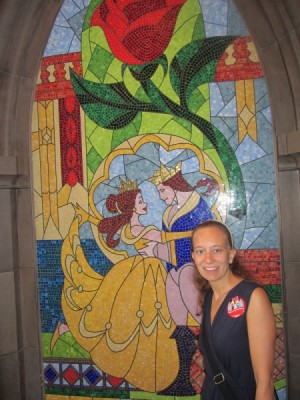 Be Our Guest Restaurant in Magic Kingdom
Along with tickets and resorts, comes the decision of food.  Disney offers Disney's Dining Plan (DDP).  This allows you to prepay for your food prior to heading down to Disney.  There are different dining plans that offer a variety of food options.  When making this decision, you will see TS for table service meals (think sit down restaurant), QS for quick service (think fast food ordering) and S for snacks.  Not only will you see these abbreviations prior to heading down, but when you are on Disney property, you will also see these throughout restaurants letting you know what is offered at each of them.  
As with resorts, each restaurant has an abbreviation as well.  Some of the more popular ones are:  CRT (Cinderella's Royal Table) and BOG (Be Our Guest).  Just like with resorts, make sure you become familiar with the different restaurants you and your family might be interested in visiting while in Disney.  When staying on Disney property, you have the advantage of book ADRs or advance dining reservations prior to heading down.  These are reservations at specific table service (TS) restaurants that you would like to visit while on vacation.
After you have booked the main part of your trip ( resort, tickets and dining plan), you can still add more magic to your trip such as Disney's Magical Express (DME) which is Disney's bus system that will take you to and from Orlando International Airport (MCO) and your resort.
Magic bands (MB) are also part of your trip.  These bands, similar to a watch or FitBit, will become your key to everything while there.  You will be allowed to customize your bands prior to leaving for Disney.  Finally, you can add Memory Maker (MM) which will allow you access to your PhotoPass pictures from your trip.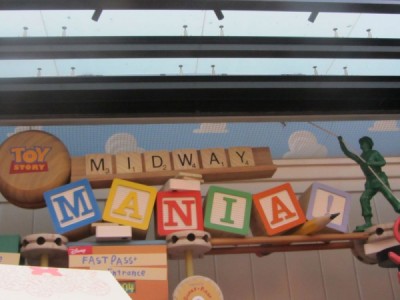 Toy Story Mania in Disney's Hollywood Studios
Those are a lot of abbreviations that you need to know and you haven't even left for you trip yet!  Take a deep breath and remember that while you are Disney there will be tons of CM (cast members) around to help you and answer questions along the way.  
Once you arrive at Disney, each ride, event and show has an abbreviation.  These are usually easier to figure out if you are familiar with the rides themselves.  Toy Story Mania (TSM), Tower of Terror (ToT), Big Thunder Mountain Railroad (BTMR), Carousel of Progress (CoP), Rock n' Roller Coaster (RnRC) are just a few examples of the popular rides that are out there.  I have found that when in Disney I don't need to know the abbreviations as much as when I am preparing or planning at home as many sites and blogs use these when people are discussing the rides.  
Another abbreviation that goes along with rides is FP or FP+.  These refer to Disney's FastPass system that can be used to pre-book rides and entertainment prior to arriving at Disney.  You will see this symbol used alongside rides and shows that you are able to book FastPasses for during your trip.  I find that knowing which allow this pre-booking is more important than knowing the abbreviation for the rides and shows but that has just been my experience.
Another important abbreviation for guests staying on property is EMH.  EMH stands for Extra Magic Hours and refers times when parks either open early or stay open late for Disney resort guests.  When you are planning, you will see EMH with park hours for days that parks are participating in this experience.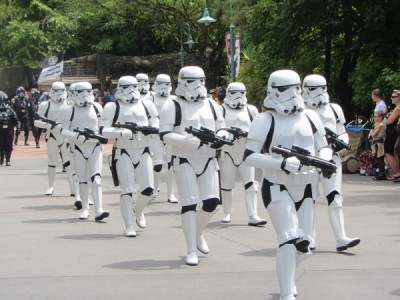 Stormtroopers at Star Wars Weekend
Throughout the year, Disney participates in a variety of special events often around holidays and other big celebrations.  These celebrations often look like a bunch of letters put together randomly, but they do actually stand for something.  In September and October, Disney has Mickey's Not So Scary Halloween Party (MNSSHP).  This trick or treat special ticket event is a fun event that provides even more Disney magic for guests.  After trick or treating is over, Disney transforms overnight to celebrate Mickey's Very Merry Christmas Party (MVMCP).  This is also a special ticket item where guests can celebrate the holiday season with Disney.  During the summer months, Hollywood Studios has Star Wars Weekends (SWW) where stormtroopers, Darth Vader and Jedi take over the park every weekend.
These are just some of the main Disney abbreviations that are used when booking and planning a Disney vacation.  There are many more out there, but I find that these are the ones you will see the most and the ones that will be the most beneficial to know prior to heading down.
What abbreviations do you have questions about? Ask in the comments and we'll be sure sure to fill you in!
Incoming search terms:
abbreviat magic kingdom
disney abbreviation