This post may contains affiliate links for your convenience. If you make a purchase after clicking a link we may earn a small commission but it won't cost you a penny more! Read our full disclosure policy here.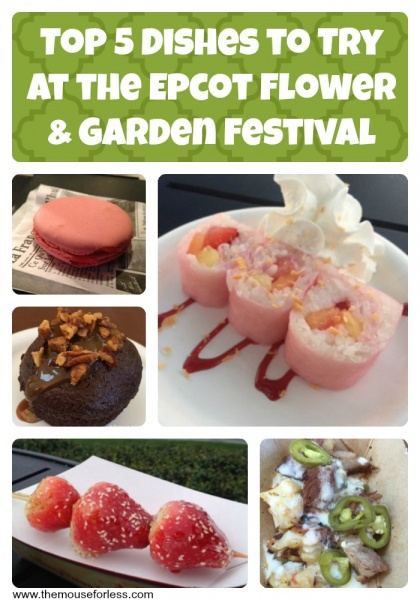 Do you feel that hint of spring in the air? Ok…well down south here, we certainly are, but hopefully wherever you are, if you aren't enjoying it yet, you will be soon. One of the things that makes me so excited for spring is the Epcot Flower and Garden Festival! This yearly event that will be running this year until May 29 is a delight for all the senses…smell, sight, touch, sound, and yes, even taste. (See! This is why Figment is the perfect mascot for the festival!)
Each year, Guests are invited to head to Epcot and stop at the Outdoor Kitchens and sample delicious dishes and beverages that have extremely fresh flavors. This is as farm to table as it gets! This year, there are 15 booths in all and each one has a unique flair that makes it stand out among the others. For the full list of items you can try, make sure to check out our Epcot Flower and Garden Festival Outdoor Kitchen Menus!
Now, with that being said, I'm going to share with you some of my returning favorites that I think are dishes you must try when you visit the festival this year! (Oh and be on the lookout for another blog showcasing all the items I end up trying this year, as I'm slated to head down to Orlando soon!) So, if you're looking for some of the best items from the event, these are it!
Beijing-style Candied Strawberries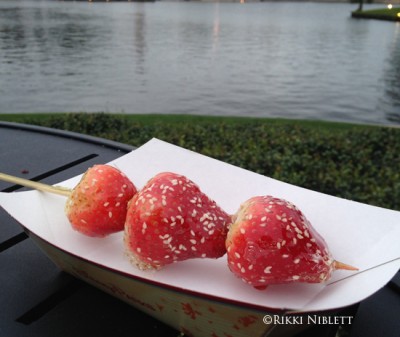 This has to be one of my favorite dishes each year at the Epcot Flower and Garden Festival. I seriously look forward to these each and every year! Found at the Lotus House booth, the strawberries are large and they are bright red and are perfectly ripe. Then they are covered in a thick sugar coating. Then sesame seeds are added. Because of the sugar coating, the already sweet strawberries are made even sweeter and juicier! These will please everyone in the family.
Warm Chocolate Cake with Bourbon-Salted Caramel Sauce and Spiced Pecans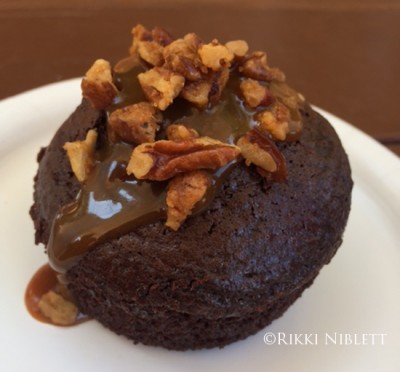 Oh…this is heaven for chocolate fans! Found at The Smokehouse, this is a very moist warm chocolate cake that is the size of a good size large cupcake. Then it is covered in a delectable caramel sauce that is also warmed. I didn't notice a heavy whisky flavoring, all I knew was that it was yummy. I also didn't notice a spiced entity with the pecans. To me, they just tasted like regular pecans, but I didn't care. They really helped to round out this dessert into one perfect dish.
Beef Brisket Burnt Ends Hash
Speaking of perfect dishes, The Smokehouse is really on a roll. This time with the Beef Brisket Burnt Ends Hash.  The brisket is tender. Add some potato chunks which are all then covered with a white cheddar fondue. Oh and don't forget the heat with a smattering of pickled jalapeños. This really is a meal all in one and trust me, you won't want to share!
Frushi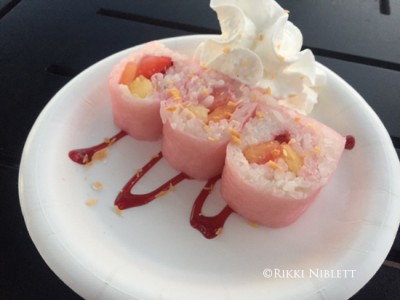 One of the most inventive dishes that returns each year for the festival is the fruishi. It's a unique concept that is served at the Hanami booth and it works so well. It is a great introduction of the sushi concept to picky eaters of all ages. (I don't like real sushi, but I love me some fruishi!) So what is fruishi? It's fresh pineapple, strawberries and melon that are then rolled with coconut rice, with a raspberry drizzle, sprinkled with toasted coconut and served with whipped cream. It is seriously delicious and can certainly be shared.
Macaron Chocolat Framboise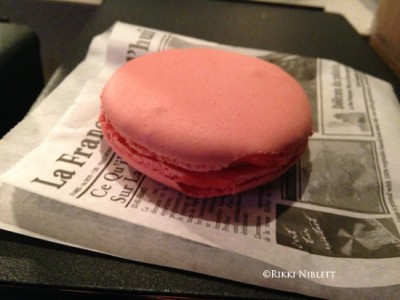 I love that the fresh flavors for this festival are a lot of fruity flavors. That's no exception with this dish. The Macaron Chocolat Framboise found at the Fleur de Lys booth is a large Raspberry Macaron (it's about the size of a small hamburger) that is filled with a rich chocolate fudge and tart raspberry jam. The macaron itself is a little crunchy on the outside, but the flavors inside are smooth and incredible. It all pairs into a nice mashing.
One thing that I notice about the menus for the Epcot Flower and Garden Festival is that the change a lot each year. Traditional favorites return, but there always seems to be quite a bit of new too! Oh and this year there are two new kiosks – The Berry Basket and Northern Bloom. That's why I love this festival! There's always something new that I'm excited to try!
What returning favorite are you looking forward to eating at this year's Epcot Flower and Garden Festival? Share in the comments!