This post may contains affiliate links for your convenience. If you make a purchase after clicking a link we may earn a small commission but it won't cost you a penny more! Read our full disclosure policy here.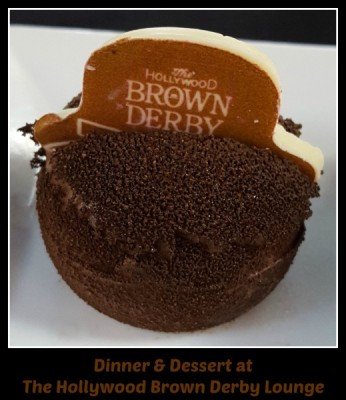 The Hollywood Brown Derby restaurant at Disney's Hollywood Studios offers guests an upscale dining experience with the feel of old Hollywood glamour. Just outside the restaurant, you will find the outdoor seating of The Hollywood Brown Derby Lounge. If you are looking to grab a drink and a small meal, this is the perfect place to taste some of the Brown Derby's signature items without a reservation.
Seating at the Brown Derby Lounge is on a first come, first served basis. I arrived around 4:30 and had no trouble grabbing a seat, but the closer it got to dinner time, the busier it got.  Around 5:30 or so, there was about a 20-25 minute wait.
The lounge seating is outdoors, so it felt more like a patio than a lounge to me. The weather was great the day I visited and I enjoyed watching people walk by as I relaxed.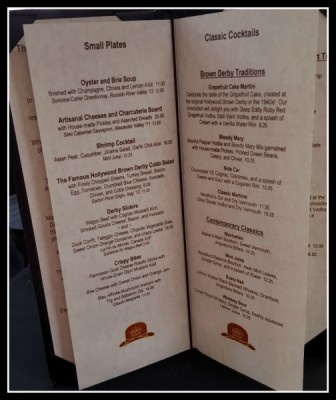 Drinks and Small Plates Menu
The lounge offers a variety of drinks and a limited menu of bar snacks. You won't find as many offerings as the main restaurant has, but there were still some great choices, including the famous Brown Derby Cobb salad.
I started with a pineapple no-jito as my beverage. This drink was just like a pineapple mojito minus the alcohol. It would be great for a hot day because it was very refreshing. My first sip was loaded with pineapple juice, but a quick stir fixed that. After that, it was really delicious. Although this drink did not contain any alcohol, there is a full bar in the lounge area and the menu had a good variety of alcoholic drinks as well.
Pineapple No-jito
For my snack/meal, I decided to try the Derby sliders. This menu item came with two sliders: a Waygu beef slider and a duck slider. If you are interested in just getting two of the same type of slider, you can, but there is a small upcharge.
I had never had Waygu beef before and was excited to see what all the fuss was about. I loved this little burger! It was topped with gouda cheese which gave it a bit of a smoky flavor and the meat had just a little bit of spice. It also came with bacon, avocado, and cognac-mustard aïoli.  What a delicious combination of flavors!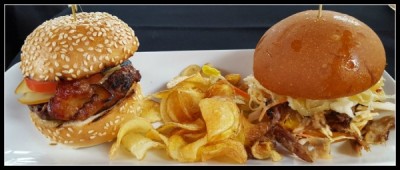 Waygu beef and duck sliders
I tried the duck slider next and was afraid I would not like it as much as the beef slider. I don't eat duck very often and most of the times I have tried it, I have thought it was too oily. I was pleasantly surprised! The duck wasn't oily and I really enjoyed the toppings. The beef slider was definitely the winner for me, but I enjoyed this one as well.
The slider was served with mini potato chips. I thought these were so cute and they were the perfect side. You can't have a burger without some chips, right?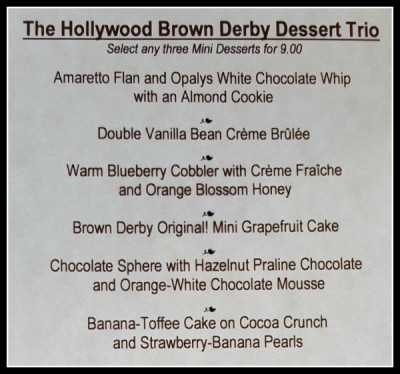 Dessert Menu
After my little meal, of course I had to try the dessert trio. I had a tough time deciding on my three items because everything sounded yummy. I finally chose the chocolate sphere, the banana toffee cake, and the grapefruit cake.
The chocolate sphere was spongy cake and had a nice balance of citrus and chocolate flavors. It was topped with a little white chocolate Brown Derby "hat" that was a nice, decorative touch.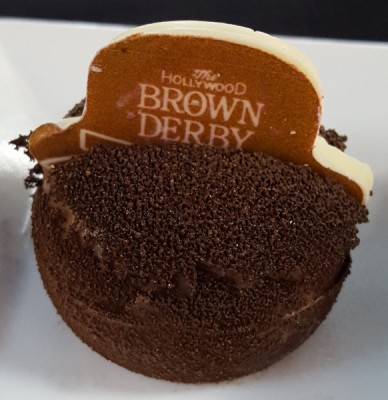 Chocolate Sphere
The grapefruit cake is the dessert that the Brown Derby is known for, so I had to give this one a try. The cake was soaked in grapefruit and had the consistency of a rum cake. By itself, the grapefruit flavor would have been overpowering, but the cream balanced it out nicely.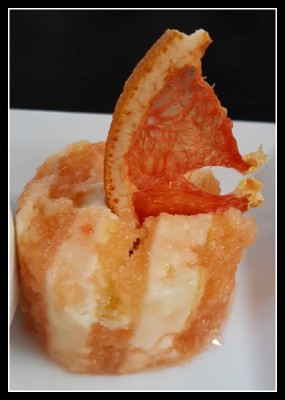 Grapefruit Cake
My last selection was the banana toffee cake on cocoa crunch. On top of the cake were strawberry banana flavored pearls that looked like little pink bubbles. These were definitely interesting. The cake was delicious by itself, but then when I bit into the pearls, I got a surprising burst of yummy strawberry banana flavor as well.  I'll admit, I thought they were strange, but I liked them. This was certainly the most fun dessert out of the 3 because of the pearls.
Banana Toffee Cake
In the past, I haven't been overly impressed with many of the food choices at Hollywood Studios. This meal was one of the best I have had at this park.  Even though the menu only offers small plates, I left full and happy. I truly enjoyed the experience and look forward to going back.
Have you tried the Hollywood Brown Derby Lounge?  What did you enjoy the most?
Incoming search terms:
https://www themouseforless com/blog_world/dinner-dessert-hollywood-brown-derby-lounge/
https://www themouseforless com/blog_world/dinner-dessert-hollywood-brown-derby-lounge/#:~:text=The grapefruit cake is the give this one a try