This post may contains affiliate links for your convenience. If you make a purchase after clicking a link we may earn a small commission but it won't cost you a penny more! Read our full disclosure policy here.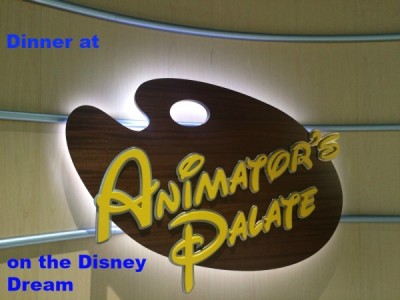 Animator's Palate is a full service restaurant located on Deck Three of the Disney Dream.  It is part of the ship's rotational dining service. On our cruise this month, we were scheduled to eat here twice – and the second time, it was for the Disney Cruise Line's famous Pirate Night!
The first time I walked into this restaurant, I was immediately impressed with the décor. The entire dining room is themed to an animator's workspace. The chairs are themed to Mickey Mouse, and all around us, screens show concept art for Finding Nemo.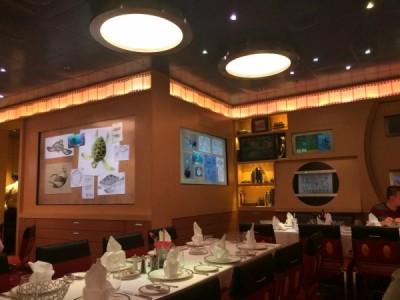 the well themed dining room
(Incidentally, during the day, when dinner is not being served, the restaurant is the location for the popular Frozen meet and greet. During that time, the screens all showed concept art for Frozen, and the soundtrack from the movie played in the background. This is a very versatile setup!)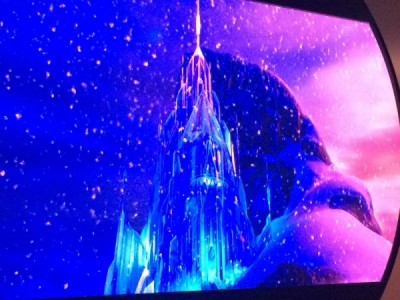 the dining room transformed for the Frozen Meet and Greet during the day
Our table number was marked with a paint can holding paintbrushes and pencils, perched on a film reel. When our beverage server arrived, I ordered a glass of Redtree Pinot Noir.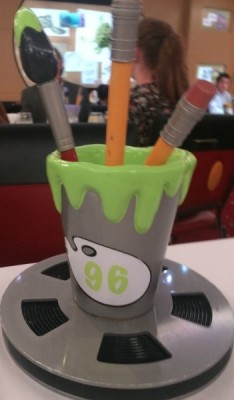 our table
For my appetizer, I ordered the salmon tartare, which lay on top of a bed of sliced cucumbers. The salmon tasted refreshing and the cucumbers went perfectly with it. As with all the appetizers I experienced on this ship, the portion size was perfect – large enough to be satisfying, but small enough so that I could finish it and still have plenty of room for my entrée.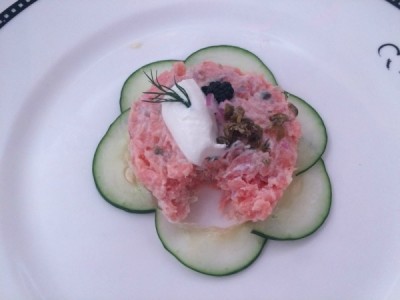 Salmon Tartare
It was about this time that Crush arrived to hang out with the guests. If you've been to Turtle Talk with Crush at either California Adventure or Epcot Center, you know how this works. We were too far away for Crush to interact with us specifically, but all the tables had a perfect view.
Speaking of my entrée, I ordered the Jumbo Shrimp Salad. This was quite tasty. In the photo it may look like there's not a lot of shrimp, but there was plenty. They were just hidden by the ample pile of greens.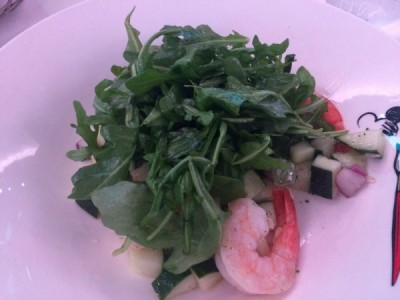 Jumbo Shrimp Salad
My husband ordered the Rosemary Lemon Chicken, which was served with roasted root vegetables and mashed potatoes. He reports that it was good, but was probably his least favorite entrée of the trip.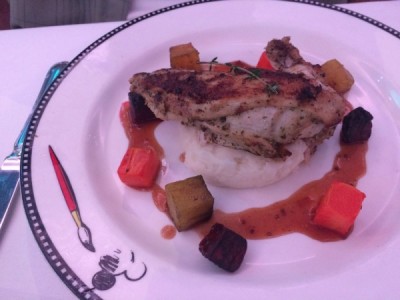 Rosemary Lemon Chicken
For dessert I ordered the no-sugar-added chilled mango mousse, which had the consistency of a panna cotta. It somehow managed to perfectly straddle the line between rich and light.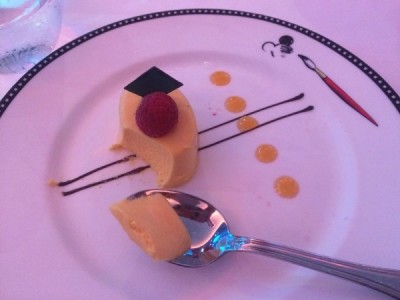 no-sugar-added Chilled Mango Mousse
We returned the very next night for our Pirates in the Caribbean Dinner. We were excited to wear our bandanas, which were left for us in our stateroom, and were shocked to see the level of pirate attire we saw in the dining room. Not only were all the servers decked out in swashbuckling attire, but many of the guests were, as well! Considering how hot and humid it was, I applauded these guests for their commitment to good theming!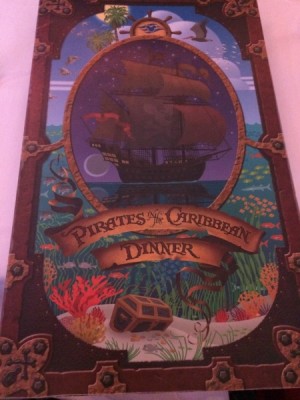 Thar be yer menu, matey!
Our menus were pirate themed, of course, and my daughter's kids menu folded into a pirate hat, which she put on as soon as she finished doing the activities on it. The screens in the restaurant showed concept art for all sorts of Disney pirate films and attractions, such as The Pirates of the Caribbean, Treasure Planet, and Peter Pan.
Our bread service came with not one, but two kinds of bread. The first was a cornbread Johnny cake, which was crumbly, not too sweet, and fantastic. I am a sucker for cornbread, and I walked the Castaway Cay 5K this day, so I figured I'd splurge.  By the way, those adorable butter knives?  You can buy them at Mickey's Main Sail, the major shop on the ship.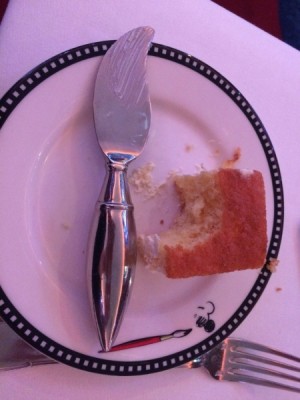 Johnny Cake
The second bread was a crusty multigrain roll served with a black eyed pea relish. Although I didn't want to eat any more bread, I tried the relish. It was delicious! My sister-in-law is a vegetarian and I am guessing she would devour an entire bowl of this.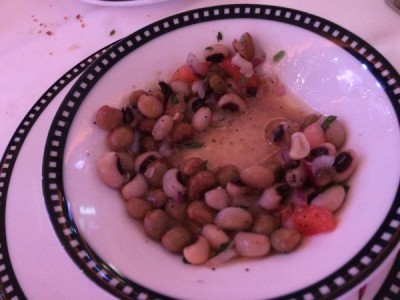 Black-Eyed Pea Relish
I ordered a glass of Castle Rock Pinot Noir, which was probably the most boring wine I had on the trip. Then I ordered the Buccaneer's Pineapple as my appetizer. I have mixed feelings on this one. On the positive side, it was tasty and fresh and actually pretty healthy. On the negative side, it was a pineapple with orange glazed and toasted coconut – in order words, it was quite sweet. I kept thinking that this would make a great better-for-you dessert instead of an appetizer.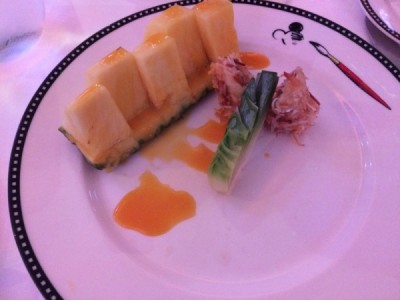 Buccaneer's Pineapple appetizer
For my entrée, I ordered from the lighter side. Oven baked salmon with a baked potato and vegetables. Everything was cooked quite well, however, this was the least inspired entrée on had on board. It tasted fine, and it was as advertised, but this was something I could have made at home. I couldn't really say that about any of the other entrees I had on this trip.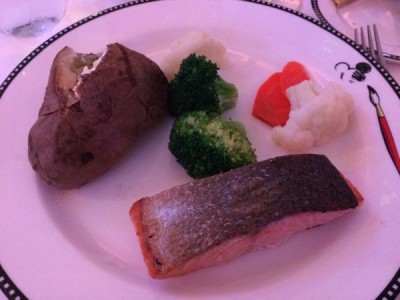 Oven Baked Salmon
Our pirate themed dessert menus arrived, and I ordered the no-sugar-added Pear Almond Tarte. This was outstanding. The crust was rich and flaky, the pear cooked well while still having a little bite, and the almond flavor matched perfectly with the fruit.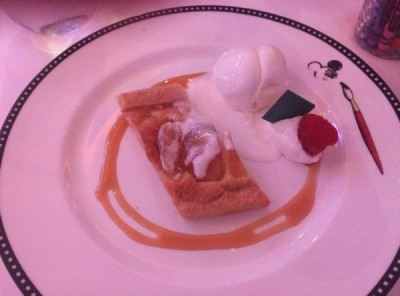 Baked Almond Pear Puff Tart
What makes the Animator's Palate special is the unique way it could be adapted to nearly any theme. In particular, I feel very lucky that this was the location of our Pirates dinner, as the screens made the experience more fun.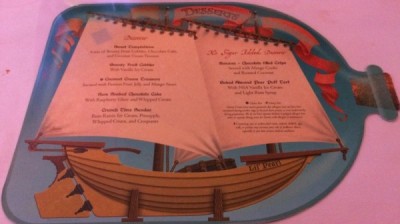 Have you experienced Animator's Palate? What were your thoughts? Share in the comments section!