This post may contains affiliate links for your convenience. If you make a purchase after clicking a link we may earn a small commission but it won't cost you a penny more! Read our full disclosure policy here.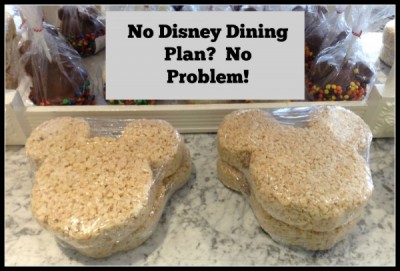 We've been spoiled by being able to book Walt Disney World trips with the free dining promotion for the past few years.  On our upcoming trip, we are doing a split stay so booking with the free dining promotion was not possible.  Of course, this means that we have to pay for every bite of food, something that almost feels new to us after using the dining plan many times!
I'm frugal, but I also like to eat well.  Who doesn't enjoy a character meal to meet Eeyore or a having a Mickey Bar on a hot day?  I've been planning on how to best pay for food that we will enjoy.  This will be a combination doing small splurges and pinching pennies in order to strike a balance with dining experiences we appreciate while keeping a budget in mind.
So far, we're allowing ourselves two table service meals.  One is 'Ohana with a group of 35 friends!  That is an experience that cannot be missed, and we'll savor every bite.  The other meal is a Crystal Palace breakfast.  Dining with Eeyore is priceless!  As of now (the planning never ends, right?),  the rest of the meals will be counter service.  Or, we may decide to pop into one of the quick bite lounge areas to dine….more on that later!
Here are some ways we will pay for our food without feeling too many punches to our wallet.
Disney Visa Reward Points
I've been using my Chase Disney Visa card for any time I need a credit card, and those reward points do add up quickly!  Our reward points will pay in full for both 'Ohana and Crystal Palace.  Sweet!  I'll have enough reward points left for a few counter service meals and special snacks.
Having Breakfast and Snacks in our Resort Room
We plan to have some breakfast foods and snacks in our resort room, which will save time and money!   Muffins, fruit, energy bars, yogurt, and trail mix are quick and easy to eat.
If we buy the refillable mugs at our resort's food court and use those mugs a few times each day, they will pay for themselves and will be a nice souvenir of the trip.
For those times we are not using the refillable mugs at the resort food court, we can ask for free cups of ice water at all counter service locations.  With the lowest price of a beverage usually being $2.75, this is a savings of at least $5.50 for each meal for us!
My daughter often times prefers kid's meals, and that's a money saver!  When I'm not too hungry, a kid's meal may be just the right portion for me too.
Snacks are a fun part of the Disney dining experience, and even on a budget a few snacks are worth the splurge!  Some of the snacks, such as huge cupcakes, pastries, or cookies, are easy to share.  In the past, we've asked for an extra plate and fork for sharing snacks and that has worked well.  The portion sizes are better with sharing, and the cost and calories are halved too!
Having breakfast foods, water bottles, and snacks for the parks or resort room delivered to us is much less expensive than buying those items at Walt Disney World.  Those with access to a car can plan a quick food shopping trip before vacation arrival.
This isn't a money-saving tip, but it's for my own peace of mind.  One of the things I like best about the Disney Dining Plan is knowing that our meals are paid for before our vacation.  I am buying Disney Gift Cards to use for the meals and snacks that are not covered by the Disney Chase Visa Rewards.  Having our food paid for ahead of time is nice!  Any money left over on the gift cards can be applied toward a future trip!
An advantage to not being on the Disney Dining Plan is flexibility.  If we decide to add another table service meal to our trip and want to split two appetizers as a meal, we can do that without worrying about using dining credits.  We are also more flexible to try places that do not accept dining credits, such as Tutto Gusto Wine Cellar or Spice Road Table.
Using the above money saving tactics while enjoying good food and having flexibility of dining choices will make for our upcoming trip without the Disney Dining Plan both budget friendly and yummy!
What are your tips for eating well at Walt Disney World without using the Disney Dining Plan?
Incoming search terms:
eating at disneyworld without dining plan
tips for eating at disney world with no dining plan
without disney meal plan how much spend in food