This post may contains affiliate links for your convenience. If you make a purchase after clicking a link we may earn a small commission but it won't cost you a penny more! Read our full disclosure policy here.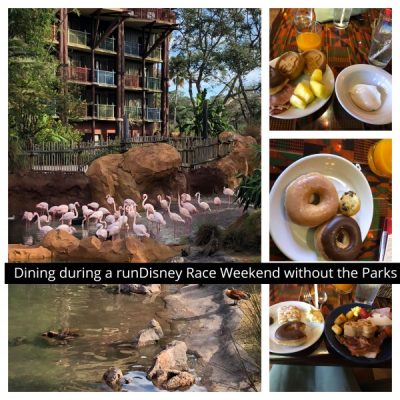 Most people think that on a trip to Walt Disney World, you have to go to the parks.  But on a recent runDisney weekend, I did the trip without going into the parks with park tickets.  Spoiler alert- I did get to enjoy some park time as a race participant.  But besides running, the main focus of this trip was dining.
Not going into the parks gave me the opportunity to take advantage of some dining options that I would otherwise skip in order to make the most of my limited park time during such a short weekend.  Usually, I dine in whichever park I am in due to my park plans.  With no parks to visit, I chose to make reservations at two great resort restaurants- Boma and Olivia's.  Traveling from the parks to a resort that's not your own (we stayed at Pop Century on this trip) can take a lot of time, so it's not something I normally do in runDisney race weekends.  With no parks to visit, a lengthy trip to see another resort seemed to be a good way to spend some time.
Boma Flavors of Africa
First off was Boma Flavors of Africa for breakfast.  Boma is located at Disney's Animal Kingdom Lodge– which was part of the reason for its selection.  We arrived a little early just so we could take in the scenery of the savanna.  We checked in and then waited for a text message that would tell us our table was ready.  While we waited, we walked out to one of the outlooks located around the resort for viewing of the savanna.  Unfortunately, it was a little cold and windy, so the only animals we could see was a giraffe in the far distance and some flamingos that were eating their breakfast.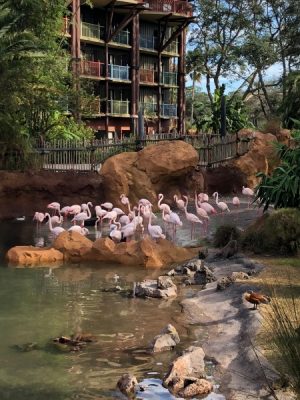 Once we were seated, we ventured to the buffet.  The food selection was an amazing combination of African inspired flavors and regular American breakfast fare.  Anyone could find something to eat here.  The highlights of the meal included the ham that was wood smoked and the donuts.  These donuts tasted amazing and when we asked the waitress, she informed us that they were actually Krispy Kreme donuts- which were one of the few things not made in house.  We loved our meal so much, that we'll be back again.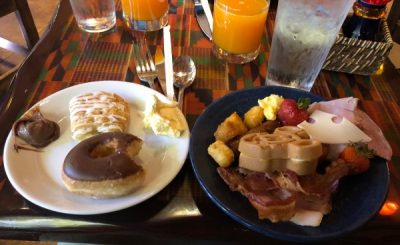 Olivia's
On a different day, we ventured to Olivia's at Disney's Old Key West Resort for brunch.  Here we enjoyed a great meal which included big portions perfect for refueling after a half marathon.  Personally, I thought the homemade potato chips were the highlight of the meal and when paired with the Conch Flats Club Sandwich, both are worth going back for.  The Mallory Square Cobb Salad was also huge.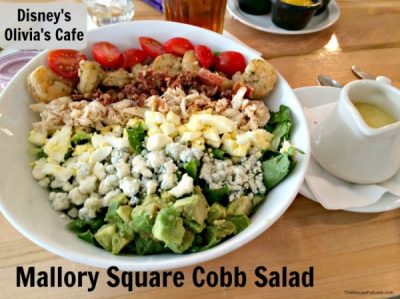 Overall, dining on a runDisney weekend that didn't include the parks was perfect for us.  It allowed us to stay off our feet, and try two new restaurants- both of which are worth returning to.
How have you spent your time during a runDisney race weekend (or any trip) without going into the parks?  Share in the comments,or on Facebook or Twitter!
Did you like this article? Make sure to share it with your friends! Check below for easy ways to share!
Want to visit the Walt Disney World Resort? Contact The Magic for Less Travel for more information and a free, no-obligation quote.