This post may contains affiliate links for your convenience. If you make a purchase after clicking a link we may earn a small commission but it won't cost you a penny more! Read our full disclosure policy here.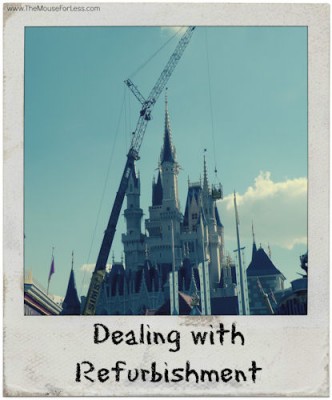 "Disneyland will never be completed. It will continue to grow as long as there is imagination left in the world. It is something that will never be finished. Something that I can keep developing and adding to."
Walt Disney once said these words referring to changes and development at Disneyland. While he did not live to see the opening of Walt Disney World, the same level of change can be found at Walt Disney World. So while generally we might view the changes to the parks and resorts as a positive evolution, what happens when that change coincides with your vacation?
We all want a magical, "perfect" vacation. We plan, research and dream of fairy tale moments. We obsess over the perfect resort, the amazing theme park experiences and visiting our favorite attractions. But sometimes reality has other plans, and we run into some refurbishments or construction on our trips.
So what is a guest to do when you are planning and find out that an enhancement, refurbishment, or even mechanical problem crops up in your way? How do you deal with it? Well, by letting things go. The real world happens, even at Disneyland and Walt Disney World. Change requires time. The new and exciting is sometimes the loud and unsightly.
Don't get me wrong, Disney will do as much as they can to keep anything unpleasant from the guests line of sight. They will schedule work to be done when it has the least impact on guests. This is much easier to do in the parks than the resorts because the parks close at night. Some things can be done during the night when guests are not around. Not so in a 24-hour operation. But no matter where the changes are being made, they will do every effort to keep the impact on you to a minimum. There will likely be walls or shrubs concealing the view (and probably a hand full of people trying to see over and around them) if it's a major project.
When you are planning, a little knowledge is best. Keep on top of the Refurbishments and Closures pages for both Disneyland and Walt Disney World. While we cannot know everything in advance, bigger projects will be made known. Be aware of them, be ready for them, and then don't worry about them. There is plenty to do, so plan on visiting a different attraction. The one that may be closed will hopefully be open and better than before the next time you visit. I realize the disappointment that can happen when your favorite attraction is closed, but know that the goal is to make things better than before the change.
While the biggest and best attractions, shows, and hotels will make for lasting memories, so will the little moments. Things like swimming in a pool, spending time with family, sharing a Mickey bar are all just as important and memorable  as riding an E-ticket ride or eating at a popular restaurant. The memories will last, even if they are not the ones you planned to make. So make them happy, positive memories no matter what road blocks may come up.
One of the most important things to remember is that you cannot make magic. It's not planned. Magic just happens. So no matter what happens on your trip — a closed ride, a pool being updated, etc. — take some time and let the magic happen.