This post may contains affiliate links for your convenience. If you make a purchase after clicking a link we may earn a small commission but it won't cost you a penny more! Read our full disclosure policy here.
If you know me, you know that I love to eat. My favorite part of a Walt Disney World trip is trying out new snacks and revisiting my old favorites. I recently took a a trip to WDW over Christmas week, and I tried some new treats! Here are my current favorite foods at Walt Disney World!
French Toast, Kona Cafe
So I've always been a macadamia nut pancake girl at Kona Cafe. Nothing better than that macadamia nut butter, right? Just wait! I see your pancakes and raise you french toast with Banana. Caramel. Sauce. This french toast honestly doesn't look like much; the bread is thinly sliced and it kind of looks like something I'd make at home on a weekend I felt like cooking, but stick with me here.
The toast is actually delicious, not too sweet, and is nice and soft with a crisp crust. But really, we're all here for that banana caramel sauce! Think banana's foster, but for breakfast! This sauce is served warm on the side so you can drizzle til your heart's content (yes, I stuck my fingers in the caramel pitcher to get every last drop).
The combination between fluffy french toast and creamy caramel truly can't be beat. The banana flavor was more reserved the first time I tried this entree, but most recently it even had little chunks of banana in it!
The french toast comes with your choice of breakfast meat and rings in at $13.00, not terrible considering the magic of the experience!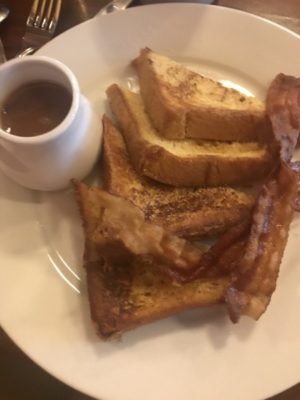 And for those of you waiting, here's a picture of the Tonga Toast because it's just so pretty! Yep, we had an order of Tonga Toast, too!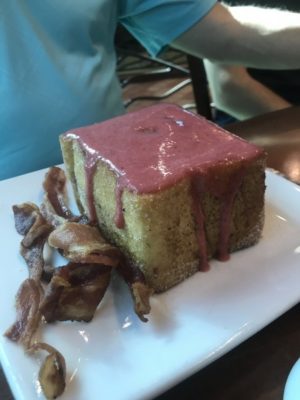 Croissant Donut, Electric Umbrella
So, I'm a New Yorker. I occasionally walk over to Dominique Ansel Bakery for a real original Cronut and there's just nothing like it. Until this past Disney trip, I'd refused to try a "knock off Cronut," and avoided these like the plague. But alas, I'm married to a very picky eater who hates cream filling (part of the signature New York Cronut!), and has been dying to try one of these babies at Epcot since they don't come filled. Fast forward to me in the Electric Umbrella (a picture I never thought I'd be a part of), ordering a Croissant Donut!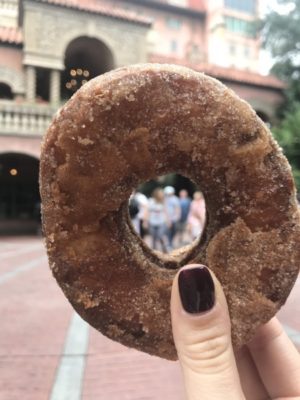 You guys, it was GOOD! This flaky pastry is fried (really, what isn't delicious when fried?) and rolled in cinnamon sugar. Ours was still warm when we took our first bite, and it was heavenly! I'd compare it to fried dough, flavor-wise. If you're a fan of fried pastry, give this treat a shot. For $5.59 or 1 snack credit, this is a great treat!
Ronto Wrap, Ronto Roasters
My husband and I recently went to Galaxy's Edge, a lifelong dream of his (what fan doesn't want to go into the Star Wars galaxy?). Not being a fan, myself, I was there for the food! We grabbed a Ronto Wrap as one of our snacks, and I ended up enjoying it way more than I expected! Described as "roasted pork, grilled pork sausage, peppercorn sauce, and tangy slaw wrapped in pita," this sandwich is perfect as a lunch, or split between two people for a snack.
The pork sausage was the star of the show; it's juicy, flavorful, and pairs perfectly with the fresh slaw. The pita is also fluffy and fresh, nothing out of a bag here! The peppercorn sauce made me a little nervous, but the spice was totally tolerable when paired with the pita, even for a wimp like me. This treat will run you $12.99, not bad given how much food you get!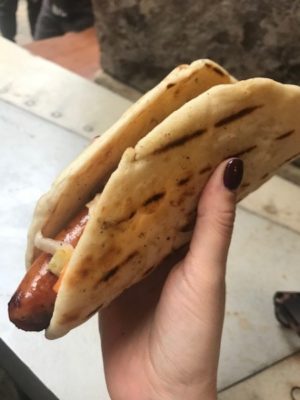 Caramel Ginger Cookie Sandwich, Karamell-Kuche
I've always been weirdly obsessed with the caramel at Karamell-Kuche in the Germany Pavilion in Epcot. It's seriously good; creamy, buttery, perfection! I am also obsessed with all things ginger. When I saw this treat option pop up around the holidays, I knew I had to make a special trip over to Epcot!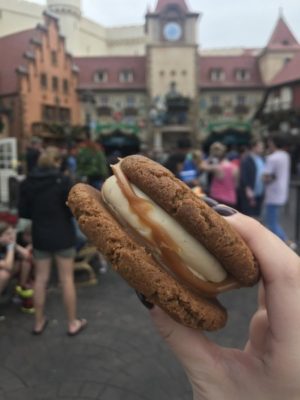 This cookie wasn't even labeled with a name when I visited, and just had a tag saying $5.99 (also eligible for 1 snack credit), so I pointed and said "one of those, please!" Best. Decision. Ever. This cookie sandwich is outrageous; two chewy ginger cookies glued together with a swirl of cream cheese frosting and a drizzle of caramel. It's super sweet and filling, and felt like it weighed a pound; split it with someone you love! This was absolutely the star snack from my most recent trip! I'm hoping this cookie is here to stay, but I fear it's a limited time offering! Get it while you can!
Totchos, Woody's Lunchbox
I am the last one to get on the totchos bandwagon, but I'm so glad I did. Head to Toy Story Land in Hollywood Studios for this delicious treat, best suited as a shareable snack, but hey, treat yourself if you want this as your lunch! You're on vacation!
What are totchos, you ask? Potato barrels, corn chips, chili, cheese (plastic), more cheese (shredded), topped with sour cream and chives (it's a vegetable, so it's healthy, right?). Utter perfection. This snack is messy; we started off eating with our fingers and quickly realized this is fork (and tons of napkins) food! I tend to gravitate toward sweet snacks, but this is just perfect if you're looking for snacks that are savory to split with family or friends!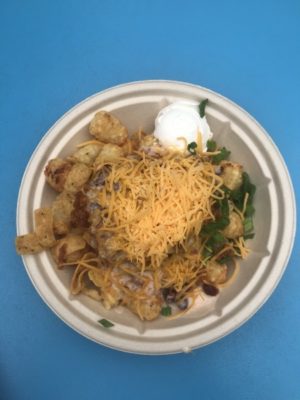 What are some of your favorite new snacks from the Walt Disney World Resort? Let us know in the comments or on Facebook or Twitter!
Did you like this article? Make sure to share it with your friends! Check below for easy ways to share!
Want to visit the Walt Disney World Resort? Contact The Magic for Less Travel for more information and a free, no-obligation quote.