This post may contains affiliate links for your convenience. If you make a purchase after clicking a link we may earn a small commission but it won't cost you a penny more! Read our full disclosure policy here.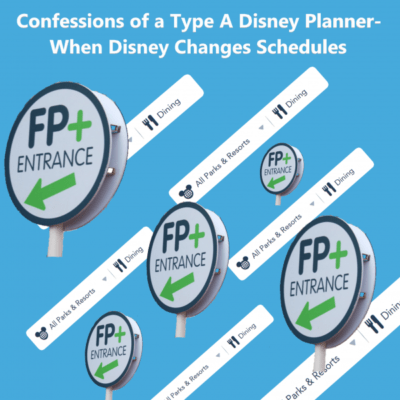 We all know a Type A Disney Planner. They hit the computer 180 days out at 6:00 AM Eastern Time for their dining reservations and again 60 days out at 7:00 AM for their FastPass+ reservations. Type A Disney Planners go into those days with lists of what they want and burn up the internet as they get it. I know I do.
Type A Disney Planners leave those mornings happy with their resort, Advance Dining Reservations (ADRs) and FastPass+ selections. Or, they pound the computer until they get what they want. This is all well and good until Disney throws you a curve and announces a new late night event or room discounts during your vacation. What's a Type A Disney Planner to do?
How do I know? I've been a Type A Disney Planner since the 1980's.  Back then folks used guide books not the internet and created spreadsheets to guide their travels.
Understanding the Disney Planning Game
Disney planning is an amazing example of the gamification of a task. That means Disney made the planning a game with rewards like hard to get ADRs and FastPass+ reservations. Also, Disney  gets you to continue playing the game by changing park  times and adding new attractions or restaurants.  A subtle reinforcement technique is the publication of ride wait times.
Further "game" reinforcements are provided by the constant reminders on what to do and when to do it. You can get emails from your Travel Agent. There are pop up reminders from countdown apps. Plus you may read a post or two advising you what to do and how to do it. Maybe you follow a Disney planning podcast as well.
Finally, you could add the fact that Disney is both complex and expensive. Most people have a lot invested in a Disney trip; both financially and emotionally.   This adds to the pressure to get the plans right.
A normal, sane person can become a Type A Disney planner quickly in this environment.
Disney Does Not Play Fair
Well after rooms and ADRs were selected Disney can and does release new events and resort discounts. These can seriously mess with your plans. You'd like it if Disney released new events and resort discounts before the 180 day mark. However, resort discounts and events are based, in part, based on projected park inventory which only is known after the 180 day mark.
Making changes in a resort is easy. There is little gamification and more of a cost benefit analysis. We gave up Pop Century and the Skyliner route for two rooms at All Star Sports for about the same price. A second bathroom outweighed the Skyliner convenience.
The addition of a late night was more problematic. We do love our late night experiences at Disney. But in order to take advantage we had to give up California Grill during fireworks. That was really hard to do. It left a gaping hole in our fireworks dining experience. Plus, now, all the "good" ADRs were taken.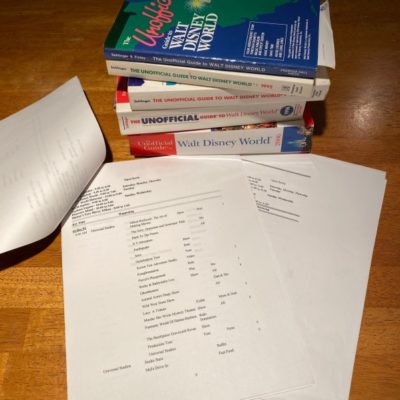 Putting it in perspective
Always remember that Disney parks are successful because going there makes people happy. There are lots of things to do, see and eat. Would it be so bad to give up that ADR for something different? If you don't have a Slinky Dog Dash FastPass+, won't there be something else to do that makes you smile?
Repeat after us, "An ADR will not make or break a Disney vacation. FastPass+ does not determine my happiness." If you are older, like we are, you existed in a Walt Disney World without FastPasses. Back in the day, dining reservations couldn't be made more than three days out. We all survived and still managed to fall in love with Disney.
Disney planning is a game. Even we Type A Disney planners should not let the game rule us.
A Suggestion for handling adjustments
If you really need to change within the ADR/Fast Pass windows the important tool is persistence.
Going into the Disney site and setting up the same search repeatedly is a bore. After a little experimentation I found that if you could create a search on the Disney website for Advance Dining Reservations and leave the web page open you can re-use that search. You can refresh the results by hitting the "search times" button. We did this one or twice a day until we found a reservation we wanted.   In the meantime it was interesting to see new times and restaurant combinations appear.  Here are some other tips for getting hard to get dining reservations.
Similar techniques can be used for FastPass+.  However, be aware that the website provides more change options than the phone app.  On the website you can easily change the attraction as well as the time.
You should also be aware that Disney can continue to make changes.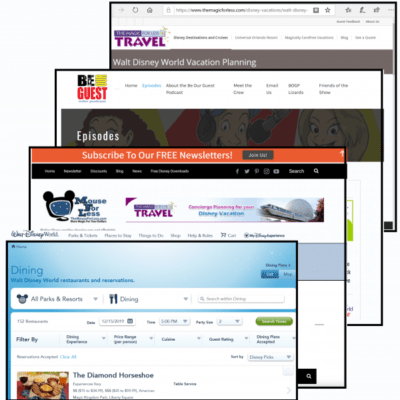 A final reminder
It's easy to say let the gamification of the planning process and stress related to planning an expensive vacation get the best of you. Don't let it. Enjoy the planning process game but enjoy Disney World more.
Perhaps the best reinforcement I got was when my son sent in his list of priorities for our father-son Disney trip. He's 31 and lives in a different city. His first priority, above even Galaxy's Edge, was to spend time with me. So yeah, even this Type A Disney Planner can give up on a FastPass+. (We did not get Slinky Dog Dash – yet).
What tips do you have for when Disney changes the game on you? Let us know in the comments or on Facebook or Twitter!
Did you like this article? Make sure to share it with your friends! Check below for easy ways to share!
Want to visit the Walt Disney World Resort? Contact The Magic for Less Travel for more information and a free, no-obligation quote.