This post may contains affiliate links for your convenience. If you make a purchase after clicking a link we may earn a small commission but it won't cost you a penny more! Read our full disclosure policy here.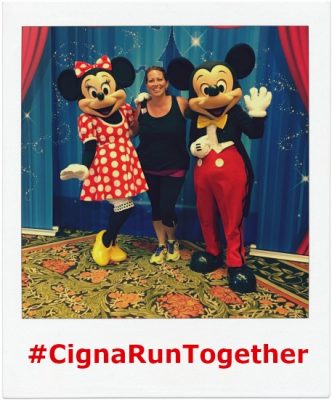 Labor Day weekend was full of learning experiences for me.  I was so fortunate to be able to participate in the runDisney events at the Disneyland Resort in Anaheim, California.  It was my first visit to the west coast park and I was thrilled to be able to familiarize myself with the parks while running through them in the early hours of the morning.
Even better, I was invited to participate in Cigna's Blogger & Social Media event as a MouseForLess Blogger!  Cigna is a company that is all about keeping people well, fit, and healthy.  During this event, they taught us how to live this kind of lifestyle by playing creative games and having fun.  Before we knew it, calories were burned and we had bettered our health!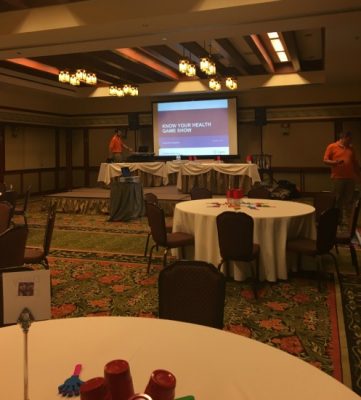 The  Blogger event was held in the Trillium Conference Room in the Grand Californian Resort. We were a group of approximately 25-30 participants and were assigned to teams, designated by character tables.  I was on Team Daisy!
The meet had a great energy with bloggers, runners, walkers, and Disney fans alike socializing and taking lots of selfies!  Shortly after we had some time to meet and connect with others, we were invited to join in on a warm-up exercise – Flip Cup!  We were to flip a solo cup from an upside down position, onto a bottle of water.  Once we determined who had the best aim at our table, we sent that rep up to compete against the other teams.
Throughout the meet, the winners of each activity received "gold coins" and a prize (and bragging rights!) was promised at the end to the team who held the most coins.  It encouraged a healthy and jovial competition amongst the tables!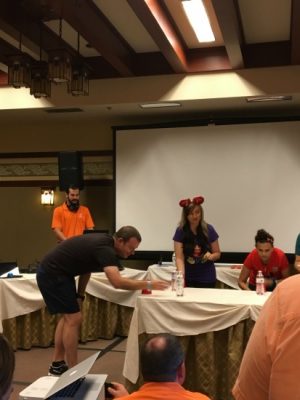 Next we played the Snack Attack Challenge which involved showing us extremely close up shots of different types of healthy foods and we had to guess what they were. Let's just say when you debate the same picture is honey or a tomato, this isn't as easy as it sounds.  But it got us all thinking about healthy snacks that are easily accessible to all of us.
There was a Scrabble-like game where we were given about 30 cards with one letter each on them.  We were to create a crossword with all of the letters spelling out health related words.  If you needed more letters, you could go and trade yours is – but the catch was you got two for one! The goal was to be the first team to use all of its letters! We didn't win, but we were close!  (And those were healthy fats and for those who walk their dogs!) 😉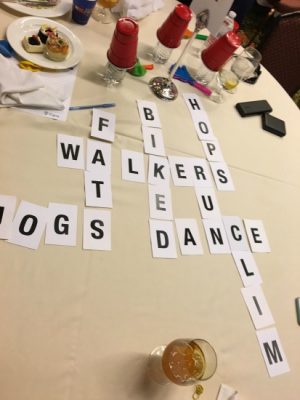 Switching back to an activity challenge, Junk in the Trunk was next.  Lots of ping pong balls were stashed inside of an empty tissue box which was fixed around competitors waist's so that the box was at their backside.  Once the music started, they were to shake their behind to get all of the balls out as fast as they could! I don't know who burned more calories, those shaking their boxes, or those of us laughing and cheering!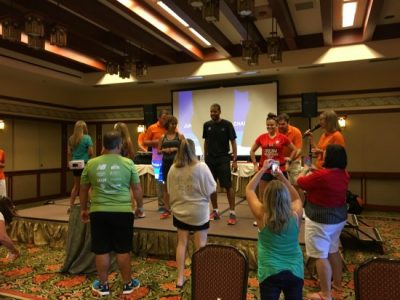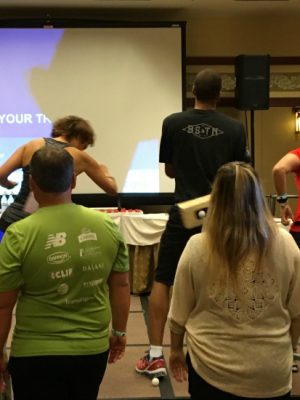 I was called upon to represent Team Daisy for the Dance in Your Pants Challenge.  Right before music started playing, we were given a card with a dance type on it and had to act it out.  Everyone had to write down which dance move or type they thought was being demonstrated.  I was sweating it out wondering if I would even know what dance it was when I was handed my card – phew, I got the Tango!  I used to dance the "Tango" with my babies when they were little, cheek-to-cheek!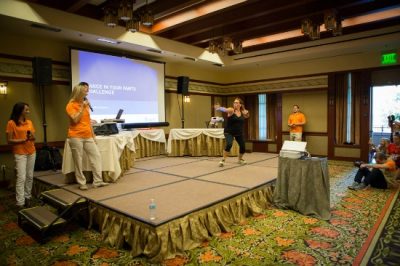 Where there is dancing, there is singing!  Teammates had to "hum" a tune given to them using only the sound "La."  They had headphones on so that they could hear the song, but all we could hear was "la-la-la-la-la-la" to their tune.  This was one of the more challenging games we played!  What point Cigna really wanted to get across to us was that being healthy and fit isn't just about your body, but about exercising your mind too!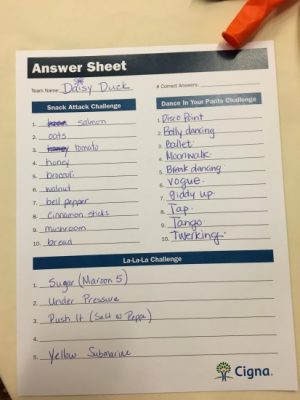 One last game that wasn't short on movement or laughs, was with our balloons!  We had to keep them off the floor, but using our hands was just for warm-up.  It was a little bit like a Simon-Says – "only use your right elbow" and "only your head now."  I almost took down the dessert and coffee table a few times!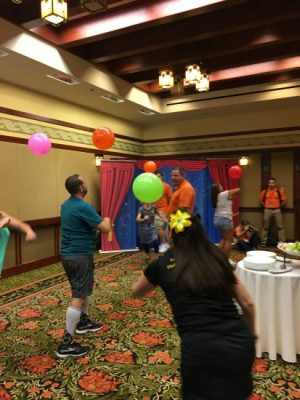 This event couldn't have done a better job keeping us thinking, moving, and learning while having fun.  I felt energized and ready to take these new tips back to my teammates, family, and friends to teach them about a healthy lifestyle!  And of course, Mickey & Minnie showed up to show their approval of these lifestyle tips!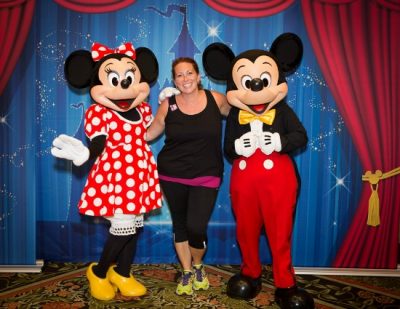 Cigna recapped some of the event with a short video!
Of course we can't leave the things we learned in the Trillium Room in the Trillium Room!  So let's share thoughts and ideas as to how to exercise our minds and bodies! #CignaRunTogether
How will you exercise your mind & body this year, and how will you encourage others to do so?