This post may contains affiliate links for your convenience. If you make a purchase after clicking a link we may earn a small commission but it won't cost you a penny more! Read our full disclosure policy here.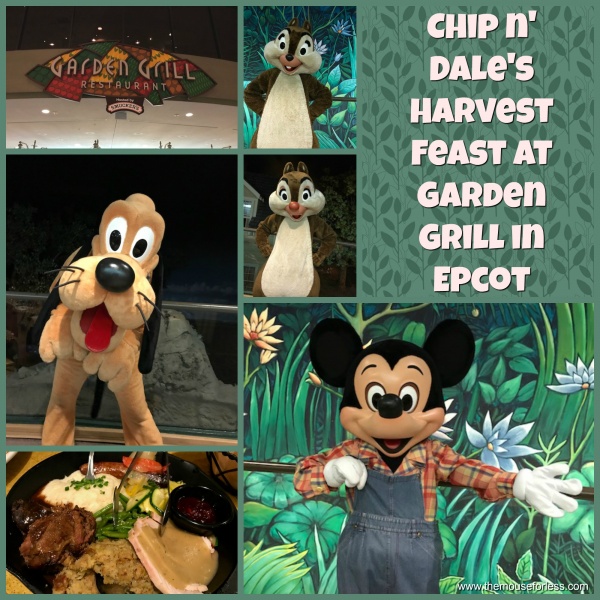 Most people when visiting Epcot consider dining at one of the World Showcase restaurants. I mean, who doesn't want to have an "authentic" Italian, Japanese, or English meal? The appeal for dining in World Showcase is huge. But did you know that there are some great options available for dining in Future World?
The Garden Grill in the Land Pavilion really is one of the famous Walt Disney World restaurants. Why? Well, it's well known as being a meal with a sort of "show". Wait….show? Yep! You see, The Garden Grill actually sits on a turntable, so the restaurant rotates as you dine. What does it rotate around? Well, it rotates around the Living with the Land attraction! So, you'll get to go past scenes from this classic Epcot attraction, such as the farm scene (if you look up to the left here, you'll see the restaurant), the rainforest scene, and the dessert scene.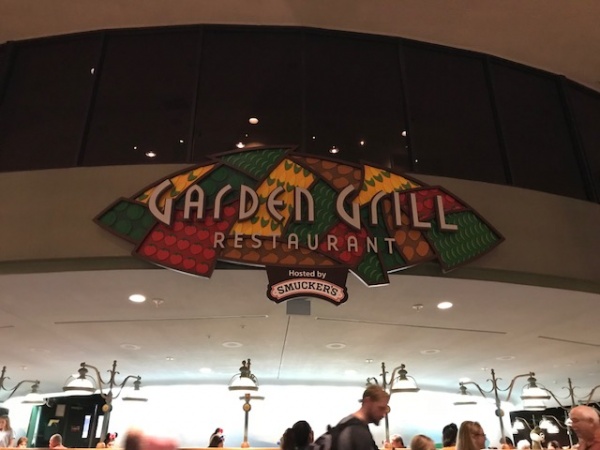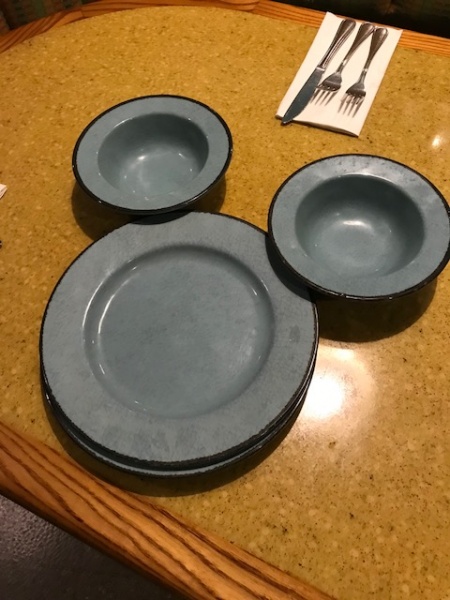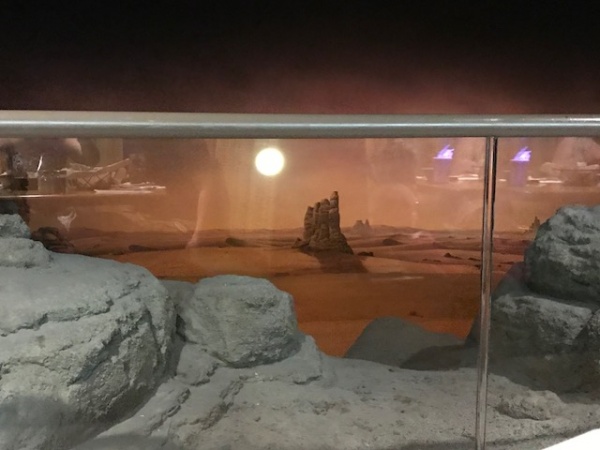 But that's not the only "show" you'll get from dining at the Garden Grill! As you can see from the title, this meal is called Chip n' Dale's Harvest Feast, which means this is a character meal! Guests who dine here have the opportunity to meet some of the classic Disney characters. Of course, Chip and Dale are there, but you'll also get to see Pluto, and Farmer Mickey! Another perk is that this is sort of a smaller restaurant, which means that oftentimes, you'll get to have more than encounter with the same characters! On my visit, I think we saw the characters a total of three times! And it wasn't like we were sitting in the restaurant taking a lengthy dinner in. I think we were there for maybe an hour. Of course, your mileage may vary, as it will depend on how busy the restaurant actually is too.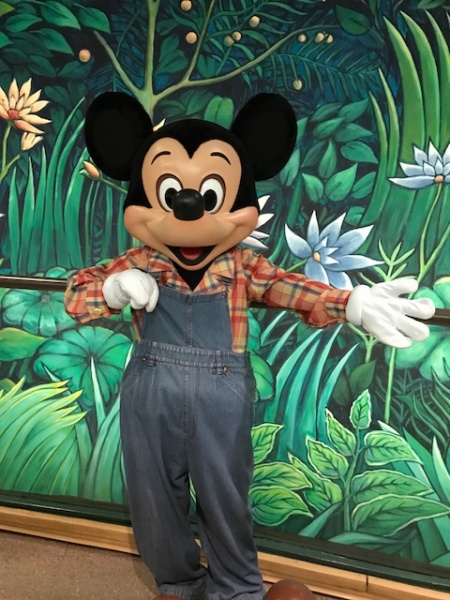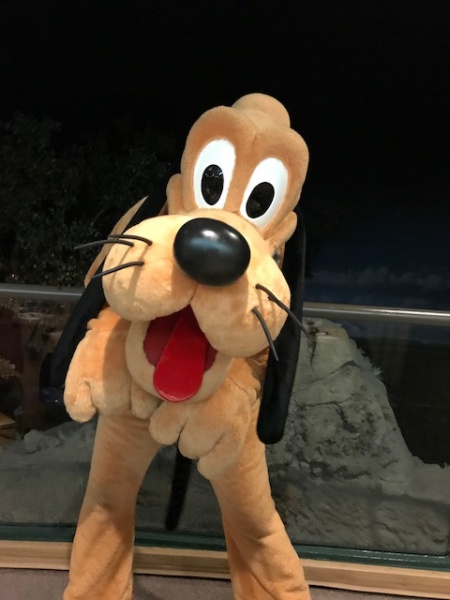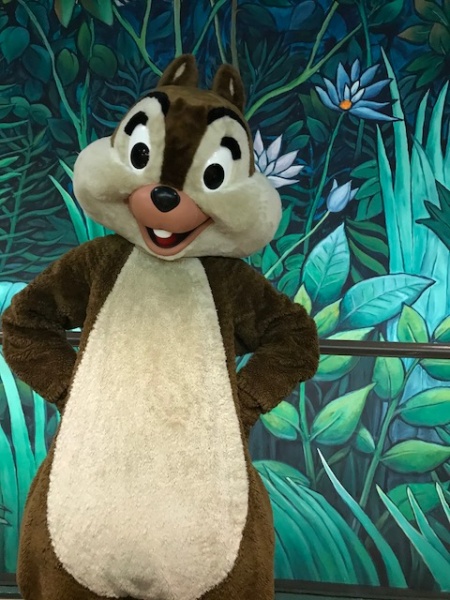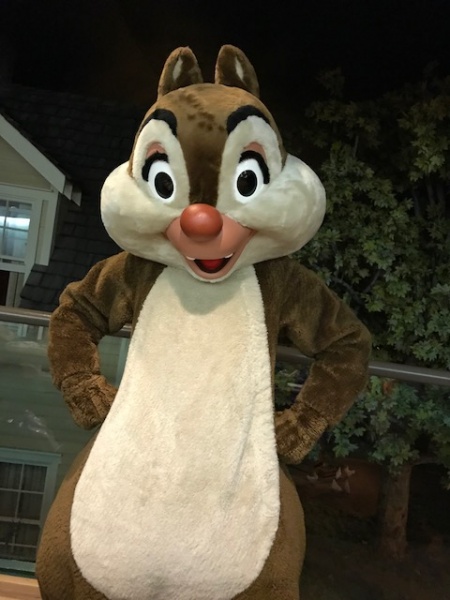 Ok….let's get to the food, shall we? Garden Grill is an all-you-care-to-eat experience and it's served family style. That means that all of your dishes are brought to your table and if you want more of anything, all you have to do is tell your server and they will bring you more of whatever you desire. But trust me when I say that Disney doesn't skimp on what they're serving you for the first go round!
The meal starts with a very fresh salad. (I mean, many of the pieces of the salad come from downstairs at Living with the Land….so it's super fresh.) This salad was fantastic! (And I don't say that about salad very often!) You could taste the freshness and that makes a huge difference!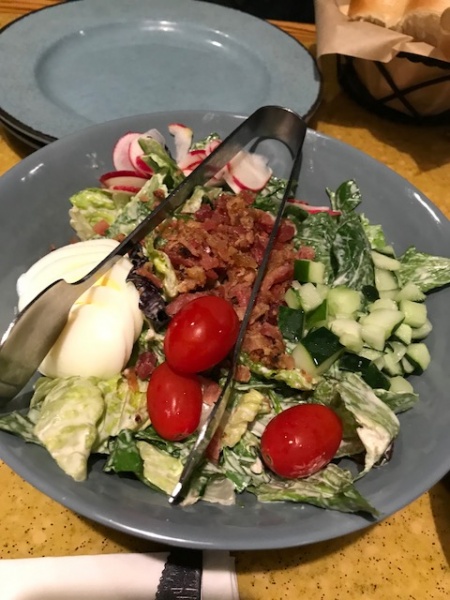 They also bring you rolls and butter. It's so hard to not eat all of these….but we have so much more coming.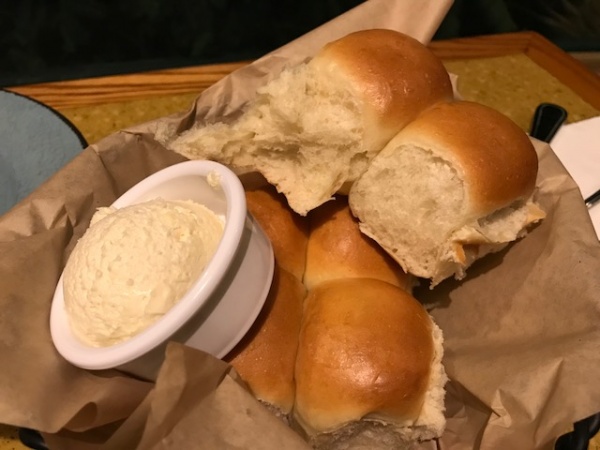 Next comes the skillet that is LOADED! Guests get three kinds of meat – turkey and gravy, pot roast, and Italian sausage with sauteed peppers and onions.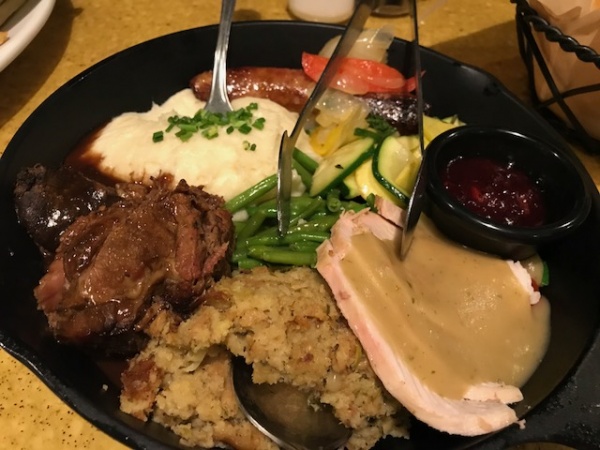 I thought my favorite would be the pot roast, because I love a good pot roast. And it was very good and tender. I also liked the turkey more than I thought I would, but the surprise of the night was how much I enjoyed the sausage! It was incredible.
Guests also get a number of delicious sides, including mashed potatoes, garden vegetables (which this day was zucchini and squash, as well as green beans), stuffing, french fries, and mac and cheese (and yes, there are goldfish crackers on top!) All of these sides were fantastic! Seriously….everything was super yummy!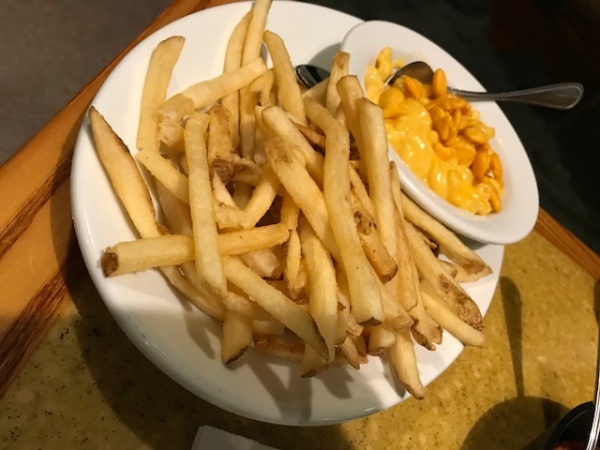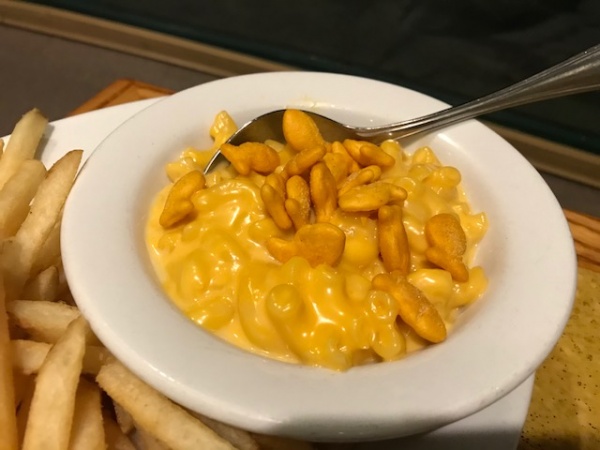 Then came time for dessert! Here, you get a fruit shortcake. It was mostly strawberries with some blueberries tossed in. It was also great, but at this point, I was stuffed! Seriously….I almost had to be rolled out of there.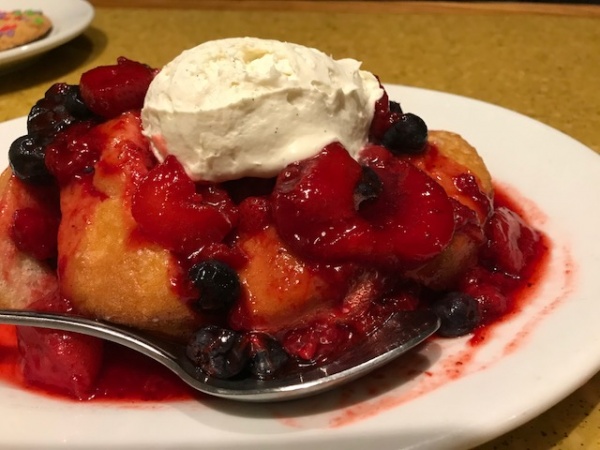 So, if you are looking for a fantastic meal that will leave you bursting at the seams with a unique experience and characters, Garden Grill is definitely a must do!
Have you had dinner at Garden Grill? What were your thoughts?  Let us know in the comments, or on Facebook or Twitter.
Did you like this article? Make sure to share it with your friends! Check below for easy ways to share!
Want to visit Walt Disney World? Contact The Magic for Less Travel for more information and a free, no-obligation quote.