This post may contains affiliate links for your convenience. If you make a purchase after clicking a link we may earn a small commission but it won't cost you a penny more! Read our full disclosure policy here.
Now that the hustle and bustle of the Holiday season is behind us, and winter is in full effect (at least here in Michigan – there's a reason our state is shaped like a mitten!), all we can seem to think about is escaping the sub-zero wind-chills and blustery snow! When we can't seem to keep warm and are feeling totally over winter, we start dreaming of hot, sunny days spent lounging by the water – more specifically – the poolside paradise that is 'Stormalong Bay' at Disney's Yacht & Beach Club Resorts.
We've had the pleasure of experiencing several remarkable pools during our time at Walt Disney World, but without a moments hesitation we can definitively say that Stormalong Bay is the best of them all! Honestly, the term "pool" doesn't do the wonder that is Stormalong Bay justice. Centrally located between the two resorts, Stormalong Bay meanders from the Yacht Club to the Beach Club, covering a whopping 3 acres with its pristine turquoise waters.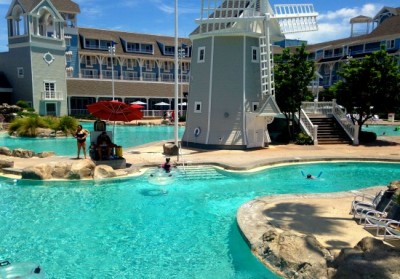 A view of the Stormalong Bay pool at Disney's Yacht & Beach Club Resorts
Stormalong Bay consists of a children's wading pool, a lazy river, large pools, secluded coves, three hot tubs, and the best waterslide at any Disney resort, hands-down. And amazing as all that sounds, we haven't even told you the most magical part – this expansive aquatic playground has a sandy bottom!
Our daughter enjoying the Children's pool at Stormalong Bay
The children's wading pool at Stormalong Bay evokes the feeling of a true beach experience. The pool varies in depth (in part due to its sandy bottom), but remains shallow enough for even the youngest of children to comfortably stand. In the center of the children's pool, there is a large sandy peninsula complete with pails and shovels. After all, what's a day at the beach without building a sand castle? Looking out from the children's wading pool, across Crescent Lake, is a beautiful view of the Boardwalk resort, which only lends to the authenticity of the resort's Atlantic seaboard theming.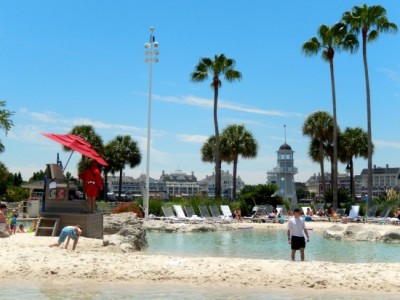 A view of the sandy peninsula in the Children's pool
The languorous lazy river at Stormalong Bay has been our favorite lazy river experience by far! In our opinion, one of the most notable features of this particular lazy river is the depth. One of our biggest complaints about most lazy rivers is that they are too shallow. There's nothing worse than scraping your knees and feet along the rough bottom of a too-shallow lazy river. At Stormalong Bay, this is never a problem! The lazy river here varies in depth throughout – ranging from 4' to 8' deep depending on your location. In the "shallower" 4' sections, the river's sandy bottom ensures that even if your feet touch down, you'll never experience that unpleasant scraping sensation. The river's current flows at a comfortable pace – not too fast and not too "lazy" – and there are inflatable rafts aplenty. If you're concerned that the depth might be unsafe for the little ones, rest assured – Disney provides complimentary life jackets in a range of sizes, and there are Lifeguards stationed around every bend of the river.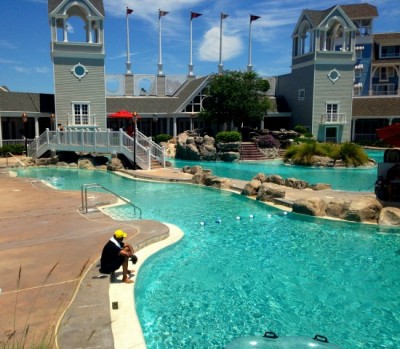 Best Lazy River ever!
One of the most thrilling features of Stormalong Bay doesn't even begin in the confines of the main pool area, it's accessed from across the walkway in it's own private cove – and that feature is the Flying Jib water slide! From the "peaceful" waters of Stormalong Bay, you can spot the mast of a shipwreck on the shore of Crescent Lake. If you make your way across the walking path that connects the Yacht and Beach Club resorts to Epcot for a closer look, you'll find that there is a stairwell up that mast, which leads to aquatic adventure that is the Flying Jib slide. "But how does a slide that begins across the walkway end up in the waters of Stormalong Bay?" you ask. Simple – the slide zips along right over the walkway! It took some persuading to get our then 6-year-old daughter to try the Flying Jib, as she was concerned that it might be "too scary," but once she tried it, we couldn't get her to stop – it quickly became one of her favorite attractions (and ours too)!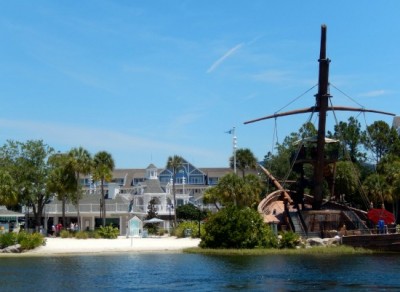 A view of the shipwreck entrance to the Flying Jib from Crescent Lake
Gosh, all that fun in the sun has made us hungry! Luckily Stormalong Bay doesn't just knock it out of the park in the fun department, but in the food department as well. Within the main pool area, there are two readily accessible dining options – a Quick Service option, Hurricane Hanna's; and a Table Service treat, Beaches and Cream. If you've purchased a refillable Resort mug, Hurricane Hanna's has a convenient Rapid Refill station, and offers fairly standard Quick Service fare and comfortable outdoor seating.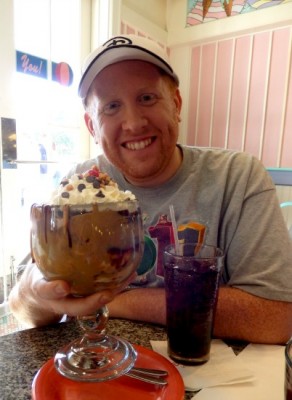 Scott enjoying his favorite treat at Beaches and Cream – the "No Way Jose" sundae
But the real gem is Beaches and Cream – a nostalgic ice cream parlor – complete with jukebox and ice cream cone light fixtures. Beaches and Cream serves up classic favorites including burgers, hot dogs, onion rings, and Scott's favorite – a six-cheese Grilled Cheese sandwich. But the main event at Beaches and Cream is dessert! Nothing beats one of their cold, creamy old-fashioned sundaes after a day at the Bay! A word to the wise – Beaches and Cream now accepts Advanced Dining Reservations, and because the restaurant has such limited seating, they fill up fast, so a reservation is highly recommended! If you can't score a reservation at Beaches and Cream, don't fret! Their delicious ice cream is available for carryout – no reservation required!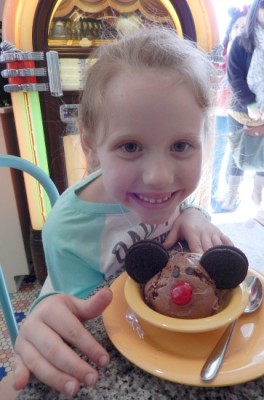 The adorably delicious "Mouse" sundae for kids
Day dreaming about the warmth and water at Stormalong Bay helps to ease our winter blues, and make these cold winter days a bit more tolerable. The only thing more therapeutic is planning our next Walt Disney World vacation!
Incoming search terms:
https://www themouseforless com/blog_world/chase-winter-blues-away-dreams-stormalong-bay/