This post may contains affiliate links for your convenience. If you make a purchase after clicking a link we may earn a small commission but it won't cost you a penny more! Read our full disclosure policy here.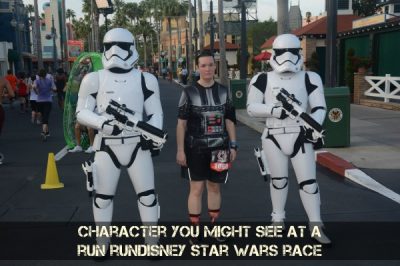 So you've signed up for a runDisney Star Wars race.  You've put in the training.  You've planned your costume.  You've located your waiver, signed it, know your corral if you are running the half marathon, reviewed the race course, and planned your park touring strategy.  Now you wonder just which characters you might see during the weekend.  While we really won't know until we're on the race course, as a veteran of two runDisney Star Wars race weekends, we can make some educated guesses.
Pre-Race
Besides the opportunities in Disney's Hollywood Studios to view Stormtroopers and have character meet and greets, your runDisney character experience starts pre-race, in the staging area.  As with all runDisney races of late, there will be the opportunity for pre-race photos with various characters.  These characters are usually arranged around the stage with large backdrops.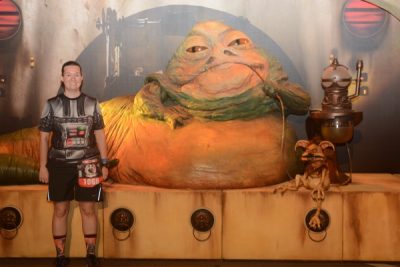 And while the lines may be long, they do move fast as there generally isn't a ton of character interaction going on- there's no autograph signing just a quick snap of the picture by the PhotoPass photographer, or with your camera if you provide it.  You do have to make sure that you race bib is visable so that your photo will be available in PhotoPass.  In past years, BB-8 has been one of the most popular characters- but make sure that you don't try to touch him or his stand- cast members are very particular about that.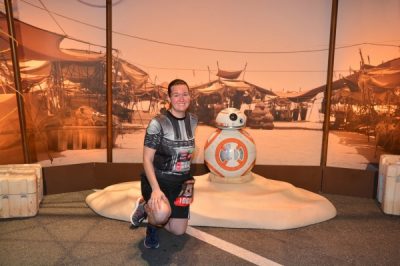 And if you don't get all the pictures taken before the race, don't worry- many of the characters are available post-race for pictures with you and your shiny medal.
During the Race
After the walk to the corrals, the race will begin.  It's hard to predict where the first photo stop will be, but if you haven't seen a character by mile one, then you will at the first mile marker.  Each mile marker will display a unique Star Wars Character, and a clock that started with the first participant- so it's not actually your time.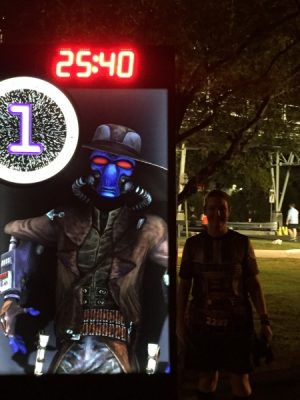 Many runners make this their own character stop by taking a selfie with the mile marker, or asking another runner who has stopped for the same purpose to take a photo for you.  Runners are often willing to do this for each other as there are no PhotoPass photographers stationed at the mile markers.
During the race, you will see various characters that will vary in number depending on the length of the race.  You can count on seeing some favorites like Chewbacca and R2-D2.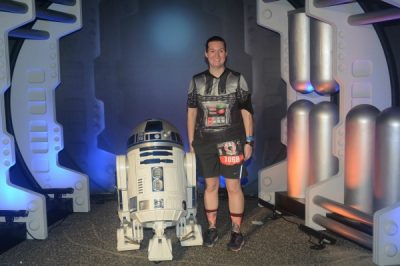 But what makes the races unique are some of the large backdrops- including the trash compactor scene and the famed Hoth Cave that with a little Disney magic come out looking perfect.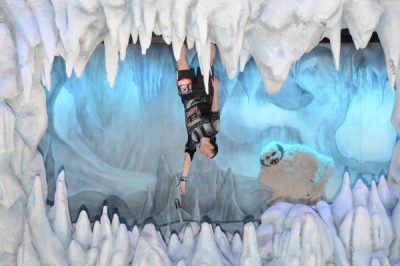 With the popularity of Star Wars: The Last Jedi, there's a good chance that you may see several new backdrops and characters.  Personally, I'm hoping for the opportunity to have a picture with one of the crystal foxes (known as a vulptex) or on the bridge of any of the starships- especially the Millennium Falcon.  With Solo: A Star Wars Story coming soon, could there perhaps be a young Han Solo to take a picture with?  We won't know until race time, but the possibility on new and different characters on the course is very exciting!
Post-Race
But remember the photos don't end at the finish line, but post-race.  Make sure to get at least one photo post-race with your medal, and any of the character that you happened to miss pre-race.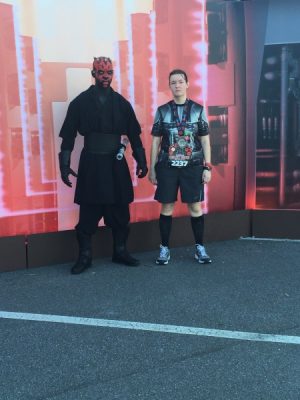 Most of all, this weekend, make sure to enjoy this unique experience.
What have been some of your favorite moments from the Star Wars Half Marathon Weekends and which characters have you enjoyed meeting? Share in the comments or on our Facebook page.
Did you like this article? Make sure to share it with your friends! Check below for easy ways to share!