This post may contains affiliate links for your convenience. If you make a purchase after clicking a link we may earn a small commission but it won't cost you a penny more! Read our full disclosure policy here.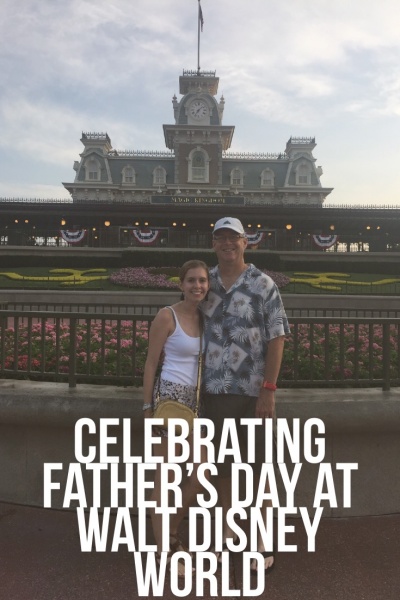 Father's Day is coming up, and Walt Disney World is the perfect place to celebrate! I recently celebrated an early Father's Day with my dad during my last WDW visit, and we had an absolute blast! Here, I'm bringing you my trip report from our recent celebration. I hope it gives you some ideas to help plan a special day for dad!
Morning: Disney's Magic Behind Our Steam Trains Tour 
My dad is a big train-lover, and when I found out that Walt Disney World has a steam trains tour, I knew we had to go check it out! We started our Father's Day celebration with a very early wake up call; we had to report to the Magic Kingdom by 7:15 a.m.!
We enjoyed a 3 hour tour through the Magic Kingdom and the steam train roundhouse, where we learned all about the four steam trains on Magic Kingdom property, how they run, where they're stored and maintained, and how much Walt Disney, himself, loved them! My dad had no idea that the tour existed, so this was an extra-special celebration.
The tour accommodates 20 guests, but there were only 3 of us, which made for a really unique experience. We got to ride the steam train around the Magic Kingdom before the park opened, take a trip to the roundhouse, hop into the engineer's seat, and more! It was a perfect way to start our Father's Day!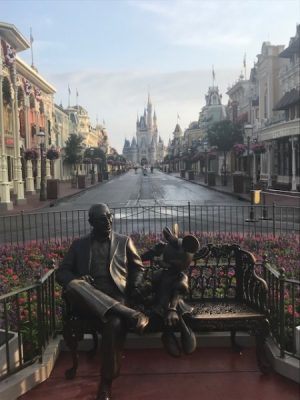 Afternoon: Epcot
Our tour let out at 10:30 a.m., and we headed off to Epcot to enjoy a little touring and some lunch. Since it was a celebratory day, we had a cupcake first! We split a rose gold cupcake from Sunshine Seasons (it turns out dads like rose gold, too, if it's on top of a cupcake!), rode a few attractions, and grabbed some lunch at Katsura Grill in the Japan pavilion, dad's favorite quick service spot. We enjoyed the food, but I think the blasting air conditioning was the real highlight of our lunch! We enjoyed a stroll through the World Showcase, hopped on a couple more attractions, and headed on to our next adventure!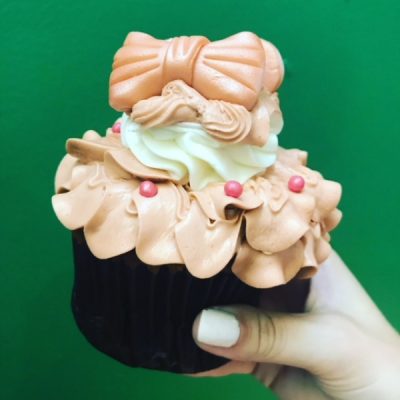 Evening: Fort Wilderness
My dad enjoys walking, the outdoors, and eating unlimited meat and potatoes for dinner, so heading to Fort Wilderness Resort and Campground was an obvious choice for us! We enjoyed walking the nature trails between Fort Wilderness and Wilderness Lodge, and got to see about 10 deer as we walked! Since we had to work up an appetite for dinner, we enjoyed about 2 hours of strolling around the property, taking in the trails and checking out the stables at the Tri-Circle-D Ranch. From there, we headed over to our reservation at Trails End Restaurant, a delicious buffet dinner specializing in fried chicken, a carving station, and strawberry shortcake. When we were about to burst, we took another stroll through the Fort Wilderness property before our food coma could kick in! It was a perfect, low key evening!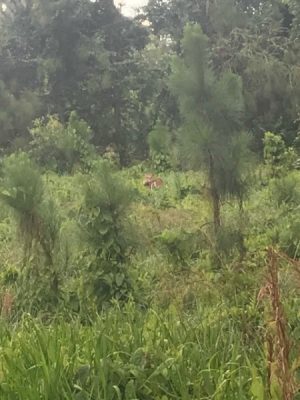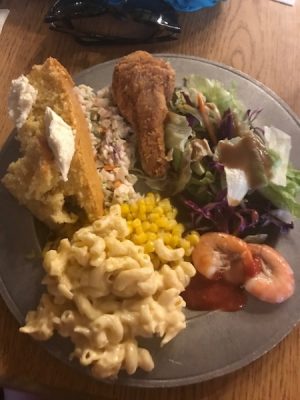 Summary
We had a big day, complete with a special tour, a little park time at Epcot, and a relaxing evening with unlimited fried chicken! While we were exhausted by the evening, we really enjoyed the slow pace of strolling through the Fort Wilderness property. My dad loved the opportunity to learn more about the steam trains and the history of Walt Disney World, and I loved being able to surprise him with such a unique gift! If the dad in your life is anything like my dad, a day full of trains, food, and nature strolls is an absolutely perfect way to celebrate him!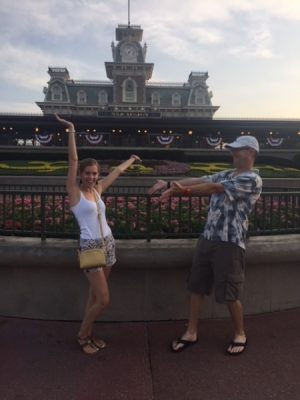 What have you done to celebrate your dad at the Walt Disney World Resort? Share your thoughts in the comments or on Facebook or Twitter.
Did you like this article? Make sure to share it with your friends! Check below for easy ways to share!