This post may contains affiliate links for your convenience. If you make a purchase after clicking a link we may earn a small commission but it won't cost you a penny more! Read our full disclosure policy here.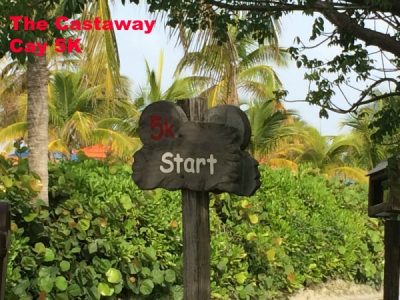 On your mark….get set….go!
One of the things that intrigued me about our Disney Dream cruise to the Bahamas was the Castaway Cay 5K. This is the most informal of the Run Disney races, in which anyone on board the cruise aged 10 and up is welcome to sign up. I don't run, not unless someone is holding a Dole Whip far away from me. But I love walking. And I figured, if I could log 18,201 steps in a day at California Adventure and make it from the Canada pavilion to Soarin' in record time before my FastPass+ time expired, I could surely walk a 5K.
You can register for the race on board the ship, at Guest Services. The race is included in the cost of your cruise, although there is plenty of race merchandise you can buy afterwards.
The meeting place for the race was 8:15 a.m., after the ship had docked at Castaway Cay. Friendly Cast Members gave us race bibs and talked us what to expect. We were told many times to make sure to hydrate during the race.  We were then told to lift our Key to the World cards and sing a silly ditty to the tune of Circle of Life, to remind us that we needed them to get back on the ship. In addition, all adults had to also have their drivers' license.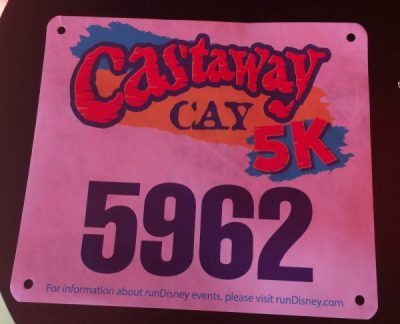 my race bib
We were told that this was an informal race, and that every single one of us would get a medal. We'd get it if we ran it, we'd get it if we walked it, and we'd even get it if we totally skipped the two times through the infamous "Circle of Death" – a loop that is used as a bike path when the race is not being run.
At 8:30 a.m. we headed to the island. This was my first view of the island, and it's very pretty. However, it was August, and it was also very hot and humid. Luckily, there was a nice breeze that kept up throughout the entire race.
Instead of taking a tram to the starting line, we did what the Cast Members jokingly called "The Castaway Cay 5K Pre-K." So I was already sweating before the race even began.
Although the race is informal, it's still timed, and we began at precisely 9:00 a.m. I had determined from the beginning to walk at my fastest, I-was-born-and-raised-in-New-York-and-I-have-somewhere-to-be pace, and not to slow down. I actually managed to keep that pace during the entire race.
There were water stations conveniently located throughout the race, and other racers told me that the water was very cold. However, I had come prepared, and was wearing a water bottle lanyard. So, every time I passed a water station, I kept going but took a long swig of water.
It's amazing how my goals changed throughout the race. In the beginning, I wanted to do it in under 45 minutes. Soon that changed to 45 minutes. And then it changed to simply not coming in last. And then, finally, to finishing at all.
I've lived in Southern California for the past 21 years, so I know heat, but humidity is something that only crosses my paths on Walt Disney World vacations. So I was stunned by how the humidity just sucked the energy out of me. Didn't matter. I kept going, walking at my starting pace, not letting up.
Yes, I did the Circle of Death twice. No, I didn't run, not even once. And when I approached the finish line, I was disappointed to see that I wasn't going to make my original goal of under 45 minutes. But I was delighted and surprised to see that my family, whom I left sleeping soundly in our stateroom, was there, cheering for me to cross the finish line.
My time was 50 minutes and 35 seconds, and I wasn't the last one! I proudly took my medal and got my photo taken. Unfortunately, my photo never got assigned to our stateroom. I'm guessing it's because I was wearing my sunglasses, so the photo recognition software did not think I looked like the photo I took on embarkation day, in which I wasn't wearing them.
I made it up to myself by buying a Castaway Cay 5K pin on board afterwards.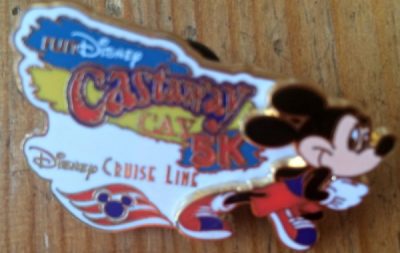 my reward to myself
Would I do this race again? Yes. In August? Okay, maybe not. But, when I stepped on my scale at home after our cruise, to find that shockingly, I had not gained any weight despite a few nights of double desserts and many, many trips to the free soft serve ice cream machine, I said to myself, "Thank you, Castaway Cay 5K!"
Have you ever completed the Castaway Cay 5K? Share your experience in the comments!