This post may contains affiliate links for your convenience. If you make a purchase after clicking a link we may earn a small commission but it won't cost you a penny more! Read our full disclosure policy here.
The Candlelight Processional has become a yearly tradition for my family during the holidays. I've seen some excellent narrators in the past, but this year I was super excited to finally see Neil Patrick Harris! I was a huge fan of "How I Met Your Mother"and even watched him on "Doogie Howser" many years ago, so I could not wait for this year's Candlelight Processional.
The Candlelight Processional is a very popular event that takes place at Epcot each year during the holiday season. The show features a full orchestra and a choir made up of Disney cast members, the Voices of Liberty, and students from various high schools. A celebrity narrator tells the Christmas story and the musicians perform holiday music. The show takes place 3 times per night from around Thanksgiving until the end of December. This year, the show will run until December 30th.

The Candlelight Processional Choir and Orchestra
The show is technically free with park admission, but due to the popularity, you will need to get in line early to see the show. There is also some limited room to stand at the back of the America Gardens Theatre. Even if you get there early, you are not necessarily guaranteed a seat for the performance. There is, however, one way to ensure that you will have a spot. You can purchase a Candlelight Processional Dining Package.
Here's how the dining package works: You choose a participating restaurant and make a dining reservation for the day you wish to see the Candlelight Processional. You will pay a set price for your meal. Meals generally include an appetizer, entree, dessert, and non-alcoholic drink or there are some restaurants that offer a buffet meal. After your meal, you are given a sticker to wear as your ticket to a particular performance (the time of your meal determines which show you will see).

Candles Light Up the Stage
Prices for lunch and dinner range from around $40 up to $75 per person for adults. Kids' meals range from $15 to $40. This year, some additional restaurants were added to the list of participating restaurants and some are offering a breakfast option. Breakfast starts around the $30 range for adults. If you are looking for the more economical option, this is the way to go.
My mom and I chose the Biergarten restaurant for our dining package. This was my first time trying Biergarten and I really enjoyed it. The meal was served buffet style with lots of salad, meat, pasta, and dessert options. I'll be honest, German food is not usually my first choice, but I found lots of things that I liked on the buffet. I left stuffed!
Lively Band
What I loved most about this restaurant was that there was a show performed while we ate. We basically got two shows for the price of one with the dining package! The show featured a band, polka music, bells, and story time for the kids. We loved it! The show is performed about every hour, so you should have the opportunity to catch it during your meal.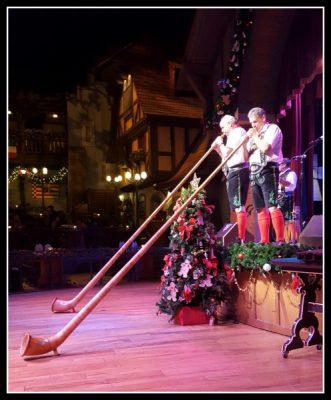 Talented Musicians Play the Horns
After dinner, we killed a little bit of time, but since we knew that our show would be very popular, we got in line early. You are guaranteed a seat with the dining package, but if you want to be closer to the stage, you may want to hop in line early. In the past, we have lined up about 45 minutes before the show.  This time, we were in line before 7:00 p.m. for our 8:15 p.m. show since this was one of the most popular narrators. There really is not a bad seat in the house, so no matter where you sit, you should have a good view.
Neil Patrick Harris Sings Along with the Hallelujah Chorus
As I had hoped, Neil Patrick Harris did an absolutely amazing job!  He was dramatic and entertaining. It made the show very enjoyable. The choir and the orchestra sounded better than ever.  The lights and decorations were gorgeous. Overall, the show was truly phenomenal. It was the best performance I have seen so far!
The Candlelight Processional is an absolute must do for me during the Christmas season. It is an event that the whole family can enjoy and it is a show you can see year after year.  If you will be at Epcot during the holidays, I highly recommend it. I hope that you will enjoy it as much as I have!
Have you ever seen Candlelight Processional? What were your thoughts? Share in the comments!