This post may contains affiliate links for your convenience. If you make a purchase after clicking a link we may earn a small commission but it won't cost you a penny more! Read our full disclosure policy here.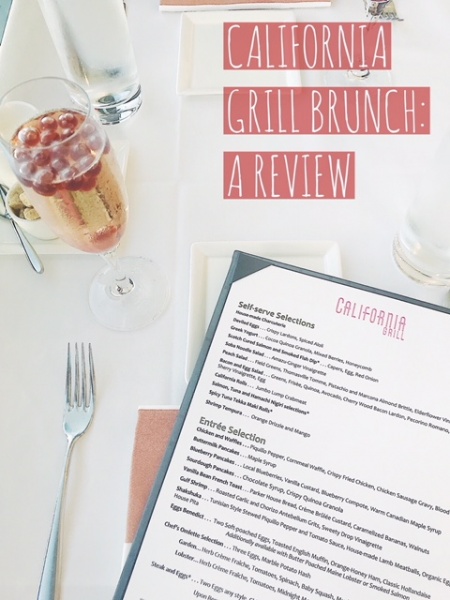 I consider myself a foodie; I plan the majority of my trips around trying out new food and beverage options, and I've been known to investigate the menus for Epcot festivals the day they're released. One of the most appealing foodie dining experiences is the Sunday Brunch at California Grill, and I finally got the chance to experience it for myself over Labor Day Weekend! Here, I'm bringing you my review of this dining spectacular.
THE DETAILS
California Grill is located on the top floor of the Contemporary Resort. Check-in is located at a desk downstairs, and a quick elevator ride is required before entering the restaurant. Valet parking is free for California Grill brunch guests, so we chose to drive in, but you can also access The Contemporary by Monorail, boat, bus, and Minnie Van.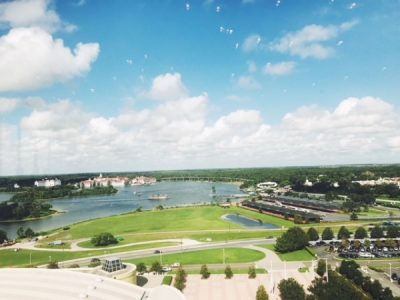 The brunch is only held on Sundays, and reservations fill up quick. We began searching for a reservation about 2 months ahead of time, and after multiple attempts daily to secure a reservation, I finally found a table for 3 on the Sunday of Labor Day Weekend at 10:00 am, the first seating! If you're not seeing any availability at first, keep checking back!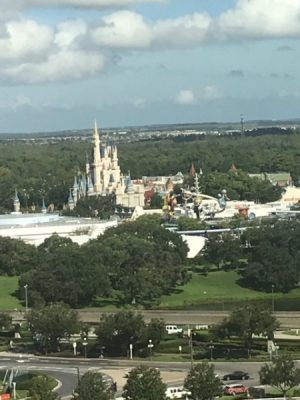 The brunch is priced at $80/pp for adults, and $48/pp for children age 3-11. Though it's one of the pricier options, we were there for over 3 hours, and I honestly wasn't hungry until dinner time! We were also able to get a 10% Annual Passholder discount.
Another fun perk to the brunch is the option to return in the evening for rooftop fireworks viewing! Keep your receipt, and you're welcome to come back and watch Happily Ever After (with the music piped in!) from an observation deck.
THE RESTAURANT
We were absolutely in awe from the moment we arrived on the top floor of The Contemporary. Floor to ceiling windows give you views of the Magic Kingdom from above! We could also see some Walt Disney World landmarks from around the resort.
The restaurant, itself, is bright, airy, and very modern. We enjoyed dining here during the daytime, when the restaurant was brightened by natural lighting. We were seated right next to a window overlooking Cinderella Castle, and everything seemed magical from the moment we sat down!
We also enjoyed the live musicians, who played a mix of classic tunes and Disney songs (is there anything more magical than hearing "When You Wish Upon a Star" while overlooking the castle and sipping a mimosa? Absolutely not!).
Also, be aware that there is a dress code, though we did not see it being enforced. We chose to dress up, but saw others in park attire being admitted to the brunch despite a posted dress code notice at the check-in desk.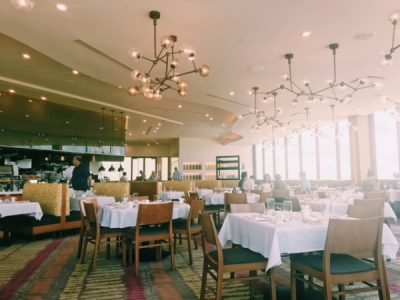 BEVERAGES
First things first: you get unlimited mimosas from the second you walk off the elevator! Before we were shown to our seat, we were each handed a mimosa with boba balls, and the refills were more champagne than juice!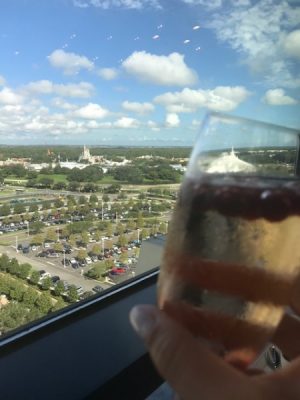 Our server came over to our table right away and started by taking our drink orders. Press pot coffee, a selection of teas, sodas, juices, and of course, unlimited mimosas are included in the brunch price. You're also served filtered water (finding good water in Florida can feel like a luxury!). We started with a few pots of coffee, and one guest kept the mimosas coming! There is also a bloody mary bar at an upcharge. I'm not a bloody mary girl, myself, but the garnish bar almost made me convert! Shrimp cocktail, onions, all sorts of goodies are available for garnish!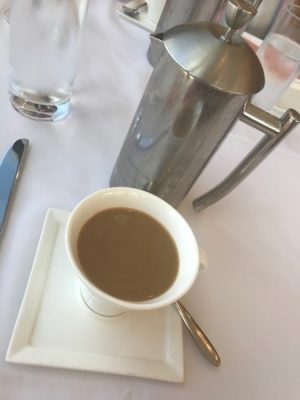 THE MENU
Our server talked us through the menu, explaining the two sections: Self-Serve and Entrée. Guests may help themselves to the buffet-style self-serve stations throughout the course of their meal, and an entrée course will be provided tableside. We decided to order our entrees to share so we could taste more options off the menu. Once we placed our entrée orders (more on that later!), we headed over to the self-serve stations!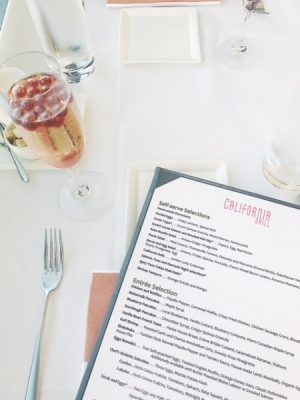 THE SELF-SERVE SELECTIONS
You could easily build a delicious and filling brunch from these stations, alone! Among the many selections, you'll find charcuterie (I ate my weight in prosciutto), incredible deviled eggs with lardons and a spiced aioli, a greek yogurt parfait station (basil-macerated strawberries, blueberries, honeycomb, and granola were available as toppings), salads, smoked salmon with bagels and other fixings, the famous California Grill sushi (including California rolls, Hamachi nigiri, spicy tuna maki rolls, and shrimp tempura, among other selections), and a delicious pastry bar. We also indulged in the California Grill Bourbon Baba, which was being prepared fresh at the station, and topped with bourbon orange ice cream (because all brunches should include ice cream, am I right?). This buttery, caramel pastry was beyond good, and I've daydreamed about it all week!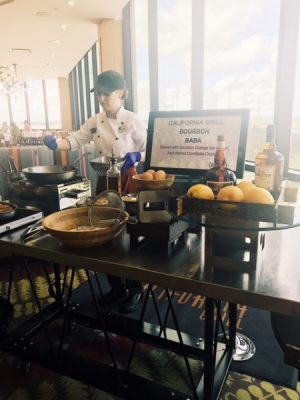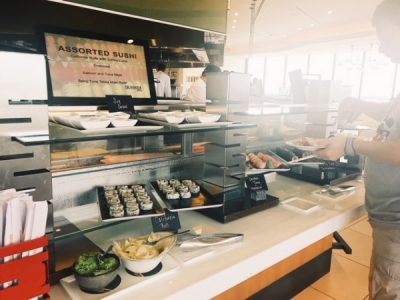 I fixed myself a fairly modest first plate, as I knew that this was a marathon, not a sprint, and I still had entrees coming! Among my selections were the create-your-own parfait, the peach salad, prosciutto, a deviled egg, and some pastries. Don't worry, I went back again after my entrée course for some more of my favorites, including the bourbon baba, more prosciutto, and a few other options!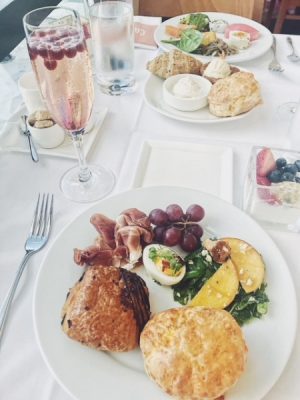 THE ENTRÉE COURSE
Our server walked us through the entrée options, and we decided to try the Blueberry Pancakes with blueberries, vanilla custard, and blueberry compote, the Vanilla Bean French Toast with crème brulee custard, caramelized bananas, and candied walnuts, and the Eggs Benedict with butter poached Maine lobster and orange honey ham. As if that wasn't magical enough, our server asked us if there was anything else we'd been eyeing on the menu. I'm a grits fanatic, so of course we had to try the Gulf Shrimp with garlic and chorizo Antebellum grits and a sweety drop vinaigrette. We also added a few orders of bacon because, why not? All of these options were available for no additional charge, which was absolutely incredible!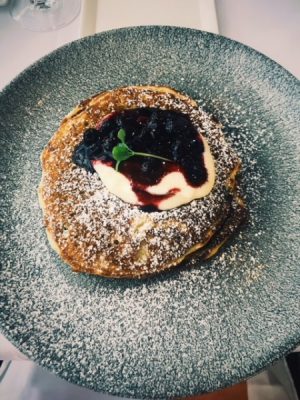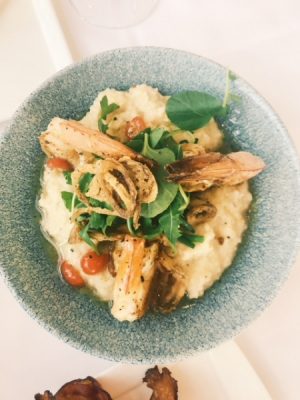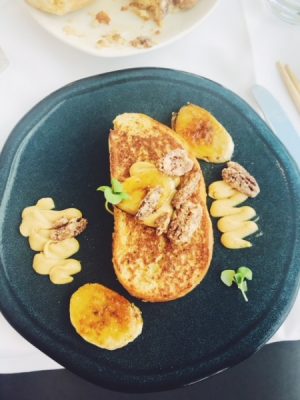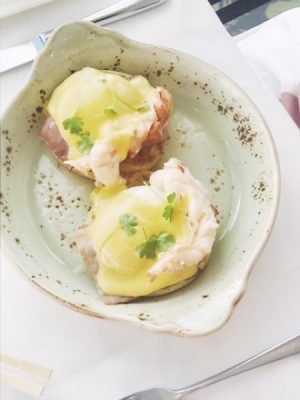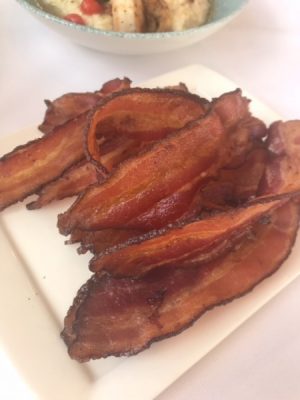 THE REVIEW
I'll start off by reviewing the beverage options. One guest in our party indulged in a few mimosas, and really enjoyed them! A server came around multiple times with a bottle of champagne, topping off drinks and pouring entire flutes of champagne, alone. Two of us opted for the press pot coffee, and it was strong, rich, and absolutely delicious. We each got our own pot of about 2.5 cups of coffee, and I'm sure more would've been made available had we requested it. We also had refills on our water multiple times throughout our three-hour dining experience. No detail was overlooked in ensuring a magical brunch!
The self-serve options were absolutely divine. Among my favorite selections were the deviled eggs; I enjoyed the smoky flavor and the crunch from the lardons, which gave a nice textural element. The salads were also quite enjoyable; among so many heavier options, it was really nice to have something light and fresh available. I loved the peach salad, and my friend raved about the bacon and egg salad, as well. I'm not a sushi fanatic, but my friends both went back for more sushi, stating that it was fresh and delicious! I also loved the parfait bar; we all agreed that the honeycomb was incredibly floral and paired beautifully with the yogurt (and was delicious on its own, trust us!). I have to say that the star of the self-serve selections was the Bourbon Baba. This is the stuff dreams are made of. It was light, buttery, heavenly!
The entrée selections were definitely the highlight of our brunch experience. We agreed that the favorite was the blueberry pancakes. These pancakes were incredibly fluffy and light, and the blueberry compote was tart enough to pair perfectly with the vanilla custard without feeling overly sweet. The gulf shrimp with grits was a close second place. 3 large shrimp are perched upon a pile of some of the best grits I've ever tasted. Creamy grits are given a great textural element with the use of the chorizo. We also loved the eggs benedict with the lobster. It's not often that you see lobster on a brunch menu, so we agreed that it felt luxurious and paired nicely with the hollandaise sauce. Though we were definitely most excited about the French toast, it placed last for us. It was nice, but a bit heavy and definitely nothing special in comparison to all of the other treats. We also enjoyed the bacon; it was nice and crispy, and perfectly done!
DESSERT!
After a few trips to the self-serve stations, 4 entrees, a giant plate of bacon, lots of coffee and mimosas, you'd think it's time for the check, but you'd be wrong. We were surprised by a platter of delicious pastries and sweets! Among the treats we found macarons (caramel being the favorite), truffles (we loved the rosemary mint!), cardamom cookies, lemon blueberry financiers, and chocolate bark. We decided to take a small taste of everything (for the purpose of research, of course!), and were able to box up the rest to go! We were so incredibly full by this point that we couldn't have possibly finished the pastry selection!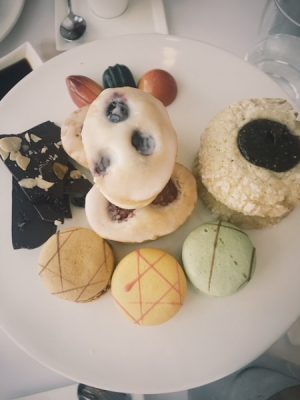 FINAL THOUGHTS
Everything at the California Grill Brunch was pure magic. From the breathtaking view of the Magic Kingdom from above to the unlimited beverages, to the absolutely perfect menu options, we agree that going back is mandatory! We never felt rushed, and dined at a leisurely pace for 3 whole hours! The service was spectacular, our server was knowledgeable and so accommodating. Everything about the California Grill brunch was memorable and so special. I'd recommend this as a great option for special occasions, and for the perfect treat during any Walt Disney World vacation!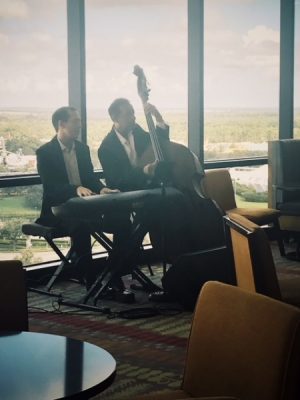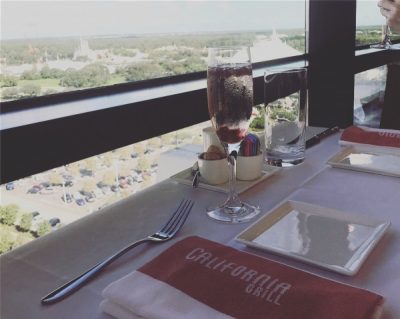 Have you experienced brunch at California Grill before? Share your thoughts in a comment below or on Facebook or Twitter.
Did you like this article? Make sure to share it with your friends! Check below for easy ways to share!
Want to visit Walt Disney World? Contact The Magic for Less Travel for more information and a free, no-obligation quote.

Incoming search terms:
california grill contemporary reviews