This post may contains affiliate links for your convenience. If you make a purchase after clicking a link we may earn a small commission but it won't cost you a penny more! Read our full disclosure policy here.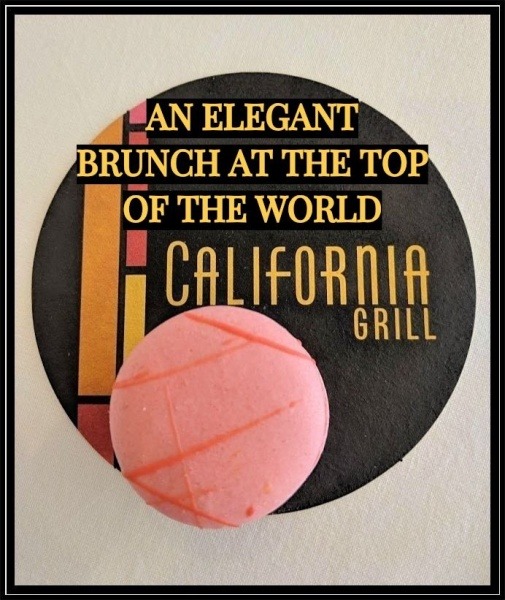 If you are looking for the perfect way to celebrate a special occasion or just planning to splurge while on vacation, look no further than the California Grill's Sunday Brunch at the Top. With delicious food offerings and a stunning view, the California Grill at Disney's Contemporary Resort is one of the most elegant places to dine on Disney property. You will feel on top of the world, Walt Disney World that is, as you dine in luxury.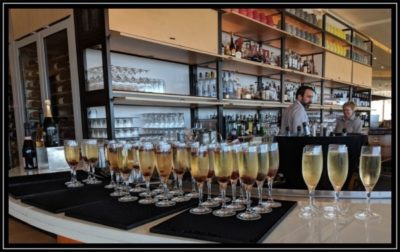 Top notch brunch service begins the moment you check in at the California Grill. From there, you will be escorted upstairs and offered a welcome drink. This mimosa is a little different from your typical orange juice and champagne. This version contains boba balls that give the champagne a pop of color and flavor. Blueberry and strawberry were available on the day that we visited. By the way, these drinks are unlimited with your meal! Some non-alcoholic drinks are also included. Additionally, there is a bloody mary bar available for a slight upcharge.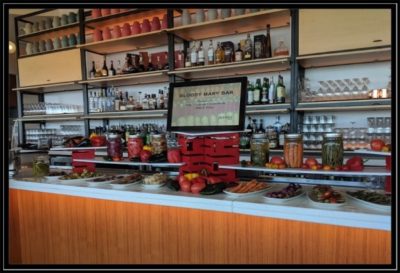 The Main Course
Shortly after our arrival, we were escorted to our table where our server explained how brunch works. This is a "hybrid" meal where you are welcome to enjoy all that you would like from the buffet, but also get to chose an entrée option from the menu. Live music plays as you settle in to enjoy your meal, making the ambiance of the restaurant very relaxing.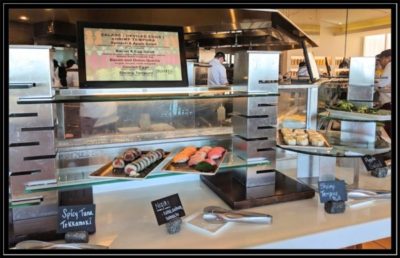 We perused the menu and decided on our entrées before checking out the buffet. There is a little of everything here and we had no trouble finding things we wanted to try. The first thing I grabbed was sushi, while my husband went straight for the cheeses. The sushi was fresh and delicious. I also really enjoyed the deviled eggs. I was a little skeptical because the deviled eggs available downstairs at The Wave are not my favorite, but these were good. Everything I chose from the buffet was fantastic and of course I went back for seconds!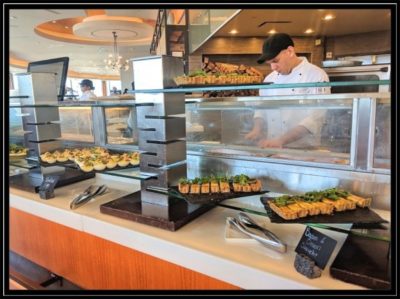 I chose the chicken and waffles as my entrée. My husband ordered the French toast, so I tried this as well. I liked both, but the French toast was definitely my favorite. Various sides, such as bacon and potatoes, are also available upon request. It seems that there have been some tweaks to the menu since we visited, so you may find some different entrée options available now.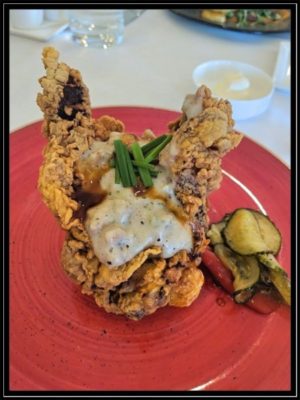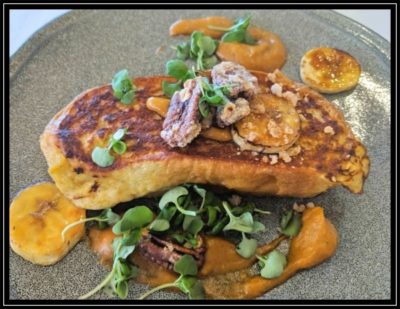 Dessert
I was stuffed before I even finished my entrée and asked for a box to take part of it home. Little did I know that the best was yet to come as dessert was on its way! Dessert? With brunch? Yes, please!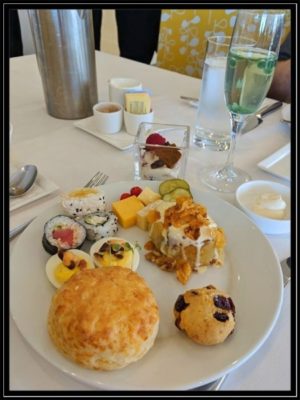 All of the dessert items were yummy, but the macarons were the best! I loved them so much that I joked with our server that I wouldn't mind if a few more fell into my to go box. He was happy to oblige and I was thrilled to have a few for later.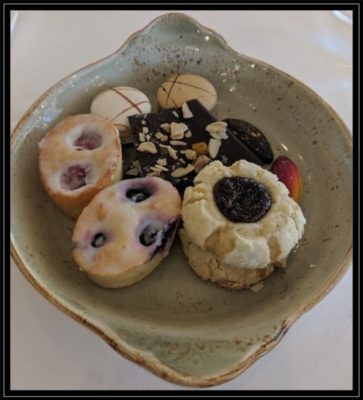 After we finished eating, we took a walk out onto the balcony of the restaurant where there is an amazing view of the Magic Kingdom. You can also see quite a bit of the entire Disney property from up here. I really enjoyed taking it all in and breathing the fresh air.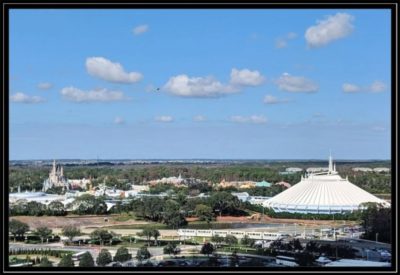 How Much Does it Cost?
At $90 for adults, this meal is quite pricey. It definitely goes in the splurge category for me, but our brunch was one of the best dining experiences we have had on Disney property.  If you consider all that is included, purchasing a mimosa (or 2 or 3), an appetizer, an entrée, and dessert at another signature restaurant could easily add up to more than the cost of brunch. Certain discounts do apply, so if you are a Passholder, DVC, or have any other discounts, be sure to ask!
My husband and I both left the California Grill vowing to go back soon! Reservations can be very tough to get since brunch is only available on Sundays and is only available for limited hours. I can promise you though, that the next time I see a reservation time slot open, I will snatch it up in a second. I can't wait to go back!
Have you enjoyed Brunch at the Top at California Grill? Share your experience with us in the comments or on Facebook or Twitter! 
Did you like this article? Make sure to share it with your friends! Check below for easy ways to share!
Want to visit the Walt Disney World Resort? Contact The Magic for Less Travel for more information and a free, no-obligation quote.

!