This post may contains affiliate links for your convenience. If you make a purchase after clicking a link we may earn a small commission but it won't cost you a penny more! Read our full disclosure policy here.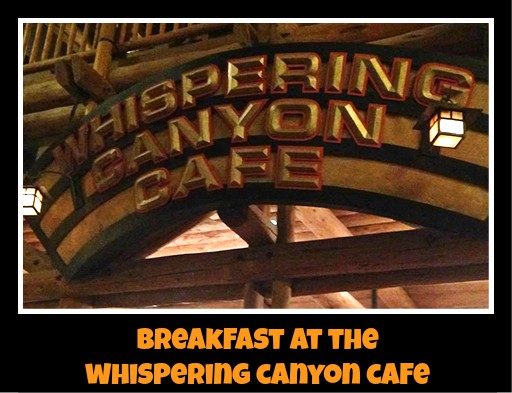 A few weeks ago, I ran the Wine and Dine 10K at Walt Disney World.  I had an amazing time, but as soon as the race was over, I was starving! Luckily, I had planned ahead and made a reservation for breakfast at the Whispering Canyon Cafe. This was my first visit, and I was definitely excited to try it!
The Whispering Canyon Cafe is located in Disney's Wilderness Lodge resort. Make sure not to confuse this resort with Fort Wilderness like we did.  Hey, we were tired and hungry after getting up at 3 am for the race. Based on the Cast Member's reaction at the gate, I'm guessing we were not the first guests to make this mistake!
Once we finally made it to the correct resort and checked in for our reservation, we were given a buzzer. We sat down, relaxed, and admired the massive lobby. If you've never visited the Wilderness Lodge, you should check it out.  It is a gorgeous hotel!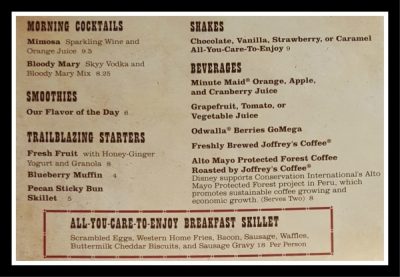 Our buzzer went off after 10-15 minutes and we were escorted to our table. I knew immediately that this would not be a typical meal at a typical restaurant. There was a lively atmosphere and the servers were a bit on the zany side. I expected our breakfast to be quite entertaining and I was not disappointed.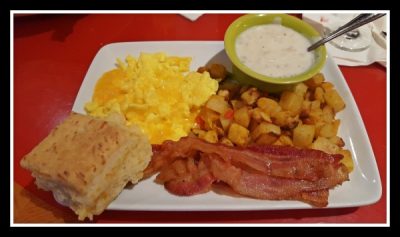 We looked over the menu and I chose the eggs any style for my meal. This breakfast included eggs, bacon, home fries, and a cheddar biscuit. I also decided to add a side of gravy for a small upcharge. If you are looking for something on the sweeter side, waffles, pancakes, and cinnamon rolls are also on the menu. If you are an indecisive eater, the breakfast skillet would be a great choice for you because it is all-you-care-to-enjoy and you get a little bit of everything. So many great options!
One thing you should know before eating at Whispering Canyon Cafe is that the servers often take your requests quite literally. A guest at the table next to me asked for a large Coke. Not only she was served a REALLY large Coke, but the server made an announcement to the entire restaurant when she finished it. Another guest was given a massive amount of straws and napkins when she asked for them. The napkins weren't just placed on the table either. They were sprinkled over the table with the same flair as confetti in a parade. And if you decide to ask for ketchup, well, I won't spoil the surprise. Let me just say, "Be careful what you wish for!"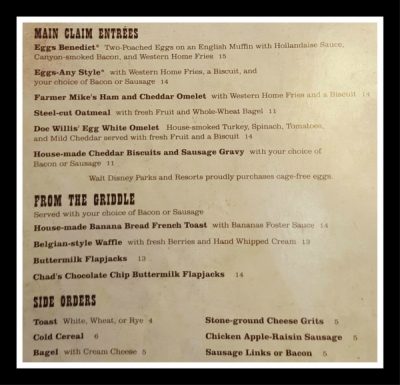 After watching the servers' antics for a few minutes, our food arrived. Good thing I was hungry because there was a lot of food on my plate! I ate just about every bite and didn't feel the least bit guilty about it.  It was all delicious!
I loved the atmosphere and food at Whispering Canyon Cafe. If you are looking for a quiet meal, this is probably not the place for you.  If you'd like a laugh to go along with your breakfast though, you will really enjoy this place. Just be sure to bring your sense of humor and your appetite!  Oh, and don't forget to ask for ketchup!
Have you enjoyed breakfast or another meal at the Whispering Canyon Cafe? What did you love about your experience?  Let us know in the comments!
Did you like this article? Make sure to share it with your friends! Check below for easy ways to share!