This post may contains affiliate links for your convenience. If you make a purchase after clicking a link we may earn a small commission but it won't cost you a penny more! Read our full disclosure policy here.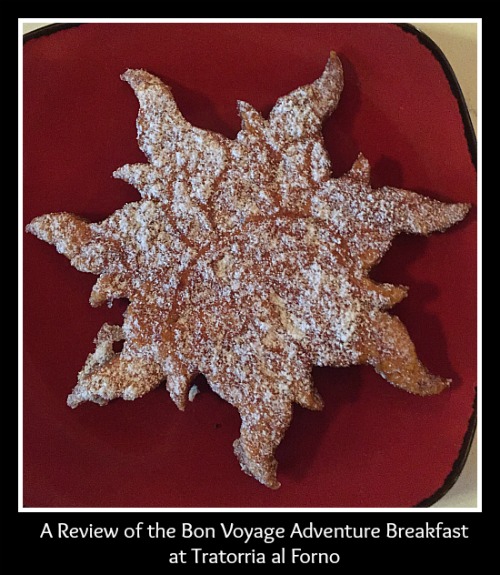 When Walt Disney World announced that a new character breakfast called the Bon Voyage Adventure Breakfast would be starting at Trattoria al Forno that not only featured Rapunzel and Ariel but also Flynn Ryder and Prince Eric, I was pretty excited. There are just not many occasions to meet the men behind the princesses.  I jumped on the My Disney Experience app as soon as I could and booked a reservation for our visit to Walt Disney World during the Star Wars – Dark Side Race Challenge Weekend in April. The price for adults is $34 and for children the price is $20.
Trattoria al Forno is located at Disney's BoardWalk.  We were able to park right at the Disney's BoardWalk Inn and walk down the stairs to the boardwalk. We found the restaurant easily and checked in for our reservation.  Located in the lobby was a small kiosk selling Rapunzel and Ariel merchandise, but we didn't make a purchase. After just a few minutes we were led to our table. There was an autograph card and a Bon Voyage Adventure Journal on the table when we sat down.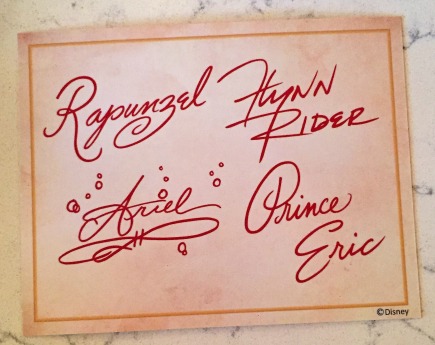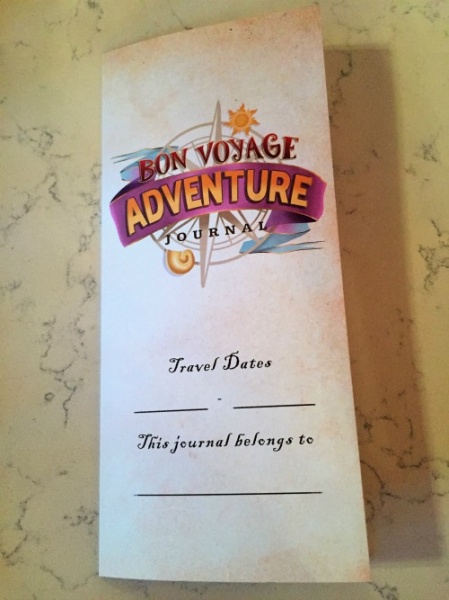 We met our server Patsy who provided us with menus and took our drink orders. Though specialty drinks were available, my family just ordered orange juice.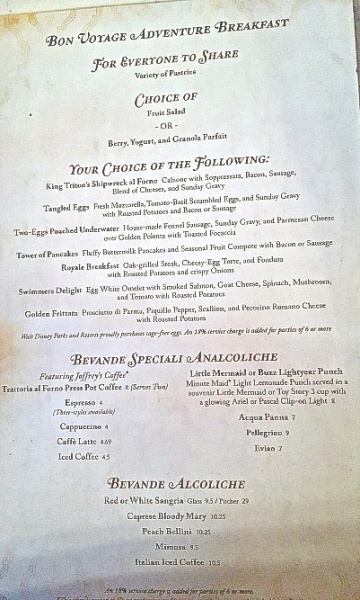 First, we received a frying pan full of pastries. The highlight for my husband and I was the braided breakfast bread. It is a pastry full of chocolate and chocolate chips. My daughter chose the multi-colored muffin and a clam shell pastry because it had a pearl. We loved the look of the sun pastry but we did not try it.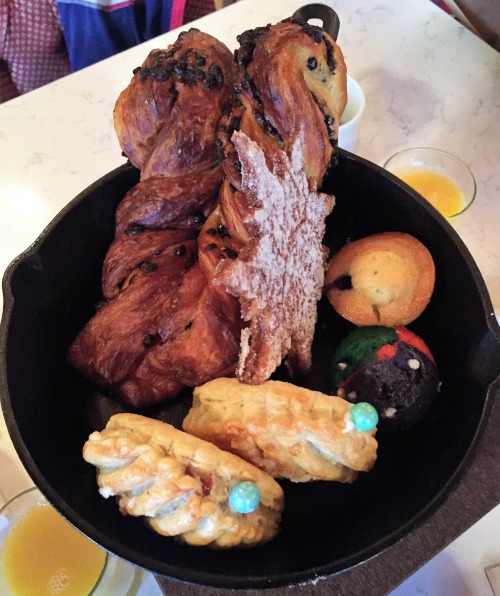 For our next course, we each had the choice of a fruit salad or mixed berry parfait. My daughter and I both chose the fruit while my husband chose the parfait.  We all enjoyed our choices and felt the portions were just the right size.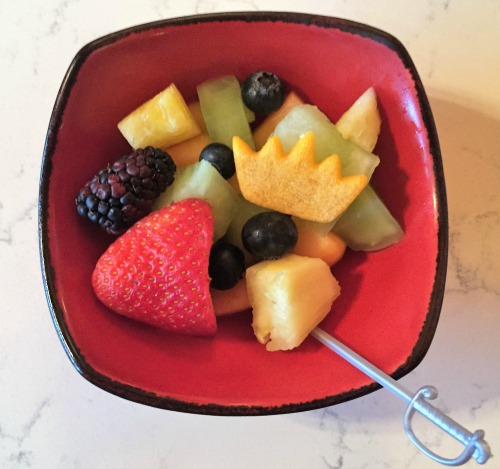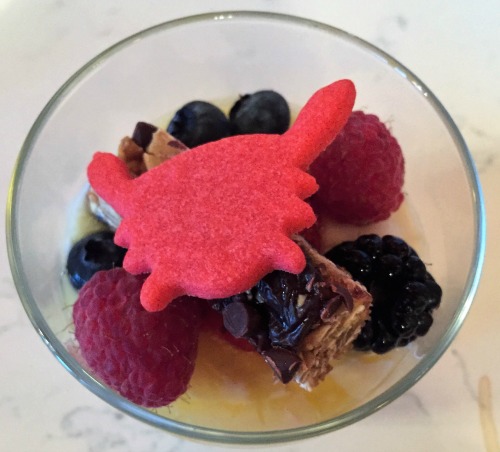 Finally our main course…is that would they would call it at breakfast? My husband ordered the Swimmers Delight for his choice. This is an egg white omelet with smoked salmon, goat cheese, spinach, mushrooms, and tomatoes served with a side of Roasted Potatoes. The omelet was fairly large and there were plenty of roasted potatoes as well. He loved the flavor of the omelet and mentioned that if we come back he will order this meal again.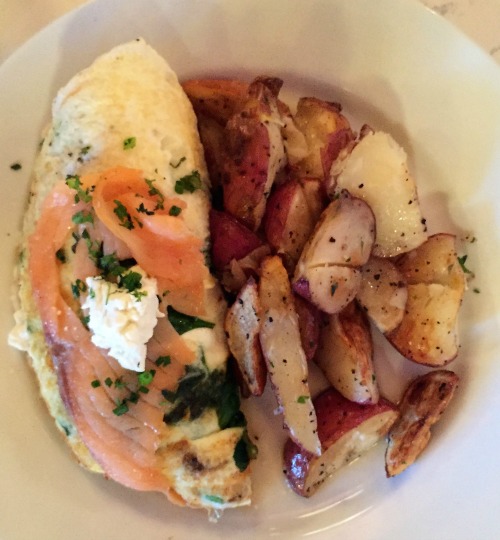 I ordered the Tangled Eggs. It consists of fresh mozzarella, tomato-basil scrambled eggs, and sunday gravy served with roasted potatoes and choice of bacon or sausage. I picked the sausage purely because my daughter loves sausage. I was feeling adventurous with my entree but I admit that I googled sunday gravy ahead of our trip. It is basically just a red pasta sauce which goes really well with the mozzarella and tomato-basil flavors. I really enjoyed this meal and I am glad that I broke out of my comfort zone. The potatoes are sooo good!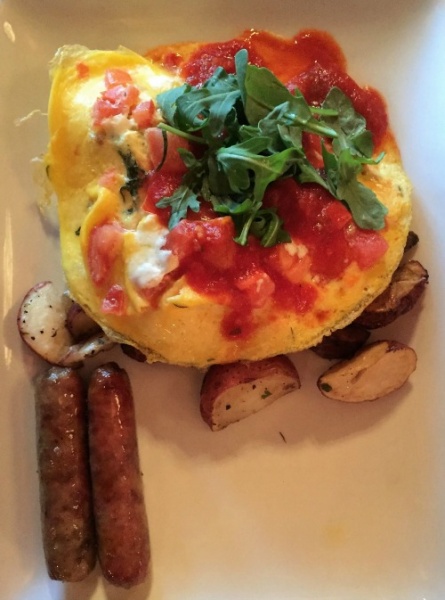 My 6 year old daughter ordered the Mickey Waffles. Now don't get your heart set on waffles in the shape of Mickey because even though that was what it was called on the kid's menu, in actuality one waffle had Ariel on it and one waffle had Flounder on it. This made my daughter even happier but I know some kids might be disappointed not to have the Mickey shaped waffles. She also had a choice of sausage or bacon and as I mentioned above this child loves sausage. I mean seriously, what 6 year old says sausage is her favorite food?
Now for the part kids of all ages want to know about…the characters of the Bon Voyage Adventure Breakfast. Each character was introduced to the dining room in 10-15 minute increments. Flynn Ryder was the first to visit our table. To my daughter's delight, Flynn called her Blondie just as he does to Rapunzel. Our wonderful server Patsy had given my daughter a helpful hint on a great conversation starter with Flynn, aka Eugene. She even told us to have the camera ready for the exchange. Well, my husband was in charge of character pics but he was so in the moment that he forgot to snap a candid photo.
While Flynn was visiting our table, they introduced Rapunzel to the dining room. He ran over to greet her before heading back to the table gloating about being married to such a woman. Rapunzel came to the table next and talked to my daughter about her dreams. She posed for pictures and was off to the next table.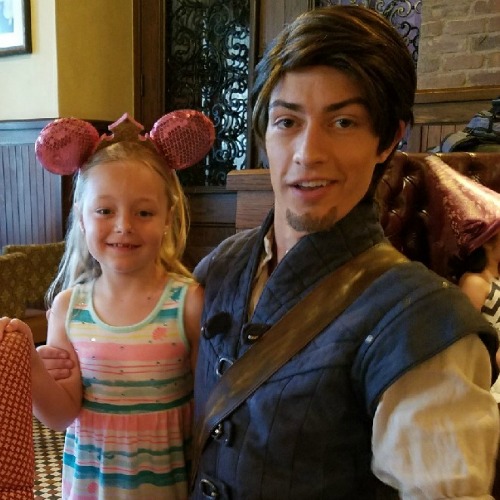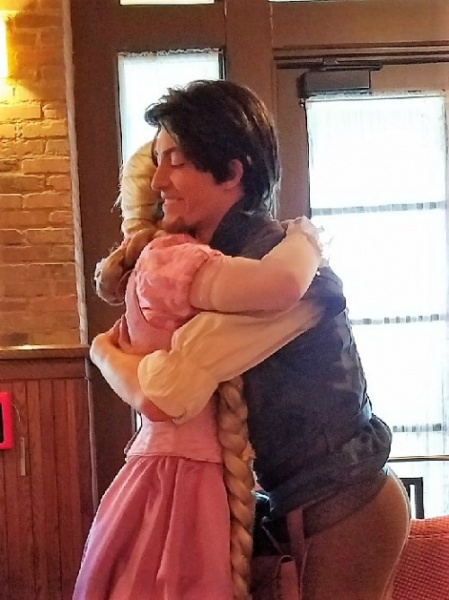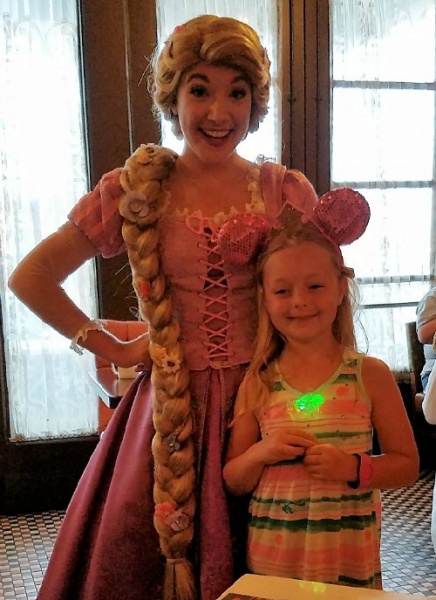 Prince Eric was next to enter the room. When he came to our table my daughter was too shy to talk to him. He read the situation wonderfully and didn't push the conversation. He asked if he could get his picture taken with her and she agreed. We teased her the rest of the day that she thought Prince Eric was handsome and that is why she couldn't talk. She just giggled!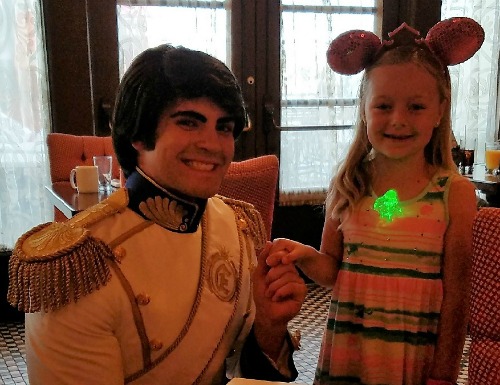 As our server was checking on us, she showed us how to make sea creatures out of our napkins. Of course this would come in handy soon as the children were asked to make their favorite one to showcase as they had paraded around the dining room with Ariel when she was introduced to the room. My daughter picked the jellyfish while she participated in the parade.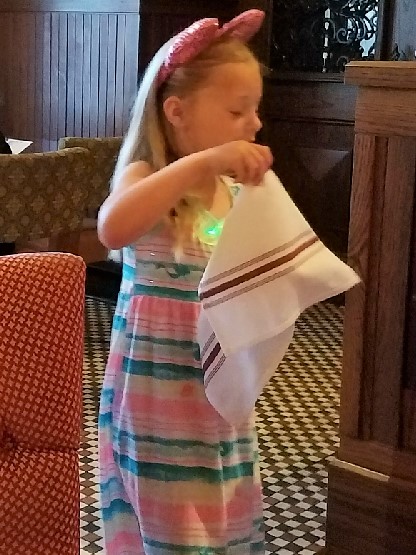 Finally, we got to meet Ariel. Of course my daughter was back to her chatty self for the princess. They talked about about how wonderful it was to have legs for dancing.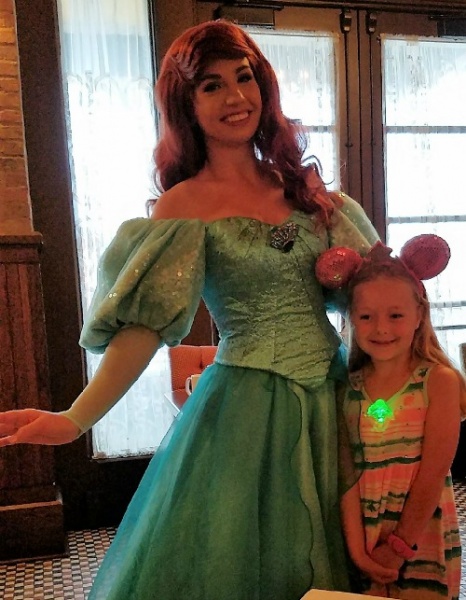 We loved the Bon Voyage Adventure Breakfast. The food was great but even more importantly the service was excellent. Patsy was an amazing server and I even tweeted Walt Disney World with a cast compliment. Did you know you could do that? Just tweet the official twitter account @wdwtoday and tell them the Cast Member's name and location. Use #castcompliment and they will usually tweet you back a picture of them giving a certificate to the cast member. In our case because it was a busy runDisney weekend and they were doing a lot of tweets and retweets about the race, it took a day for them to respond that they would make sure to recognize Patsy.
Have you tried the Bon Voyage Adventure Breakfast yet? Does this sound interesting to you? Share your thoughts in the comments.
Did you like this article? Make sure to share it with your friends! Check below for easy ways to share!