This post may contains affiliate links for your convenience. If you make a purchase after clicking a link we may earn a small commission but it won't cost you a penny more! Read our full disclosure policy here.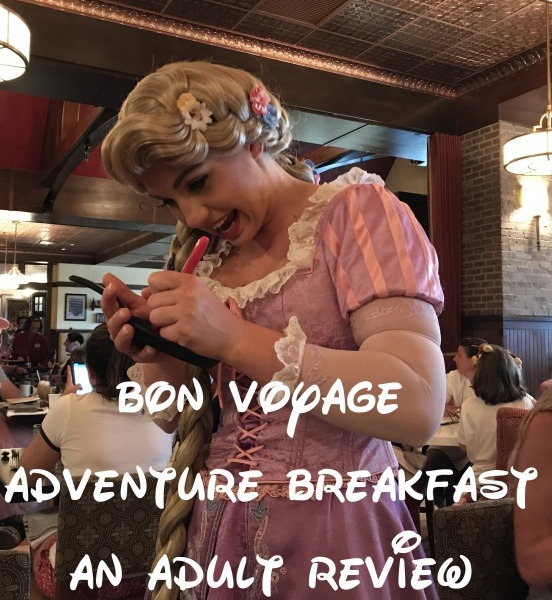 The Bon Voyage Adventure Breakfast at Trattoria al Forno is a smashing good time. Simply put, the food is delish and the character interactions are a hoot.
My 19-year-old daughter and I attended this breakfast as part of our mother-daughter trip that we called the Great Girls Disney Adventure. Or in her words, "No stinky boys allowed!" Tangled is one of our favorite Disney movies, and The Little Mermaid is a well-loved classic we both enjoy. This breakfast was a no-brainer for us.
A lot of people think that character meals are just for kids. They aren't! I'm telling you, they are just as much, if not more, fun for adults!
Our reservation was for 10:20 a.m. and we arrived around 10:00 a.m. after taking a Lyft from Pop Century. For about $10, the Lyft was an easy way to get there versus taking a bus to Disney's Hollywood Studios and either walking or taking the ferry to the BoardWalk area.
We checked in as soon as we arrived, and a Cast Member seated us after only a short wait. Almost as soon as we sat down, someone came around to fill our glasses with juice and offer coffee. In addition, this adorable frying pan full of pastries arrived! So cute – and delicious!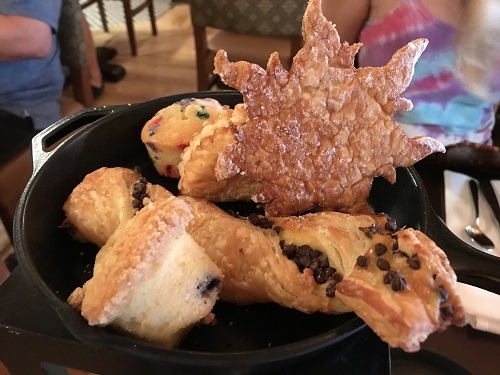 The Food
Similar to Be Our Guest breakfast, you pay one price and have your choice of entrees. We had nine to choose from at the Bon Voyage Adventure Breakfast. I opted for Flynn's Feast, which was two eggs, bacon, sausage, ham, and breakfast potatoes. My daughter went for the tower of pancakes, which came topped with strawberry sauce and a side of bacon and sausage.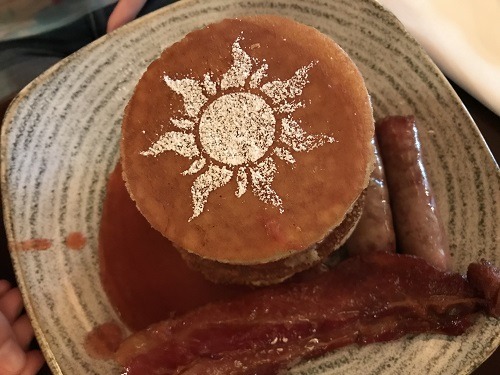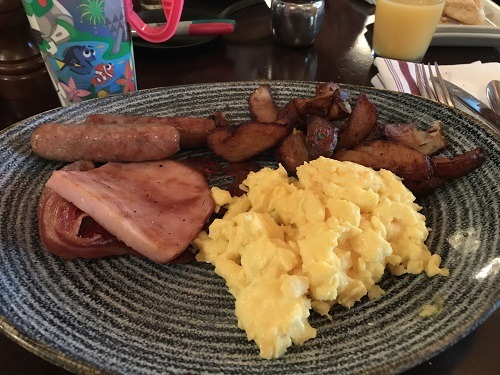 Everything was delicious! Our servers were very attentive. I even noticed our server offer another choice of entrée for a guest at the next table when she didn't care for the one she had selected. The eats here are seriously good – and plentiful. Which is nice, but we all know why we're really here.
Bring on the characters!
Trattoria al Forno does that with style. Each character gets an announced welcome and makes a grand entrance. Flynn Rider was first to enter. A short time later, it was time for Rapunzel.
We found it adorable that Flynn makes his way back to the entrance to escort his bride. They danced their way around the dining room. Next up, Prince Eric arrives. Then it's Ariel's turn, and she leads young diners in a napkin-twirling parade around the dining room. All of it was great fun!
You may be wondering what it was like when the characters arrived at our table? It was super fun! My daughter and I wore coordinating Mickey tie-dye shirts that day. Both Rapunzel and Ariel commented on them. Flynn told my daughter to always keep a frying pan handy to keep her boyfriend in line!
We never felt that the characters were rushing just to get past the "adult" table. Not once. They were just as engaging and fun at our table as they were at tables with children. That Disney magic! They know how to make everyone feel special and part of the fun. Flynn even gave us his best smolder! By the time our bellies were full, we were totally enchanted.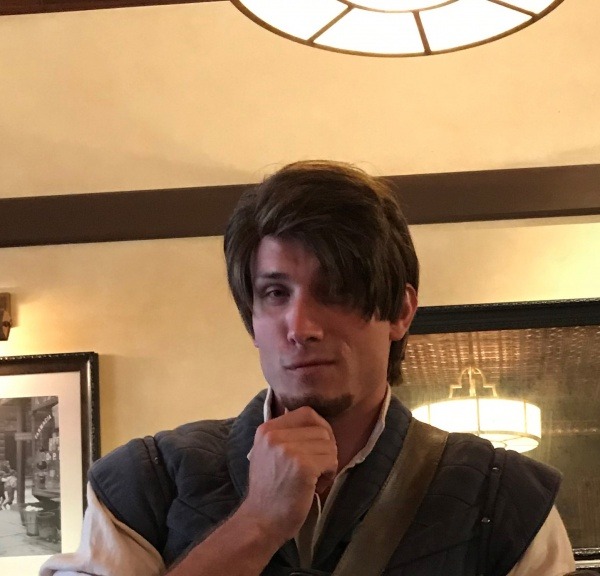 However, Rapunzel wasn't finished with us just yet. An announcement noted that she would make her way around the dining room one last time to ask each table their dream. (Think of the "I have a Dream" scene from the movie.) It was a sweet way to end the meal.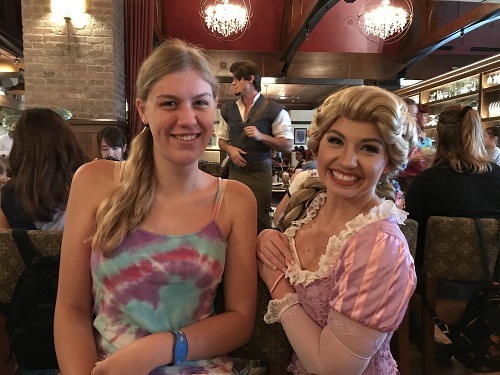 The Bon Voyage Adventure Breakfast cost $40 per adult. Breakfast for children is $20 and comes with a choice of four entrees. After tax and tip, it was a cool $100 breakfast, but worth every penny for us. We were there about an hour and absolutely enjoyed every moment.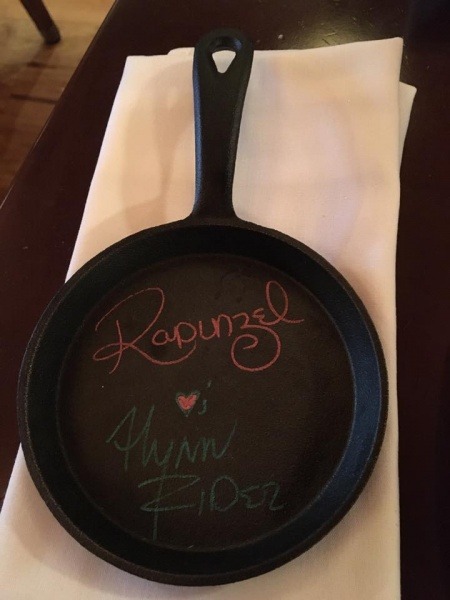 Have you dined at the Bon Voyage Adventure Breakfast at Trattoria al Forno? What were your thoughts? Let us know in the comments, or on Facebook or Twitter!
Did you like this article? Make sure to share it with your friends! Check below for easy ways to share!
Want to visit the Walt Disney World Resort? Contact The Magic for Less Travel for more information and a free, no-obligation quote.