This post may contains affiliate links for your convenience. If you make a purchase after clicking a link we may earn a small commission but it won't cost you a penny more! Read our full disclosure policy here.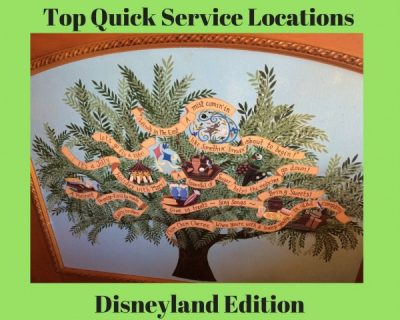 The Jolly Holiday Bakery Cafe in Disneyland Park
I could write a volume the size of War and Peace about food at Disneyland. Dole Whips, churros, corn dogs, candy apples….I'm getting hungry just thinking about it! And don't even get me started on the fabulous table service restaurants where you can eat delicious food and relax. But I digress. Right now, I'm going to answer a question I get asked a lot – what is the best quick service location in each park?
This relative newcomer to the Disneyland dining scene quickly became a favorite of mine. That's partially because it's themed to my favorite Disney movie of all time, Mary Poppins. But it's also because of the variety of fresh, tasty sandwiches, salads, and baked treats available here.
All the seating is outdoors, so I wouldn't recommend eating here in the blistering heat of summer, or during the rare but welcome winter rainstorms. But on a pleasant day (and we get a lot of them in Southern California) it's lovely to sit underneath the umbrellas here and watch the crowds go by.
Behold, the Matterhorn Macaroon!
Oh, and where else can you eat a Matterhorn Macaroon while looking directly at the Matterhorn?
DISNEY CALIFORNIA ADVENTURE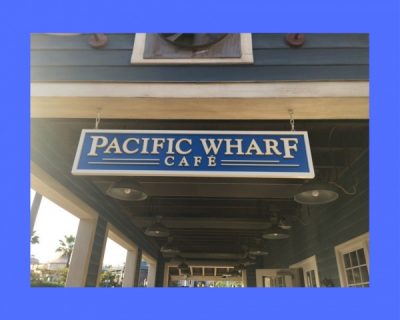 Another quick service option with outdoor seating, the Pacific Wharf Café serves sandwiches, salads and soups all featuring sourdough bread. (If you're curious about how they make it, check out the Bakery Tour presented by Boudin, very close to the restaurant.)
My favorite entrée here is the Chicken, Apple and Walnut Salad, tossed in a light, creamy dressing and sprinkled with dried sweetened cranberries, all in a sourdough bread bowl. My daughter is a fan of the enormous chocolate chip cookies that are on display in the bakery section.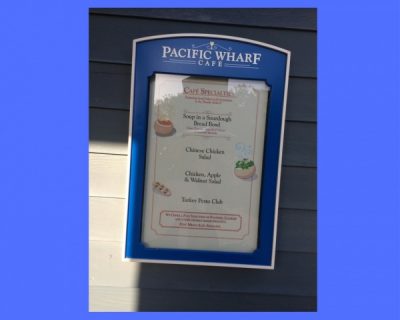 The menu at the Pacific Wharf Cafe
You can eat at tables under shade right outside of the restaurant, or (as a Cast Member suggested to my parents) take your food over to the Sonoma Terrace so you can buy a glass of wine or beer to accompany your meal.
Up to $75 Disney Gift Card!
Deal
Book a Disneyland package of $1500* or more and receive a $25 Disney gift card. Packages of $3000 or more receive a $50 Disney gift card. Packages of $5000 or more receive a $75 Disney gift card. Gift cards are accepted at many Disneyland Resort locations and can be used to pay for shopping, dining, and so much more. We are sure you will find a way to put this to good use!   Read More
More
Less
HONORARY MENTION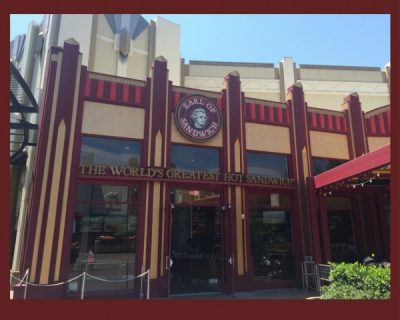 I know, I know. Technically, this eatery is outside of both the parks, in Downtown Disney. But at Disneyland, the two parks, Downtown Disney, and three onsite resort hotels are within easy walking distance of each other. And the Earl of Sandwich is a very convenient place to grab a quick, tasty, relatively inexpensive meal if you're at Disneyland Park.
Just head to Tomorrowland and hop on the monorail. Once you depart in Downtown Disney, just stroll across the walkway and you'll find yourself at the Ear of Sandwich. Grab my favorite, a Caprese, or a grilled cheese, or any one of their tempting salads, maybe with a cold cup of grapes or tossed salad. Enjoy your meal away from the bustle of the park, and when you're done, walk back over to the monorail to get back into Disneyland Park.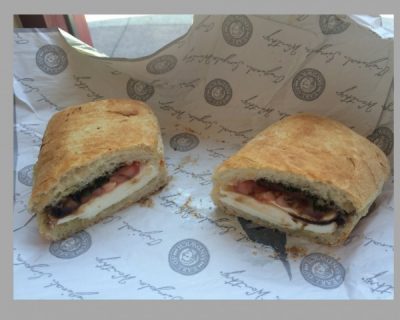 What are your favorite places to grab a quick service bite at Disneyland Resort? Share in the comments!
Did you like this article? Make sure to share it with your friends! Check below for easy ways to share!