This post may contains affiliate links for your convenience. If you make a purchase after clicking a link we may earn a small commission but it won't cost you a penny more! Read our full disclosure policy here.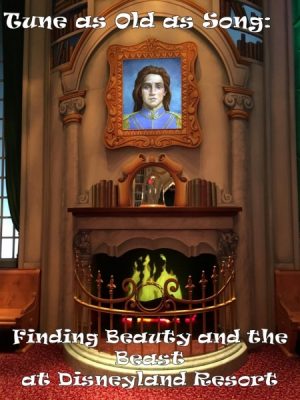 If your family is anything like mine, you will have at least one Beauty and the Beast fan in there somewhere. There is something about the 1991 Disney animated feature that draws them in. Perhaps it's the message that it takes courage to see people as they truly are. Maybe it's that Belle saves her small town from two, savage beasts. Ultimately, it does not matter what draws them in, most were ecstatic when Disney announced the live action version of Beauty and Beast.
So, if you have that family member, who like my daughter, screamed that this is 'absolutely the best and a wish come true,' the you might want to head to Disneyland Resort this month to catch up with a few of our favorite French friends. Below is a list of Beauty and the Beast related attractions, meet and greets, and merchandise locations. Some of these activities are for a limited time as a special celebration of the new movie.  I have noted opening and closing dates when I am aware of them.
But you are not heading to California anytime soon? What about Walt Disney World? There is another article 'A Tale as Old as Time' with all the east coast park happenings.
Disneyland Park
Visiting:
Storytelling at Royal Theatre – Fantasyland
Who doesn't love hearing an entertaining tale, told by a favorite princess? Check the schedule at the beginning of the day so that you know when Belle will be telling her story.  After the story, Belle is happy to say, 'hi' and pose for a quick photo. This is the only place at Disneyland Resort where you can meet Belle.
Visiting with Gaston – Fantasyland
This is a very haphazard offering. Gaston has been seen wondering through Fantasyland. He's happy to stop for a picture but please keep all books away from him (after all, reading is such a tiresome thing). Check the Disneyland app regularly to see if he has decided to drop by while you are in the park.
Eating:
Red Rose Taverne – Fantasyland
Village Haus on Frontierland side of Fantasyland has had a Beauty and the Beast makeover. This quick service venue offers a good selection of lunch and dinner offerings with most under $14. While you are here, make sure to try the Grey Stuff (Grey Stuff Gateau: $5.49) and Gaston's Famous Brew ($4.99 or $12.99 in a souvenir glass). This is a limited time venue.
Maurice's Treats – Fantasyland
This is a food cart near the Fantasyland Theatre. Here you can pick up some quick snacks on your way to see Mickey and the Magic Map. You will find that they offer a Grey Stuff Twist ($3.99) or the Red Rose Lemonade ($4.99)
Shopping:
Royal Reception Shop – Fantasyland
This limited time shopping venue is located near the Red Rose Taverne. Come in to find Beauty and the Beast related merchandise.
Pressed Penny Machine (DL0642-44) – Fantasyland
For an inexpensive keepsake, the pressed penny machines at Disneyland are always fun. The Beauty and the Beast themed machine moves around the land but look for it in or near the Royal Reception Shop. There are three presses on this machine: Belle and Beast, Friends of Belle, and Belle. Be warned that this is a quarter press machine (so will cost you 3 quarters per press).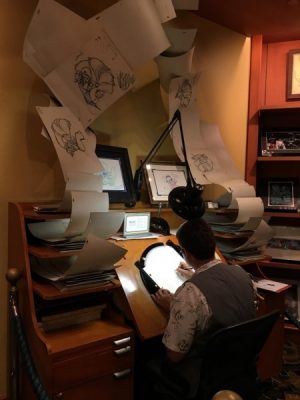 Disneyana Shop – Main Street, USA
You will find this outstanding art shop located on the left side of Disneyland square as you leave the park (across the square from City Hall). Be warned: this shop is a Disney Art Collector's paradise. They have many pre-drawn art pieces, books, collectables, nick-knacks, and keepsakes. If you do not see the Belle and Beast related art you would like, you can inquire about the print on demand products. You can also commission an artwork all your own. There are two types available, paper artwork (A beautiful drawing on paper that you can select from a large book. Each character you place on your drawing increases the price. Be sure to come in early if you would like to take the piece home that day as the artists can become busy and it is strictly first come, first served.  You must pick up the artwork at the shop, they will not ship) and animation cell art (recently this area has changed its policies, please ask the artist about how you acquire one of the beautiful, hand-drawn cells).
Disney California Adventure
Visiting:
Disney's Beauty and the Beast Sneak Peek – Hollywood Land
From February 10 through March 26, 2017, Sunset Showcase Theatre is hosting a sneak peek of the new live-action Beauty and the Beast. The theatre's waiting area has a small museum of costumes and props from the movie to check out and gives a close-up look at just how spectacular they are. Once seated in the theatre, be prepared for wind, light, and seat-thumping effects to draw you into the 8-minute trailer for the movie.  Disney always does an amazing job with these sneak peeks.  You will not leave the theatre with major spoilers but you will leave with a renewed desire to see the movie.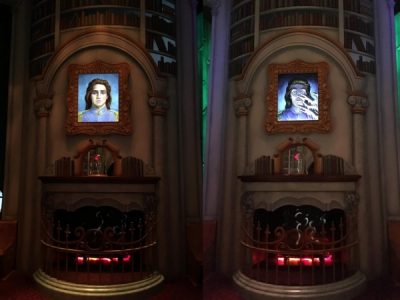 Animation Academy – Hollywood Land
During the Sneak Peek period, Animation Academy will be rotating in several of our beloved characters from the movie. In the past, Chip and Lumiere have made the list. Check the chalkboard list outside the Academy for when the characters will be drawn.  On a side note to this, you do not have to be a great artist to participate. Many of the classes have very small groups and my family and I have been the only students in the room several times.  This gives us a great lesson with close to one-on-one with the Disney artist. This is a priceless experience and is FREE!
Sorcerer's Workshop – Hollywood Land
Located in the Animation Building, this area is often less traveled by guests. It is air-conditioned. You will learn how to make drawings move and be matched to your Disney doppelganger (in Beast's Library – here you will see a portrait of Adam and watch as Beast destroys it. You will also find Beast's rose here).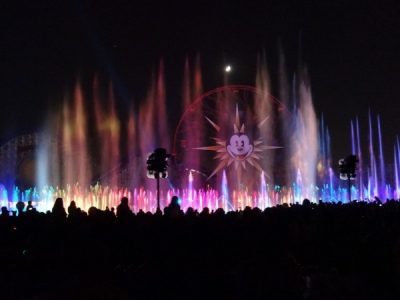 Eating:
World of Color Dining – several locations
If you are going to see World of Color and eat in the park, this might be a way to get your FastPass. See the website for details.
World of Color Dessert Package – Paradise Pier
If you want to see World of Color but just cannot face the crowds and the standing, this is your bag baby! You will need to pre-book well out from your trip, but here you sit at tables, eat delightful desserts and drink while you watch the nighttime spectacular.
Shopping:
Off the Page – Hollywood Land
Like the Disneyana Shop in Disneyland, Off the Page is your one stop shop for all Disney art. You will find several nice pieces from Beauty and the Beast here, but you can also commission work if you would like.
Nighttime Spectacular:
World of Color – Paradise Pier
This nighttime spectacular features many of the beloved Disney animated features, including Beauty and the Beast. Check the park schedules for times while you are here. You will need a FastPass for this show and those can be acquired over by Grizzly River Run. These FastPasses do not count towards your FastPass allotment.
Downtown Disney
Not going into the park today but you would like to get your Beauty and the Beast items? Then Downtown Disney has you covered. Besides the general World of Disney and Lego shops, there are:
WonderGround Gallery: You will find a few pieces of Art in here dedicated to the movie. They are limited editions.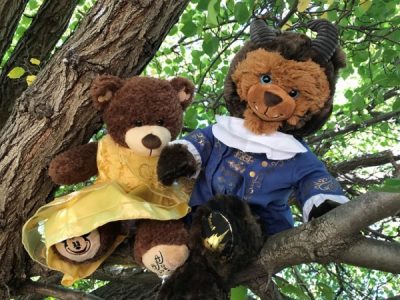 Build-a-Bear Workshop: Build-a-Bear is offering the chance for you to Build-a-Beast and Belle. They also have, not only the previous Belle dresses but a new set of Belle and Beast clothing based on the new life-action movie. This is strictly 'while supplies last' and is not limited to the Downtown Disney location. Above you will see Alice modelling Belle's new dress and Addy (Beast) in his Beast costume. Addy and the costumes were purchased at our local Build-a-Bear here in Australia! For those who love Build-a-Bear, Alice is the exclusive Downtown Disney bear.
And don't forget. If you are going to be at Disneyland, the AMC Downtown Disney 12 Theatres are showing the movie.
What is your favorite way to experience Beauty and the Beast at Disneyland? Share in the comments section!