This post may contains affiliate links for your convenience. If you make a purchase after clicking a link we may earn a small commission but it won't cost you a penny more! Read our full disclosure policy here.
I visited Walt Disney World with my family during the first week of August, and the weather, as you might expect, was hot! Daytime temperatures reached the mid-90s, so naturally, we were constantly searching for ways to cool off and beat the summer heat. On the third evening of our trip, we took the walk from Disney's Hollywood Studios over to the Boardwalk, where we indulged in some ice cream at the new Ample Hills Creamery.
Coming from New York City, I'm quite familiar with the
Ample Hills Creamery
, a Brooklyn-based ice cream joint. Ample Hills is well-known for using high quality ingredients to create unique ice cream flavors such as Snap, Mallow, Pop! (a marshmallow-infused ice cream with gobs of crisped rice treats), Munchies (potato chips, Ritz crackers, M&Ms nestled into a pretzel ice cream base), and Ooey Gooey Butter Cake (we'll get to this flavor later). Naturally, when I heard Ample Hills was coming to Walt Disney World, I knew I had to check out their new location, and I'm happy to say that we walked away smiling!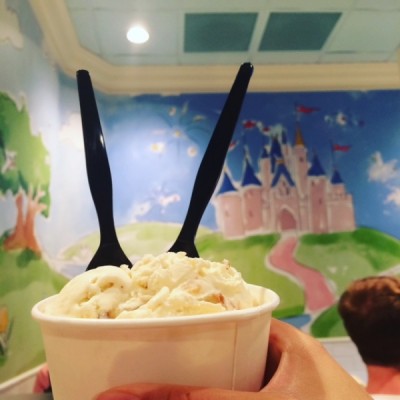 The Location
Ample Hills Creamery is located at
Disney's Boardwalk
between the
ESPN Club
and the
Boardwalk Bakery
. The creamery makes their own ice cream on site, so be sure to peek through the windows and see what's being created before you head inside! The location fits in perfectly with the Boardwalk's bustling seaside town vibe. A bright neon sign illuminates the entrance to Ample Hills, while the interior is decorated with whimsical Disney-inspired murals. A line forms near the entrance to the shop, and cast members make sure you have a menu to peruse while you wait to approach the counter. Though no indoor seating is available, we easily found a table outside on the boardwalk to sit down and enjoy our treats at.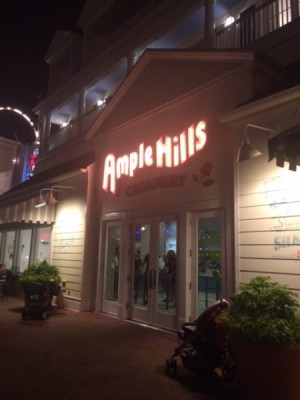 The Ice Cream
After meandering through the line and studying the menu, we made it to the front and placed our orders. Being an ooey gooey butter cake fanatic, I knew I needed to give that flavor a try. A cast member (from Brooklyn!) offered me a sample, and I was sold! This creamy vanilla ice cream base has an incredibly rich feel and a strong vanilla flavor. Generous hunks of ooey gooey butter cake and dollops of cream cheese studded the ice cream; I had a bit of cake in every bite I took. In case you were wondering, ooey gooey butter cake is a heavenly hybrid of yellow cake and cream cheese, baked together to form a gooey, buttery, dessert bar. The small size was enough to split with my mom; the portions are generous!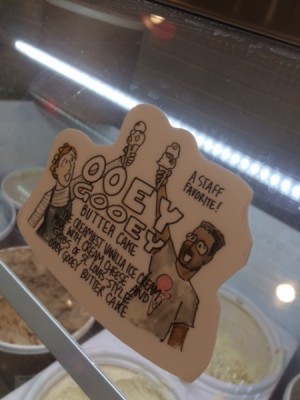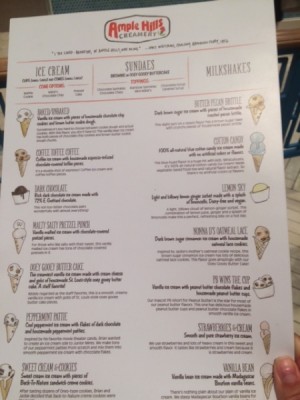 My dad ordered the vanilla bean in a cup, which he agreed was rich, flavorful, and delicious. My boyfriend opted for the 72% dark chocolate ice cream in the signature chocolate chip cookie cone, topped with chocolate chips. Being the self-appointed food critic, I made sure to sample all three flavors, and was blown away by the intensity of flavor that the chocolate ice cream packed. Chocolate-lovers can rejoice at this intense dark ice cream! The cookie cone was delicious; not-too-sweet, but reminiscent of a fresh-baked cookie, right out of the oven.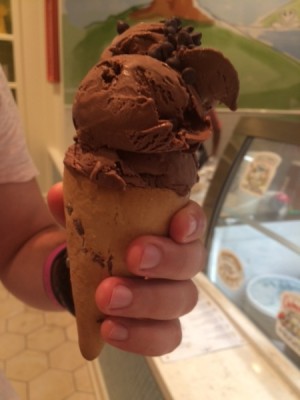 Summary
We left Ample Hills Creamery with full stomachs and big smiles. If you're looking for rich, delicious ice cream that doesn't skimp on the mix-ins, this is your place. Though seating is at a premium (you'll have to sit outdoors around the lake), the ice cream is an absolute must on your next Walt Disney World vacation. Though I can get my hands on Ample Hills ice cream in New York City, there's just something extra special about eating it at the happiest place on earth!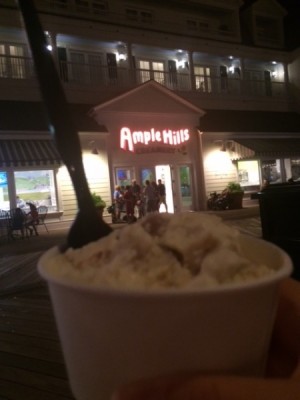 Are you excited about trying Ample Hills? Which type would you like to try? Share in the comments.