This post may contains affiliate links for your convenience. If you make a purchase after clicking a link we may earn a small commission but it won't cost you a penny more! Read our full disclosure policy here.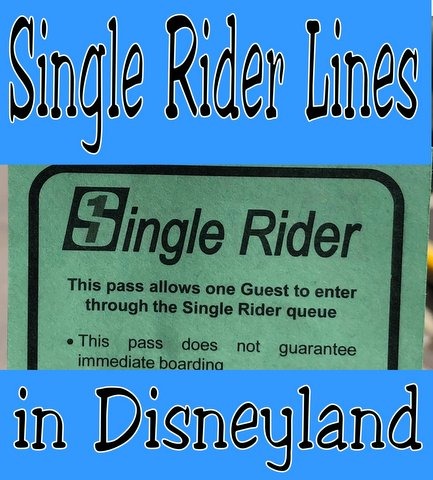 Disneyland was built well before the Single Rider Line was a concept. But Walt Disney's original theme park is a great example of how much difference these "seat-fillers" can make. The SIX Single Rider Lines in Disneyland give guests a FastPass alternative and can save hours in line each day. Several have just been added in recent years, making them hidden gems for the most savvy tourists.
Single Rider Lines (SRLs) fill empty seats on rides that can attract long lines. If everyone in your party is more than 7 years old and willing to ride alone, SRLs can be a great option to get you on an attraction with a long queue or one you can't get a FastPass for.
Each SRL has a different procedure. You'll want to ask a Cast Member at the entrance where to go if you can't readily see how to use the line.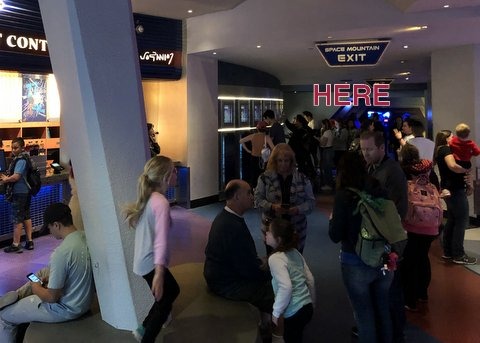 Space Mountain
This SRL is a recent addition and not widely known. Even more than 40 years after its debut, Space Mountain still draws some of the longest lines each day, especially when it runs a special overlay like Hyperspace Mountain or Ghost Galaxy. Cast Members at the busy load dock need to fill seats fast, not hunt for the right size party. So the line with Single Riders gets used a lot. Two out of the three times we used it on a recent trip, there were fewer than 10 people in the line. Late in the evening, with FastPasses long gone, the line stayed much lengthier.
To get into the Single Rider Line, go through the exit. The small sign past the ride photo displays isn't easily spotted in the crowd. Take the ramp to the left and it eventually dumps you onto the loading dock near the regular line. Be prepared to move quickly when you are called.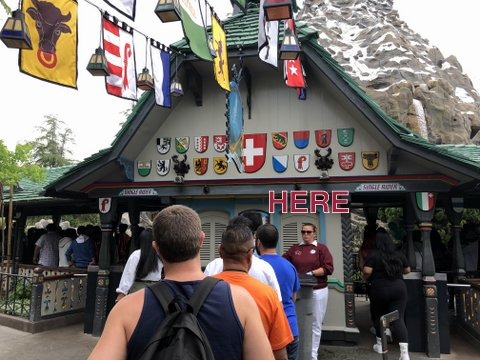 Matterhorn Bobsleds
This is another new-ish SRL, put in place after the most recent major renovation. It's actually a double Single Rider Line, as Matterhorn uses Single Riders on both sides of the attraction. Usually you get to pick, so it's a good choice if you've already experienced one side and want to be sure to ride the opposite one. It's hard to see from where you choose which SRL has more guests in it.
Cast Members at the entrance will hand you a paper Single Rider ticket and send you into one of the lines. Since each bobsled seats six in a single file front to back, you will almost always be in one of the back seats. I did get lucky once when the group I was added to didn't want the very front seat and asked me to move forward!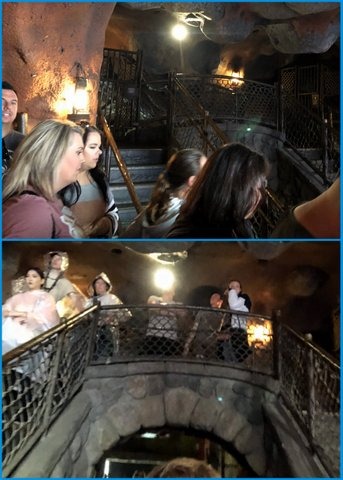 Splash Mountain
Like Grizzly River Run in California Adventure, this wait time for this Single Rider Line varies wildly. The photo above shows the line when we got onto the ride — empty — and when we got off — more than a dozen people. The warmer it gets, the more people who want to ride and the farther away the FastPass return time gets. But on a warm afternoon, it's always going to be quicker than standby. If you ride once (using standby, FastPass or Single Rider) and get soaked, ride again as a Single Rider — you're already wet!
This SRL goes through the exit. You'll be routed over the bridge spanning the load area and held in an area on the edge of the loading dock. As with Matterhorn, since the logs are single file, you'll likely get a back seat.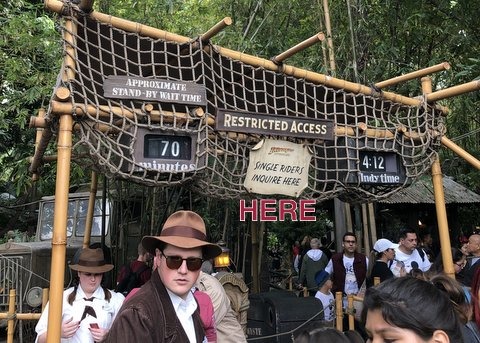 Indiana Jones Adventure
This Single Rider Line ranks as probably my least favorite because it is so convoluted. It can still save you a very long wait vs. the standby line, and all of the wait will be indoors. This is the one SRL I have seen close when the line gets too long or when the Cast Members are swamped clearing a backlog at FastPass return.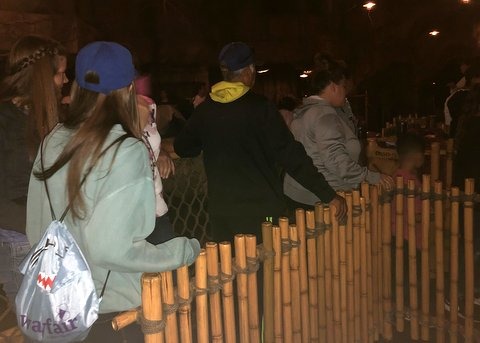 Single Rider holding area on the loading dock
Ask a Cast Member at the entrance for a paper Single Rider ticket. Then go through the exit down a very long corridor. (Single Rider and handicapped use the same procedure for this ride.)  Cast Members hold you in the high-ceilinged rotunda room. Then a small group is let through to the projection room. That small group goes up one elevator and down another to land on the loading dock.
Star Tours
The Disneyland app finally lists Star Tours as having a Single Rider Line, but I could not see any in-park signage. I only knew it was a new option from a Disney message board and had to ask a Cast Member if it was real. We used the SRL three times and were the only ones in line twice.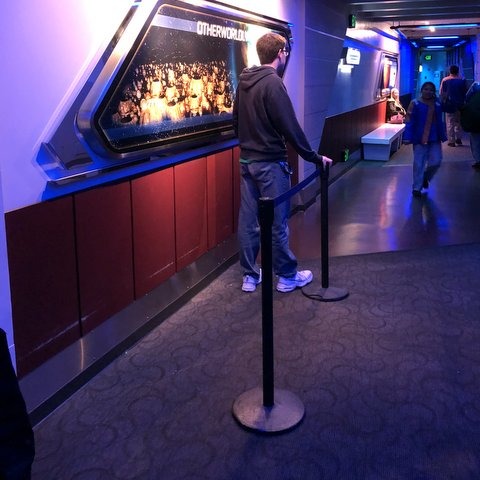 This is the line you are looking for
To get to the (unmarked) SRL, go back through the exit in the Star Trader gift shop and up the ramp. Find the small area roped off in the hall where the simulators deplane. Ask a Cast Member where to go — you may miss it if there isn't anyone in line! You will fill a spot on the far left side of the simulator, so if certain positions make you woozy when riding, you may want to skip this option.
Millenium Falcon: Smugglers Run
I have not experienced this Single Rider Line yet, but it is a good sign that Disney is building the capability into many of the newer lands, including Galaxy's Edge. Since the Millenium Falcon cockpit holds six and is an interactive experience, Single Riders fill essential roles in each pod. You will be assigned your spot and it will likely be the engineer or gunner instead of the pilot. You'll probably still want to walk the standby queue once to see the details and learn about the ride before using the SRL for a second trip.
With any Single Rider Line in Disneyland or Walt Disney World, please remember:
You won't choose your spot. Don't be That Guy who asks to sit in the front seat.
Your child must be at least 7 and willing to sit with anyone. Don't be That Mom who insists on riding with her child after taking advantage of the shorter SRL.
You'll be in a ride photo with strangers on the attractions that have PhotoPass (Space Mountain, Splash Mountain, etc.)
You won't see the Imagineers' work on the highly themed queues that sets the story for the attraction.
Some Cast Members will use their Single Rider pool more effectively than others — your mileage may vary. And the line may not always be in use.
Rider Switch is also available if you have children too short to use a SRL.
Have a firm meeting place after the ride — you won't be able to stay on the unloading platform to collect your party.
To expand your experience across the Esplanade, California Adventure has four Single Rider Lines as well. That's TEN all together!
Which Single Rider Lines in Disneyland are your favorites to avoid long waits? Let us know your thoughts in the comments, or on Facebook or Twitter!
Did you like this article? Make sure to share it with your friends! Check below for easy ways to share!
Want to visit the Disneyland Resort? Contact The Magic for Less Travel for more information and a free, no-obligation quote.

Incoming search terms:
https://www themouseforless com/blog_world/all-about-using-single-rider-lines-in-disneyland-park/
does matterhorn have a single rider line
https://www themouseforless com/blog_world/all-about-using-single-rider-lines-in-disneyland-park/#:~:text=Its actually a double Single has more guests in it
single rider line bobsleds