This post may contains affiliate links for your convenience. If you make a purchase after clicking a link we may earn a small commission but it won't cost you a penny more! Read our full disclosure policy here.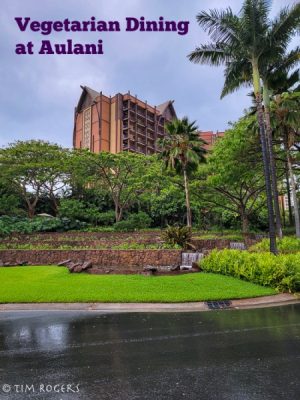 Recently, I had the amazing opportunity to travel to Hawaii, and when planning the trip, we knew that Aulani would have to be a stop on our trip. There is far too much to cover in just one blog, so for today I'm going to focus on the food. Make sure you check back soon to hear about the resort and activities!
As I have written about before, both my wife and I are vegetarians, and at Aulani we had mixed results with how that played out. As a whole, Disney has put a focus on plant-based menu items, which is great, but at times the variety wasn't robust, which means if you don't like the one plant-based option, you might be out of luck (which has also been my recent concern at Walt Disney World.)
That being said, we had some great food and I wanted to share some favorites, tips, and more.
Vegetarian Dining at Aulani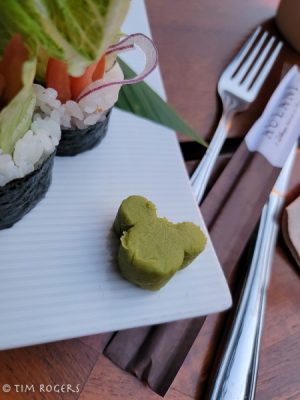 Within Aulani itself, there is representation for each of the basic kinds of dining you might be used to at Disney World or Disneyland. Mama's Snack Stop is a fairly straightforward snack stand with a limited menu while Papalua Shave Ice and Little 'Opihi's are snack counters specializing in sweet treats, including Dole Whip.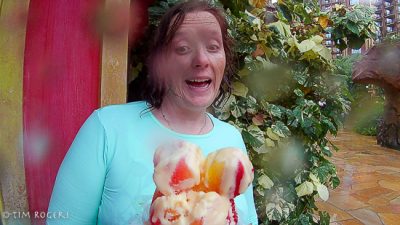 The Ulu Café is the mainstay quick service and stays very busy pretty much all the time. Poolside, you have the Wailana Pool Bar (which serves coffee in the morning) and Off the Hook, which is more a lounge. Rounding it out, is the 'Olelo Room, a lounge adjacent to the primary table service location, Makahiki, which has a character breakfast in the morning and a Prix Fixe dinner in the evening. While we were there, the one fine dining location, Ama Ama, had still not reopened.
The place we interacted most was likely the Ulu Café. It had the longest hours, the most refill spots for the resort mugs, and a variety of options throughout the day. For breakfast, we tried the Farmer's Market bagel, which was a robust breakfast sandwich on an everything bagel, and also discovered that instead of the full bounty platter, which comes with meat, you can easily order any of the components separately, so I was able to get quiche and potatoes, which were tasty.
One day we also tried the acai bowl, which is….robust. I think it would be a challenge for one person to eat this by themselves (although we saw plenty of kids giving it a go), but it was definitely tasty and worth getting at least once.
For lunch, the options become more scarce, with flatbreads being the best for me – but not something you would necessarily want very day. However, for dinner, Ulu added the option to order a full custom pizza, which actually tasted pretty good and was somewhat shockingly normally priced. It is definitely a good option for any group, but especially if you are with a family that could finish off a pizza in one sitting.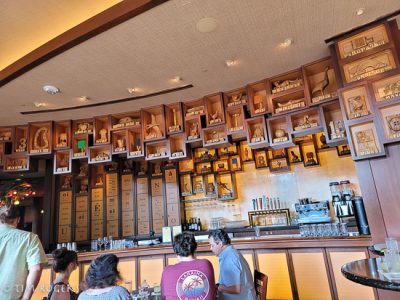 Some of my favorite dining at Aulani was at the 'Olelo room, which we visited twice. They had plant-based tacos, which despite having fake meat on them (which I generally hate – more on that later), actually were pretty good, as well as Bang Bang Fries, which it was uncertain if they are always vegetarian, but they specially marked all of our food that way so I know they can adjust if nothing else.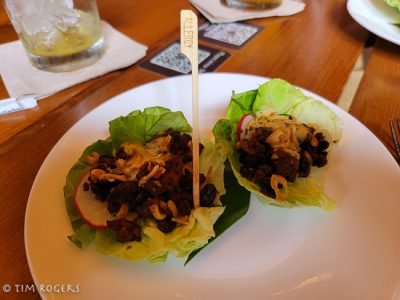 The standout there, however, was the Plant-based Sushi Roll. This was lettuce, avocado, tomato, red onion, cucumber, and seaweed served with ginger and wasabi and was one of the favorite things I had on the whole trip. On top of that, an order comes with 10 pieces, so I had half the first night and was able to revisit it a few times after. It was fantastic.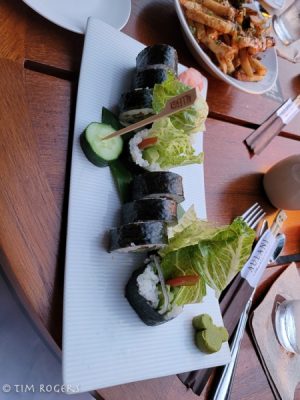 We also highly enjoyed the Waialua Chocolate Toffee Brownie Crunch.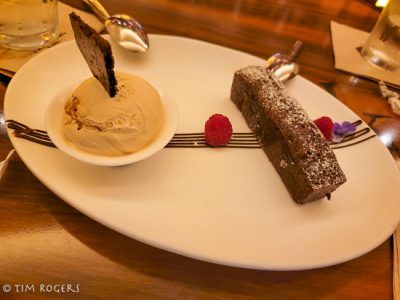 We didn't end up eating at Makahiki during our trip. The main reasons for that were that in the morning, the main appeal of a character breakfast (besides the Mickey waffles) is that you can see characters without huge lines, but that is kind of the deal all the time at Aulani so it wasn't as important, and at dinner the fixed price meal only had one vegetarian entrée, which was a pasta with fake sausage in it. While I generally don't want to eat any fake meat anyway, I particularly don't think that it is worth paying the same as someone getting a steak for the fake meat makes any sense.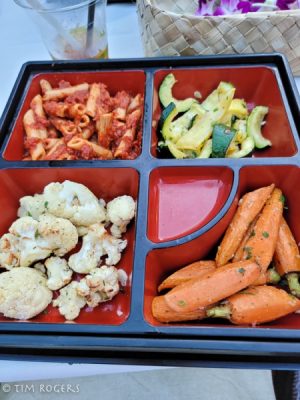 This became somewhat ironic, because for the Luau (which I will talk about in a future blog), the special meal for vegetarians ended up literally being the entrée from Makahiki. As such, if we would have gone there for dinner we would have had that meal twice during our trip unknowingly.
Vegetarian Dining Near Aulani
With all that said, if you are going to Aulani and staying for a few days, you will likely want to have a little more variety in meals, especially if you don't eat meat. Luckily, there are several good options close by, even a few if you don't have a car.
Right across the street is a small shopping center which we stopped by a few times for meals. The first was for us was the Mekiko Cantina, which specializes in Mexican food. As someone who lives in Texas and has easy access to a ton of good Mexican and Tex-Mex locations, this place was pretty good. The biggest difference we could see was that you needed to ask for and pay extra for chips and salsa, but everything tasted good.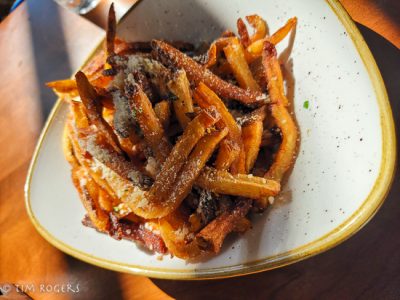 Another standout for our trip though was Monkeypod. There were multiple vegetarian things on the menu, and when we mentioned we didn't eat meat our server shared even more that weren't listed. Also, we happened to go during their happy hour, so most of what we ordered (since it was technically an appetizer) ended up being half price.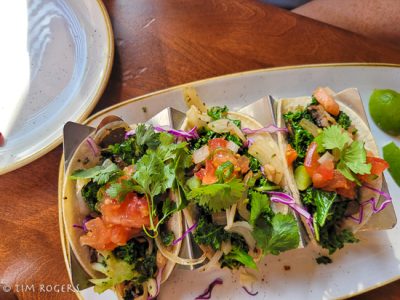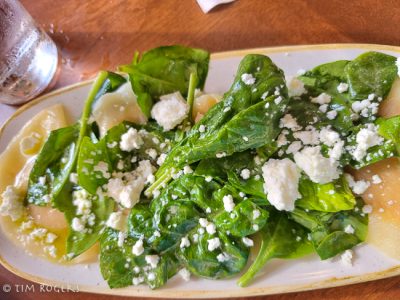 If you are able to drive into town, there are even more good options in Kapolei just a few minutes from Aulani. One was My Café, which is where I did in fact eat a waffle with a scoop of ice cream for breakfast. Don't judge me.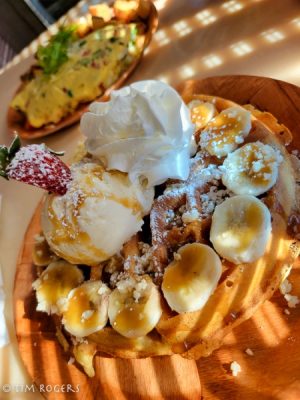 Also nearby is the Kalapawai Café & Deli which had some great breakfast and other sandwiches for a fraction of what you would be in or near Aulani.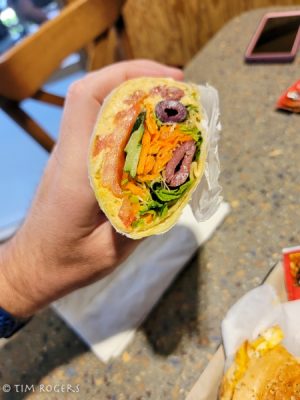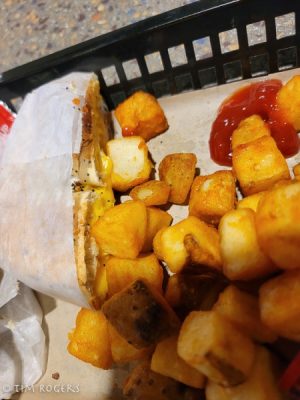 I could continue for a while, but I want to close with a quick note about sweet treats. First, while you are there you must get shaved ice, and if you do it at Aulani make sure you add on the Mickey Ears (and the condensed milk). Also, if you happen to be going across the street, you can also check out the Black Sheep Cream Co. for some super tasty ice cream with unique flavors.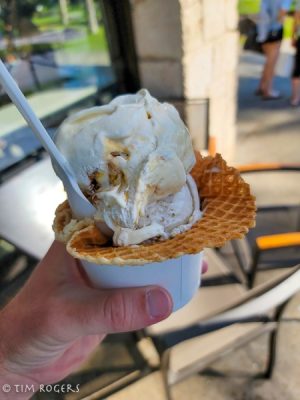 Like with any other Disney resort, the Cast Members at Aulani were always super helpful in trying to accommodate us, so if you take nothing else from all this, just ask and see what they can do. However, we were happy to find this also translated to many of the other locations nearby or just around the island in general, so definitely check it out and eat well!
Have you enjoyed vegetarian dishes at Aulani? Share your thoughts in the comments or on Facebook or Twitter!
Did you like this article? Make sure to share it with your friends! Check below for easy ways to share!  
Want to visit a Disney Destination? Contact The Magic for Less Travel for more information and a free, no-obligation quote.

Incoming search terms:
https://www themouseforless com/blog_world/a-vegetarian-review-of-dining-at-aulani/
ama ama aulani vegetarian options