This post may contains affiliate links for your convenience. If you make a purchase after clicking a link we may earn a small commission but it won't cost you a penny more! Read our full disclosure policy here.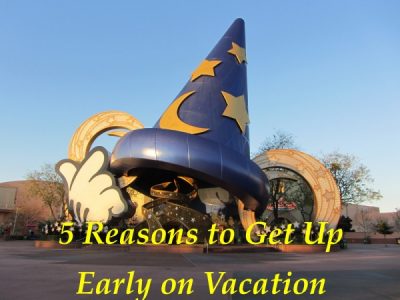 An Empty Hollywood Studios
It is your vacation and you don't want to get up early.  You want to sleep in, go with the flow and just relax.  I know so many feel this way when they head to Walt Disney World on their vacations; however, I would encourage you to considering getting up early and here are five reasons why.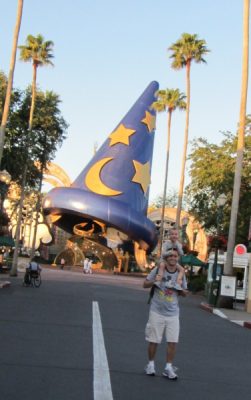 First Ones in the Park
Photos
When we head to Walt Disney World, we get up early (well normal for my kids) and one of the things I love the most about this is the wonderful photos we are able to get with an almost empty park.  The magical feeling one gets when opening a park is something that I cherish during our vacation.  Being at the parks early, allows you to get those family pictures in front of the park icons such as Cinderella Castle and Spaceship Earth without a thousand other people in the background.  This is also a great time to take pictures of rides or other icons around the parks as you will really be able to capture the magic without much disruption.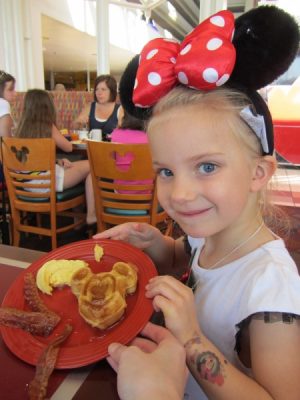 Mickey Waffles at Chef Mickey's
Meals
Some of the best meals at Walt Disney World are breakfasts that are offered both inside the parks and in resorts.  One of the advantages of getting up early is that you are able to snag these great meal options while not missing out on park time.  Another advantage of getting up early for breakfast is that if you choose to make these reservations at restaurants within the parks such as Be Our Guest or Crystal Palace, you are often allowed into the park prior to park opening.  This goes back to my previous reason of getting up early of being able to get wonderful pictures.  On your way to your reservations, Cast Members will allow you a few minutes to capture those magical photos of your little ones in front of the castle.  In some cases, you will be out of your meal before the park opens as well allowing you some more quiet time in the park before the masses join you.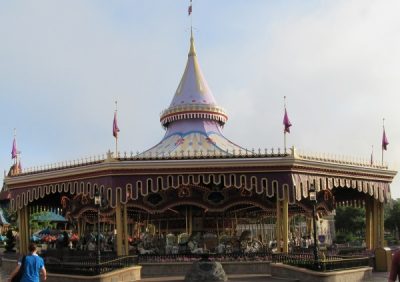 Almost Empty Fantasyland
Lower Crowds
Who doesn't love lower crowds at Walt Disney World?  This is another major reason that we get up early while on vacation.  The first few hours a park is opened the crowd levels are noticeably lower allowing you to take advantage of low wait times and getting a lot of things checked off that bucket list.  On most days, park crowds remain lower until around 11:00 a.m.  If you are able to get to the park prior to that time, you are rewarded with little wait times and lower crowds.  If you are staying at a Disney resort, you can also take advantage of early morning Extra Magic Hours.  This is when a specific park is opened an hour early to just those staying at a Disney resort.  We have found that taking advantage of this time allows us to hit our favorite rides multiple times before the park even officially opens.
Cooler
Another great reason to pull yourself out of bed early during a Disney vacation is that it will be a lot cooler and less humid during those early morning hours.  During the summer months, this is extremely important as the afternoon hours can sometimes become unbearably hot and humid.  We enjoy getting up early and taking advantage of these cooler temperatures before heading out to relax during the warmer afternoon hours.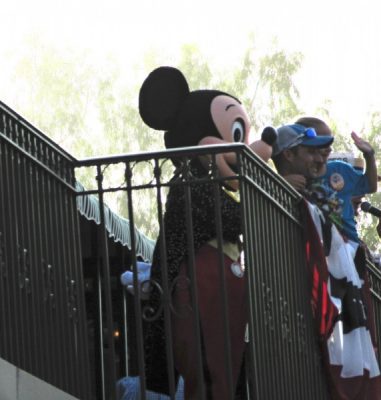 Magic Kingdom's Old Opening Show
Opening Shows
Each of the four parks have special entertainment going on prior to the park officially opening.  Magic Kingdom has the most well known welcome show where Mickey and friends welcome guest to the park through song and dance.  Other parks will sometimes have shows such as stormtroopers at Hollywood Studios or an amazing bird fly over at Animal Kingdom.  Either way, by being at the park prior to opening, you are sure to be the first through the gates and the first to head to the rides.
Although you might want to sleep in most mornings while on vacation at Walt Disney World, I encourage you to try to get up early once to take advantage of those quiet hours in the parks.  Get those special pictures in front of the castle or enjoy some Mickey waffles at a restaurant before starting your day.  Give it a try and you might find you enjoy those early morning hours even while on vacation.
What is your favorite reason to get up early for a Walt Disney World vacation? Share your thoughts in the comments section.