This post may contains affiliate links for your convenience. If you make a purchase after clicking a link we may earn a small commission but it won't cost you a penny more! Read our full disclosure policy here.
Walking around Animal Kingdom can make you pretty hungry sometimes! All of those trails and safaris can make you really want a bite to eat. Counter service can be pretty helpful but sometimes you need a sit down meal to really get your energy up for another trek through the park. My favorite place to sit down is Yak and Yeti. They have a really cool atmosphere and all of the art work and décor was imported from Asia! I'll be giving you some of my favorite foods here that  my family and I have enjoyed again and again
I always like to get an appetizer here to share and there are so many good choices. The pork pot stickers are always great for one person while the Dim Sum basket is definitely too much for one person. Pork pot stickers, shrimp siu mai, cha su bao and pork siu mai all steamed with soy lime dipping sauce. Pork egg rolls are pretty standard but if you want to really go with something different try the Thai chili chicken wings. Their fried chicken wings are tossed in a sweet Thai chili sauce and spicy Asian pickled cucumber. They're a bit spicy, but for those adventurous enough to try them I highly recommend them.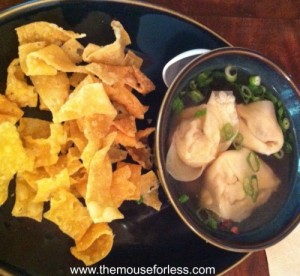 The lo mein is always delicious whether you get it with chicken, shrimp, or just vegetables, but I always recommend the specialty tempura shrimp. With chili plum sauce, coconut ginger rice, and stir fried veggies it's always a treat. Yak and Yeti has a lot of wok cooked chicken but I love the bourbon and the crispy honey chicken. Both are tempura chicken dipped in their own special sauces and served with carrots and broccoli. Of course you could never go wrong with their yummy wonton soup. This soup with pork wontons, chicken broth and veggies has all the great taste of their wontons with all the deliciousness of their soup and veggies as well.
Now for the stuff on the grill! A Kobe beef burger is good, but paired with sesame-soy sauce, mayo, shiitake mushrooms, and scallion compote it's incredible! Their maple tamarind Chicken is tasty with their tamarind glaze and baby bok choy and I always enjoy it. If you want something pretty tame, I recommend the baby back ribs. These slow roasted ribs in BBQ sauce served with chicken fried rice are pretty good, and you can get sweet chili slaw with them as well. Don't forget you can get any side like chicken fried rice, jasmine rice, green beans, and stir fried veggies as well.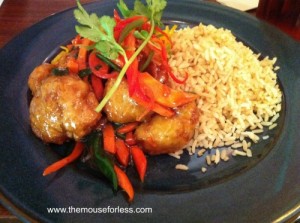 They always save the best for last though. They have some regular desserts but Yak and Yeti has some pretty interesting specialty desserts as well. I love the fried wontons, which are skewers of fresh pineapple and cream cheese wontons with vanilla ice cream. The wontons and the fruit mixed with the sweet ice cream is a delicious combination! Their mango pie with a shortbread crust and raspberry sauce is tart and yummy for any pie lover. Also, the trio of mango, lemon, and raspberry sorbet is always a good end to a fine meal.
The vast number of unique and tasty foods is why I love to go to Yak and Yeti again and again. No matter what new thing I try I always find that I enjoy it and it's always fun to go as a group and share the new foods! From wontons to dim sum baskets Yak and Yeti has all of your Asian dining needs and I can't wait to go back soon! For the full menu visit www.themouseforless.com
Incoming search terms:
https://www themouseforless com/blog_world/yak-and-yeti/
yak and yeti lo meain or fried rice