This post may contains affiliate links for your convenience. If you make a purchase after clicking a link we may earn a small commission but it won't cost you a penny more! Read our full disclosure policy here.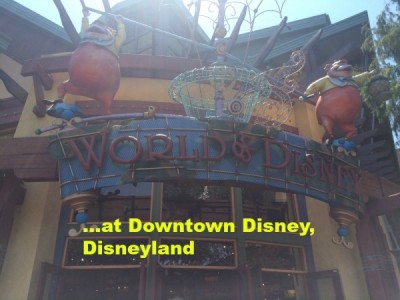 Welcome to the World of Disney!
It's well nigh impossible to walk through Disneyland and not pick up a souvenir or two. Inside the two theme parks, three hotels, and Downtown Disney, you will find many of tempting items. However, for some serious Disney shopping, it's hard to find a better location than the massive World of Disney, in Downtown Disney.
This is the largest Disney store on the West Coast, and it's a fair bet to say you could find something for everyone on your shopping list here. To help the store feel less like a warehouse and more like a fun shopping destination, it's broken down into smaller rooms which you can pass into and out of easily.
There are enough toys here to charm any child. Toys appropriate for babies and toddlers are displayed together, with toys appropriate for older kids stocked nearby.
Disney pin traders will find a veritable plethora to choose from, including pin packs based on the theme parks, attractions, Star Wars, Marvel, and classic Disney characters. As a huge Marvel fan, I was thrilled to spot this Avengers six-pack, and then thoroughly disappointed when I realized Black Widow was not included.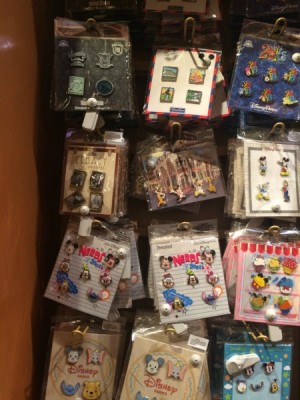 so many pins!
Jewelry fans will find a "make your own" charm bracelet section. First pick up a bracelet, then choose from many different tiny charms, including letters, mini figurines, and beads, and then bring your purchase to the cash register to pay.
There is an entire section dedicated to kitchen wares. Here you can find aprons, pot holders, cookbooks. Kitchen accessories and cooking tools. In the past I've found Mickey head shaped drain covers and wine bottle toppers, though I couldn't spot them this time around.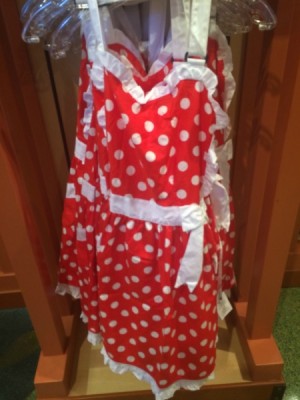 the kitchenware section
You'll also find some pretty Disney artwork, but in my opinion, you'll find a much more eclectic and interesting variety down the way a bit at the Wonderground Gallery. However, there is a kiosk called Art of Disney that is unique. Here, you pick the artwork you like, then select your size and what material you'd like it printed on. You also have the option to choose a frame. Then you insert your payment method and type in a delivery address. Your completed, customized artwork will be delivered to you!
There are walls and walls of plushes, including everyone's favorite mouse in a variety of sizes. As the seasons change, so does the merchandise here ,as we were able to spot these patriotically dressed Minne and Mickey plushes.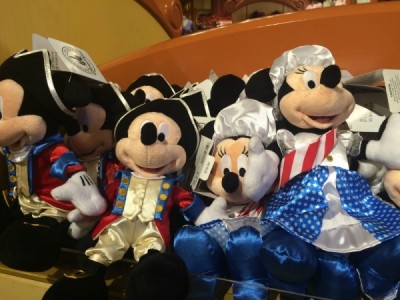 patriotic Mickey and Minnie plushes
Duffy the Disney Bear has a home here as well. On our last trip, Disneyland had not yet tuned 61, so we found Duffy wearing this adorable 60th anniversary outfit.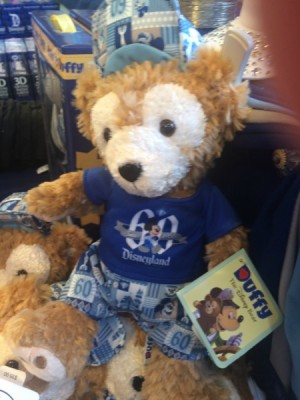 Duffy all dressed for the Diamond Celebration
You could easily outfit the whole family here. From athletic wear to outerwear, infant's clothing to ladies' shoes, you'll find plenty of ways to wear your Disney fandom on your sleeve. Some of my favorites are the his and her T-shirts.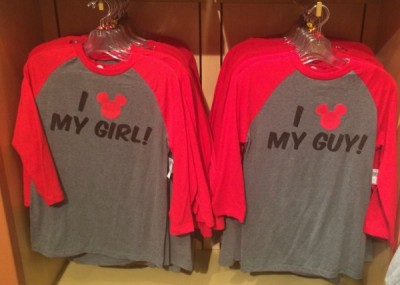 I wish I could talk my husband into these…
The store is located conveniently close to the tram drop-off and pick-up section, so if you've already left the park and suddenly forgot to buy a present for Aunt Mathilda, you can rush in here before you head back to your car. (Unless Aunt Mathilda is a Black Widow fan. Then you're out of luck.)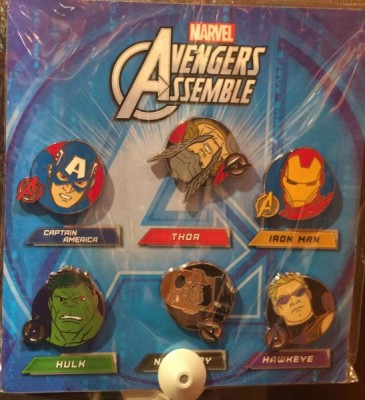 I mean, seriously, where's Black Widow?
From souvenirs to birthday gifts, artwork to accessories, plushes to purses, the World of Disney simply has it all.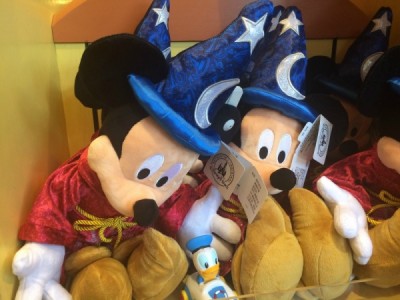 What's your favorite things to buy at World of Disney? Share in the comments.