This post may contains affiliate links for your convenience. If you make a purchase after clicking a link we may earn a small commission but it won't cost you a penny more! Read our full disclosure policy here.

Late last year I got the crazy idea to take a trip to central Florida on my own to volunteer at Give Kids the World and visit Walt Disney World. My awesome husband agreed to be super dad for a couple days, so I got to planning.
Since this was a solo trip, I didn't want to spend all the family vacation money. I had to do this on the cheap.
The Hotel Search
I started searching every travel site I could think of for nice hotels at low prices. Usually, I try and stay in the "Disney bubble" but I needed a place close to Walt Disney World AND Give Kids The World Village. I used a spreadsheet to list hotels that seemed safe for a woman traveling on her own and was close to my destinations. Then, on this spreadsheet I compared pricing from ALL of the travel websites. I was able to find a great deal for the Clarion Inn Lake Buena Vista (under $70 a night with taxes and fees) which was less than 20 minutes from GKTW and WDW! The Clarion is also a Good Neighbor Hotel. In hindsight I probably should have contacted one of the travel agents at The Magic For Less but I was young and naïve, and I like spreadsheets. I have since had a birthday so I'm much smarter now 😉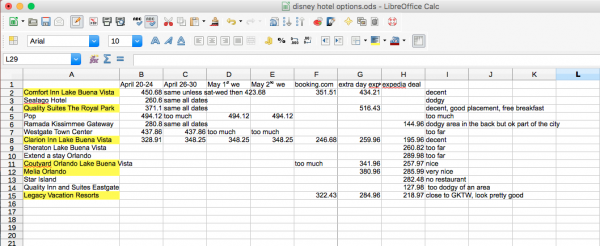 Highlighted options meant the hotel was acceptable
The Rental Car Search
Next I needed to find a car…fun. I compared many sites…again. Luckily this one was a little faster and didn't need a spreadsheet. I was able to find a great deal quickly. Since I was alone, I didn't need a big family car, I just needed something to get me around. I picked the cheapest option I could find. I also made sure to sign up for the rental car preferred member program. These programs usually save you a ton of time at the check-in counter.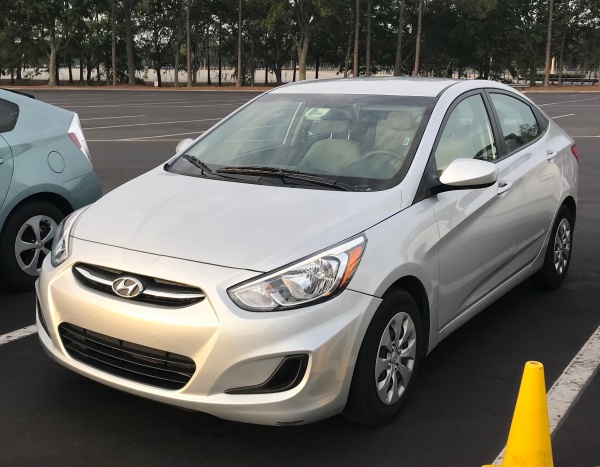 My no frills car. It didn't even have a remote. But it had decent gas mileage.
Plane Tickets
The most expensive part of any trip is usually the plane tickets. I was lucky enough to be able to use points for these tickets. So, I'm not going to even pretend to know how to help you here, but I bet a great agent at The Magic For Less Travel could give you some pointers.
Planning the Park Days
Normally I am a minute to minute planner. I find it fun to put all the pieces of a puzzle together for my family Walt Disney World trips. But, since this trip revolved around volunteering, and I was the only person on the trip, I decided to just go with the flow. I didn't make any Advanced Dining Reservations (ADR's) and I only made 1 or 2 FastPass selections on some days. I had a general idea of things I wanted to try to accomplish in a list on my phone. For example, I wanted to "rope drop" Pandora at Animal Kingdom for Flight of Passage, see The Kiss Goodnight at Magic Kingdom and try some things at the Epcot Flower and Garden Festival booths.
Solo Travel Day
I left at a 6:00 p.m. flight to MCO, landing at 9:00ish. I proceeded to the rental car desk where I was able to skip the line of people and head straight to the preferred member desk to get my car! With my quarters for toll booths (if trying to save money don't use the rental car toll tag as it will cost you a lot extra), I was quickly on my way to my hotel.
The Clarion was about 30-45 minutes away from the airport depending on traffic. I thought the traffic would be light since it was fairly late at night…I was wrong! There was construction, a lot of construction. Many areas were down to 1 lane, some of the exits had changed or roads were closed. I used the Waze application on my iPhone to navigate around a lot of the slowdowns, so I was still able to get to the hotel quickly.
The Hotel
The hotel has a guard at the front and felt very secure upon driving in. Check-in was quick and painless, but it felt very odd not tapping my MagicBand. The rooms faced outward much like the value and moderate resorts at Disney. This might have made me feel a little uncomfortable if on the first floor, but I was assigned the 3rdfloor and felt safe. The parking lot and hallways were well lit and I never felt unsafe walking from my car to my room late at night. I will say I tried to be very aware of my surroundings and make sure no one was ever following me. I just feel that women need to be a little more careful when traveling on their own.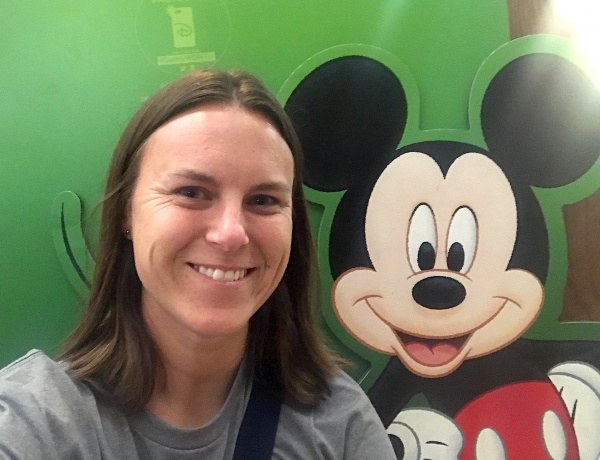 A selfie spot with the main mouse at the lobby of the hotel
This hotel had a restaurant and lounge on sight as well as a gift shop that had some grab-and-go food options. The restaurant had a hot buffet and simple cold buffet option in the morning. I was given a free cold buffet every morning with my reservation and could upgrade to the hot buffet for $6. The cold buffet was perfect for me since I had early mornings and I don't eat a huge breakfast. It came with coffee, juice, toast and cereal. Free coffee is enough to sell me! This probably saved me about $5-$10 a day since I didn't have to stop anywhere for coffee or a quick meal.
Many days I needed to be at a shift at Give Kids The World Village at 8:00 a.m. or wanted to be early to a park and I didn't get back to my room until 10:00 p.m. or later. Since I was traveling by myself, I never had to worry if anyone else was tired, I never had to get anyone else ready for bed or force anyone to wake up. I was able to get up about 30 minutes before I wanted to leave, throw on some clothes, run down and get coffee and toast and be on my way. It was crazy how fast I could get out in the morning!
In my next installment I will talk about my solo Walt Disney World park time…spoiler alert…it was amazing!
Have you ever done a solo vacation to Walt Disney World? What tips do you have for the planing and travel process? Let us know in the comments, or on Facebook or Twitter.
Did you like this article? Make sure to share it with your friends! Check below for easy ways to share!
Want to visit Walt Disney World? Contact The Magic for Less Travel for more information and a free, no-obligation quote.