This post may contains affiliate links for your convenience. If you make a purchase after clicking a link we may earn a small commission but it won't cost you a penny more! Read our full disclosure policy here.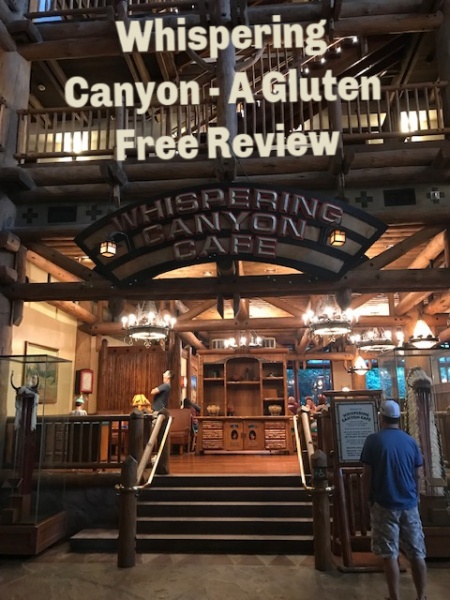 I had the wonderful opportunity to dine at Whispering Canyon recently. I wanted to try this restaurant for a while.When there was some news that they may have toned down the antics they were known for, I was worried I missed something by not getting there sooner. I will not write in too much detail about said antics because its a ton of fun, not in anyway overboard and worth seeing for one's self. P.S. I feel the level was perfect and nothing has been lost!
The purpose of this blog is to share my take on the gluten free choices found at the many Walt Disney World locations. I have eaten at many locations prior to my having to become gluten free due to diagnosed Celiac Disease, and so I have a good sense of what I used to be able to have and what I can have now.
When the term gluten free became mainstream lots of places put what I call an obligatory option onto their menus but they were not always as good as their non gluten free choices. As a person with this disease we are used to only having a couple of options to choose from and are typically thankful for those. Walt Disney World was like this years ago too, but in the last few years, they have stepped up their game and provide as good of food and many options for those of us with food allergies. In fact it is yet another reason I love to visit!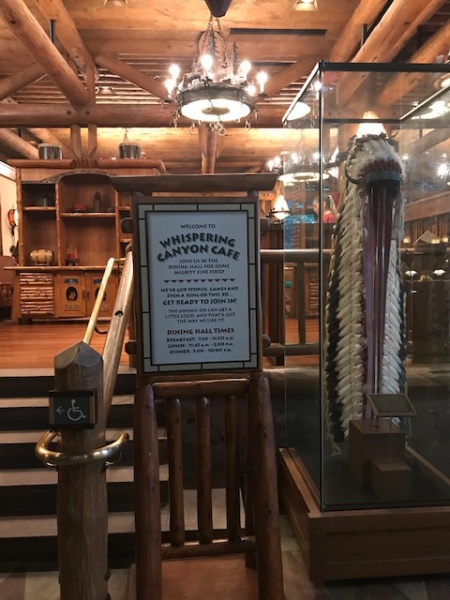 Inside the stunning Wilderness Lodge Resort, is this gem of a restaurant. We visited for breakfast. The decor is beautiful and fits in so well with the resort. The detail here is lovely and you feel very much at home.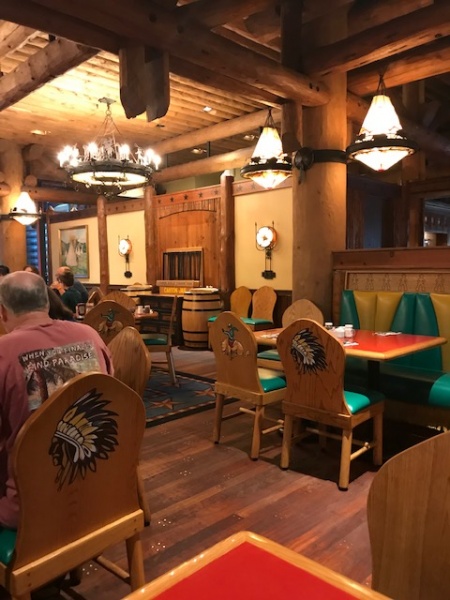 Again, back in the day ordering gluten free would mean hushed tones with the servers, then a chef would come out and discuss your options with you. You can still request this, and I would recommend that you do if you have a severe reaction and want to be sure of their kitchen practices, like shared work spaces, shared fryers and such. I was given this Allergen Menu and I selected directly from it. What a great menu and so many options!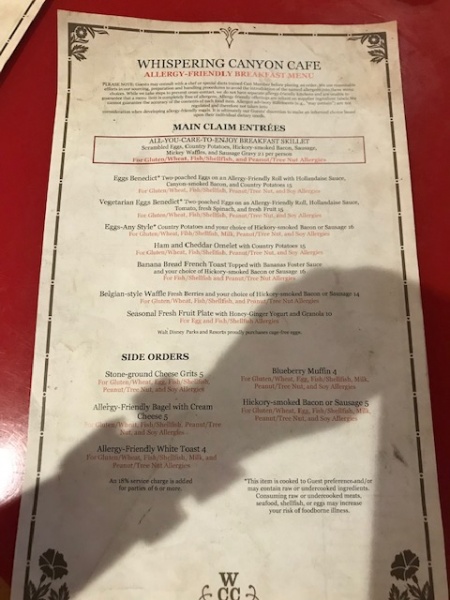 We started our meal with Mimosa's. Happily, both champagne and orange juice are gluten free! They were delicious and served with a fresh strawberry.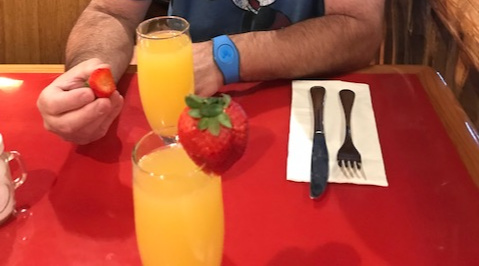 For my gluten free entree, I chose: Eggs Benedict – Two-poached Eggs on an Allergy-Friendly Roll with Hollandaise Sauce, Canyon-smoked Ham, and Country Potatoes
For Gluten/Wheat, Fish/Shellfish, Peanut/Tree Nut, and Soy Allergies. 
It was very good. Everything on the roll was outstanding, the sauce, the ham and the potatoes were fabulous. The gluten free roll was decent. It is so hard to find good gluten free bread in general. If you find something great it would cost an arm and a leg, so I really will not complain much about this one. It was pretty good and with the eggs and sauce on top being done so perfectly, it made all the difference.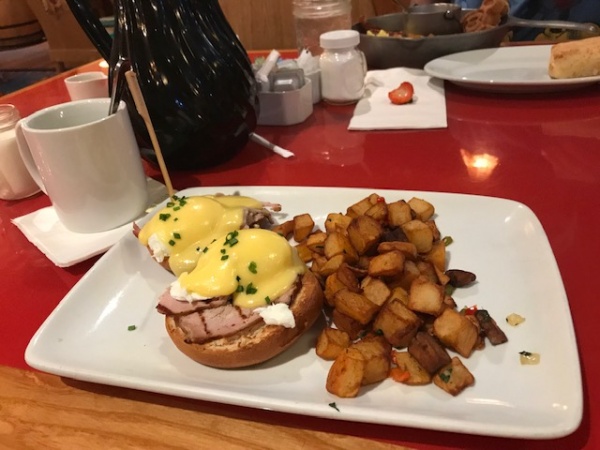 My husband ordered the non gluten free "all you can eat skillet".. he really enjoyed that very much!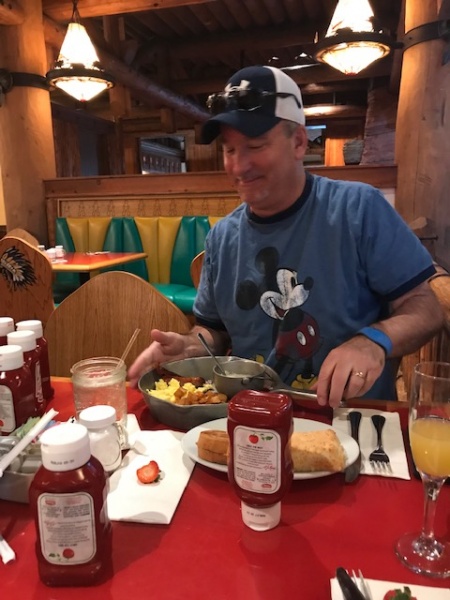 Without going into too much detail, we obviously needed some condiments for our potatoes and such. We were graced with that and more! We had a special visitor to our table as well.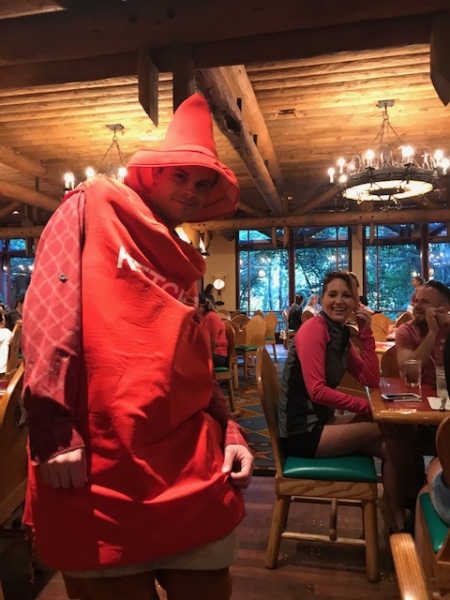 The food at Whispering Canyon was wonderful the atmosphere was so fun and beautiful. We had an awesome breakfast. I did not feel at all deprived at having to order gluten free here! I highly recommend Whispering Canyon if you have a food allergy! They will take very good care of you!
Have you dined eating gluten free at Whispering Canyon? What were your thoughts? Share your experience in the comments, or on Facebook or Twitter!
Did you like this article? Make sure to share it with your friends! Check below for easy ways to share!
Want to visit Walt Disney World? Contact The Magic for Less Travel for more information and a free, no-obligation quote.

Incoming search terms:
https://www themouseforless com/blog_world/whispering-canyon-gluten-free-review/