This post may contains affiliate links for your convenience. If you make a purchase after clicking a link we may earn a small commission but it won't cost you a penny more! Read our full disclosure policy here.
Which Princess Dining Experience is Right for You?
So you are headed to Disney World, and you have heard about all of the ways to dine with royalty. But, which Princess Dining Experience is right for your family? There are currently three different dinner dining locations that include visits with at least one princess: Cinderella's Royal Table inside Cinderella's Castle in the Magic Kingdom, Akershus in Epcot, and 1900 Park Fare in Disney's Grand Floridian Resort and Spa. In this post, I will share some of the highlights of each dining location and provide some insight on how to choose the best experience for your family!
One thing to keep in mind – I am not using the characters as a deciding factor. Obviously, if there is a particular character you want to visit, you will choose that dining experience. I am also not including the food as a defining factor of my review. This review is solely based on logistics, location, and category of dining. I hope it will help you and your family on your next visit to Disney World!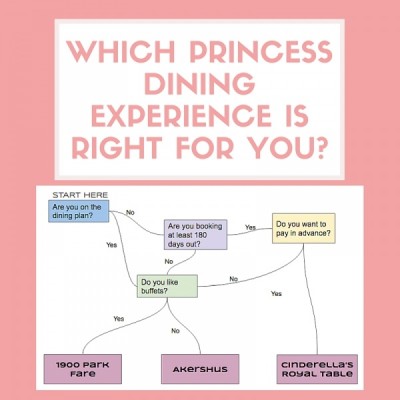 Are you on the dining plan?
If you are on the Magic Your Way Standard Dining plan with one table service credit for each day, you will want to avoid a reservation at Cinderella's Royal Table. It is a signature restaurant which means that it uses TWO table service credits! It makes more sense to visit this restaurant if you are on the Magic Your Way Deluxe Dining Plan or paying out of pocket. The caveat with this experience is that you also need to pay for the dinner at the time of booking– which could be quite a bit of cash if you are booking for a large family or a bigger group! If you are on the standard dining plan, the best choices are either Akershus or 1900 Park Fare.
What's your take on a buffet?
1900 Park Fare is a buffet (albeit a quite fancy, delicious buffet), so if you are weary of the eating troughs– Akershus or Cinderella's Royal Table are better choices for you. Akershus previously had a salad buffet with salads, cold meats, cheeses, and fish before your plated main course, but in August of 2015, there was no buffet. The servers brought the salad course to the table.
Do you have park tickets?
Without park tickets, your only choice is 1900 Park Fare inside the Grand Floridian. This is a perfect choice for an arrival day– you can ride the monorail loop and visit the Polynesian and the Contemporary before or after your meal!
Are you making reservations early enough? 180 days out?
While all three of these dining rooms are in high demand, Cinderella's Royal Table is a very difficult reservation to get. If your family has their heart set on dining in Cinderella's castle, Disney Dining should be the first call you make as soon as you know your dates. The other two experiences are generally "easier" reservations to get as their dining rooms are a little larger.
Are there children in your party?
At Cinderella's Royal Table, all children in the party (yes, even the under 3 crowd) get either a wand or a sword and a "wishing star"– this is a pretty nice addition to the meal. But, hey, you are paying for this "upgraded" experience! 😉
My overall thoughts
My personal favorite is 1900 Park Fare. Granted, it is a buffet, and there is technically only one princess at the location (instead of multiple princesses at the other locations), it is a good-bang-for-your-buck dinner. The characters seem more engaging and playful, and the Grand Floridian is an easy resort hotel to travel to.
What is your favorite princess dining experience and why? Share your thoughts in the comment section below!