This post may contains affiliate links for your convenience. If you make a purchase after clicking a link we may earn a small commission but it won't cost you a penny more! Read our full disclosure policy here.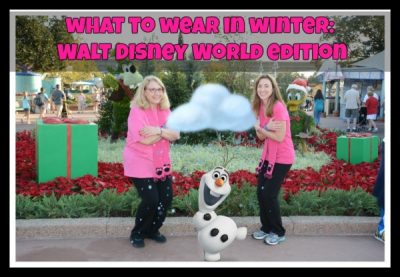 When you are planning a trip to Walt Disney World in the winter, deciding what to pack can be a challenge. Florida winter can be unpredictable. Will it be warm or will it be chilly?  Sometimes, you may even experience both during the course of your trip. Don't worry though. I've got you covered!  Here are some tips on how to pack for a winter vacation at Walt Disney World:
Watch the weather
I recently visited Walt Disney World for a quick weekend trip. My home is in North Florida and when I left on Friday afternoon to drive down, it was 55 degrees and raining. I had checked the weather forecast the day before and was expecting similar weather when I arrived at Disney.  After driving about 60 miles South though, I checked the temperature and it was…82 degrees!  I knew there was a cold front coming through that weekend, but I must have been running away from it! That evening it was warm enough to wear shorts at Epcot, but by the next night, the low was 37 degrees. Temperatures that low are rare, but they are possible. So, check the weather right up until you depart for your trip. It may change from what you are expecting!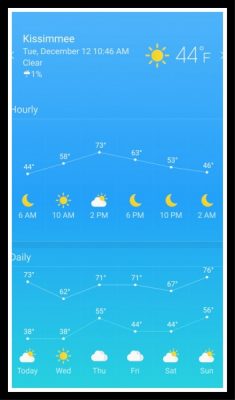 Pack rain jackets and/or ponchos
No matter when you visit, there is a good chance that you will run into a rain storm or two during your vacation. If you have a rain jacket, pack it! Even if you are lucky enough to avoid rain, a light rain jacket may suffice if the temperatures drop slightly in the evenings. If you don't own a rain jacket, you may want to pick up some ponchos for each family member. These are sold at the park, but you will find far less expensive options outside the park.
Rain jackets or ponchos may come in handy if you decide to brave chilly temperatures and ride Splash Mountain or Kali River Rapids. In the warmer months, getting a little (or a lot) wet may be fine, but no one wants to walk around cold and wet all day. A poncho may allow you to enjoy those attractions without worrying about getting soaked. If you are willing to brave the cold and ride, the standby lines for these usually aren't long. You may be able to swap those FastPasses out for other attractions.
Can we leave the coats at home?
Maybe. Probably. Chances are, long sleeves, a light jacket, or sweatshirt will be enough to keep you warm, but it just depends. If temperatures drop into the 30s and 40s, you may be more comfortable with something warmer. Jeans, pants, and leggings of varying weights can be great things to pack because you can layer if it is chilly or go with something lighter if it warms up later in the day. If you won't be going to back to the hotel mid-day, renting a locker or bringing a backpack to stuff jackets or sweaters in may be helpful if it warms up.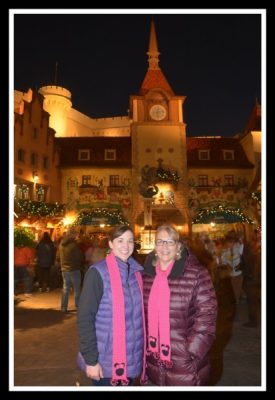 We can leave the bathing suits at home for sure, right?
Maybe! As I mentioned earlier, it was 82 degrees when I arrived…in December. Warm enough for most people to swim in the hotel pool or even visit a water park. The water is also heated, so you may find that the water is warmer than the air outside at times. Blizzard Beach and Typhoon Lagoon tend to close for refurbishment in the winter months, but usually one of them remains open for guests. Winter can actually be a good time to visit if it is warm because it won't be as crowded. The water parks and pools will close if it gets too cold though, so if you plan to spend one of your days there, I would suggest having a back up plan. The non-Disney water parks have similar protocols for closing during colder weather, so check before you throw on that bathing suit and head out!
What if it is warm?
It may be!  So go ahead and throw a pair of shorts into your suitcase just in case. Pack that bathing suit! It may be warm enough to wear them!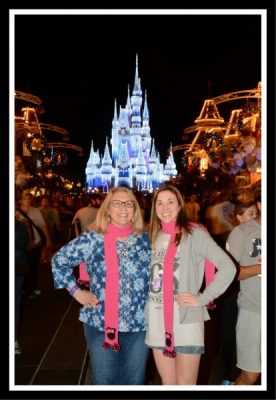 Hopefully, your winter Disney vacation will be filled with temperatures in the 60s/70s and no rain. Being prepared for lower temperatures though, may save you from having to purchase warmer clothing in the park. So check the weather report one last time before you get in the car or hop on a plane to travel to Walt Disney World and enjoy your winter Disney vacation!
Have you visited Walt Disney World in the winter? What are your "must pack" items? Share them in the comments.
Did you like this article? Make sure to share it with your friends! Check below for easy ways to share!
Incoming search terms:
https://www themouseforless com/blog_world/what-to-wear-in-the-winter-walt-disney-world-edition/
outfits to disney world in winter