This post may contains affiliate links for your convenience. If you make a purchase after clicking a link we may earn a small commission but it won't cost you a penny more! Read our full disclosure policy here.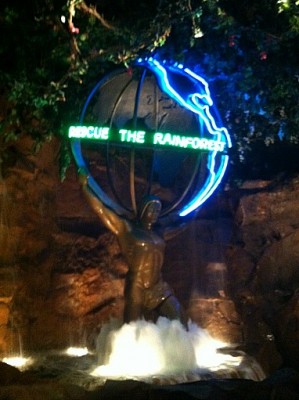 Planning a trip to Walt Disney World evokes thoughts of thrill rides, eye popping parades and dazzling fireworks. Of course, everyone needs to eat while at Disney and most think of this as an opportunity to sit, relax and enjoy some quiet time while planning the next amusing adventure. In some cases though, why stop the entertainment when you can go to the Rainforest Café and feed your hunger for both food and fun.
Rainforest Café is a chain restaurant that operates at Walt Disney World just outside the gates of Animal Kingdom and also at Downtown Disney (Disney Springs). The two restaurants are basically the same in décor and menu, so if you dine at one you will not be missing out at the other. The meals are basic fare on par with Applebee's or Ruby Tuesday's. The atmosphere on the other hand is what I would consider a restaurant "thrill ride".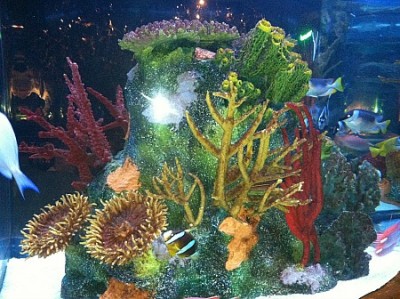 My first experience at Rainforest Café was a year ago with my son and daughter. We had made Advance Dining Reservations (ADRs), but still had to wait approximately 15 minutes for a table. We were kindly advised that we would be called when our table was ready and we were free to roam the gift shop while we waited.
The gift shop is HUGE and as we ambled around I made a mental note of all the items my son had to have. I think he easily window shopped $200.00 before we left. Thank goodness our table was ready or I would have had to wash dishes to pay for the meal.
Our table area gave us a terrific view of the restaurant and all the little rainforest antics that were going on. We were encouraged by our waiter to get up and take a look around as the restaurant was not very crowded. As my son and I looked around (my daughter chose to observe from a far) all I could think was how amazing the surroundings were. Not only was I here to feed my hunger, I was feeding all my senses as well.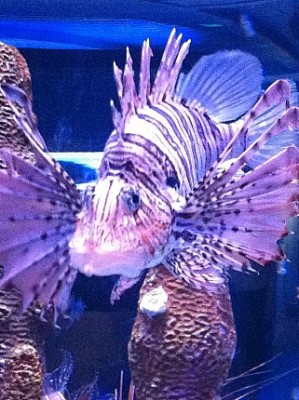 There were two or three vertical fish tanks that held exceptionally colorful fish. An enormous elephant trumpeted and flapped it's ears every so often just to warn visitors not to get too close or too adventurous on his/her turf. The primates were bellowing in their own way, as if to inform the elephants whose turf this really was. Of course, who could miss the statue of Atlas with the world on his shoulders behooving us to "Rescue the Rainforest". Then as we sat back at our table, the "thunderstorm" began. Every 22 minutes the restaurant hosts a simulated thunderstorm complete with lightening and the sound of rain. Wow, my senses were stuffed!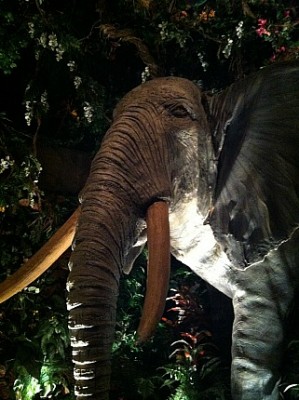 When our meal came it was typical, chain restaurant fare. My daughter and I ordered two Rainforest Burgers (beef burgers topped with a fried onion ring, lettuce, tomato, cheese, bacon and pickle. Bacon and mushrooms are optional). My son ordered the Macaroni and Cheese off the kids menu.
My only complaint is that the dessert menu is limited to a choice of cheesecake, Chocolate Diablo Cake (dark chocolate cake with chocolate filling and raspberry sauce), sorbet or the Sparkling Volcano (a rich chocolate brownie served warm with vanilla ice cream and topped with both caramel and chocolate sauce). We chose the Sparkling Volcano to share, but were barely able to finish half between the three of us.
There were many entrée options on the menu to please even the pickiest palate. Seafood, steaks, chicken, burgers, pasta and salads.
Rainforest Café at the Animal Kingdom location also serves breakfast. Start your day with Eggs Benedict or Cisco and Pancho (a flat iron steak served with two eggs, potatoes and toast) or a favorite of many Disney guests Tonga Toast (Cinnamon French Toast with warm maple syrup topped with fresh strawberries and bananas).
Just a few tips if you are thinking of having a meal here:
Both the Disney Springs (Downtown Disney) location and the Animal Kingdom location are very popular dining spots. Making Advance Dining Reservations is highly recommended.
The restaurant can be rather loud, so if you have children who are sensitive to noise you may want to rethink this dining experience. IT IS LOUD!
Food here can run as high as $50.00+ per person if you have an appetizer, entrée, dessert and a drink. Consider using your Disney Dining Plan credits to eat here, if you participate in the plan. For one credit per person you can order an entrée, dessert and non-alcoholic drink. If you choose to get an appetizer, the out of pocket cost for your meal would only cost you the appetizer and tip. Great way to maximize the plan!
Don't feel like paying $50.00+ for dinner or lunch, but still want the experience? Go for breakfast instead. A great alternative to get the experience at a lower fee.
Bring a sweater/jacket. I don't know why, but this restaurant is always chilly.
Leave your mosquito spray behind, pack your appetite and take a journey into the jungle, but not from the excitement that the parks bring.
What are your thoughts about Rainforest Cafe?