This post may contains affiliate links for your convenience. If you make a purchase after clicking a link we may earn a small commission but it won't cost you a penny more! Read our full disclosure policy here.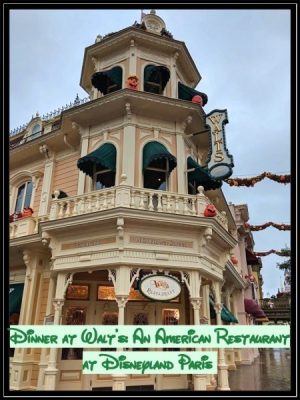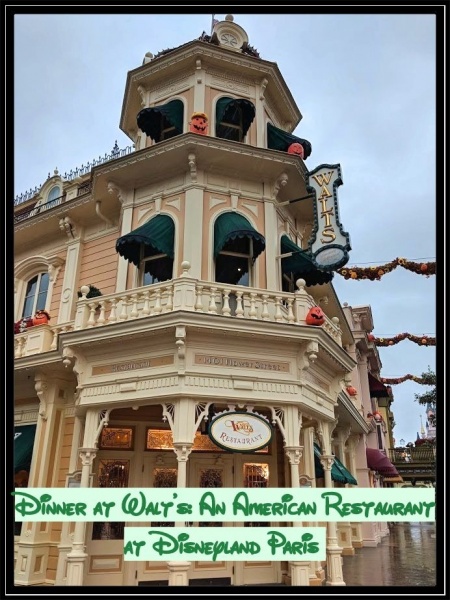 When planning my trip to Disneyland Paris, I spent a lot of time planning around one thing: food! Disneyland Paris has a reputation for having some not-so-great restaurants, so I was determined to find the best options available. As I looked at my choices and sought the advice of friends, one restaurant popped up in conversation more often than all the others. After multiple recommendations, I knew I had to add Walt's: An American Restaurant to my dining list.
We chose to dine at Walt's after the Disneyland Paris 10K race. It seemed like the perfect place to celebrate our accomplishment. When I made the reservation, a 3:30 p.m. time slot was all that was available. I took it immediately. It seems that reservations go fast, so I certainly recommend making one early on in your planning if you want to visit Walt's.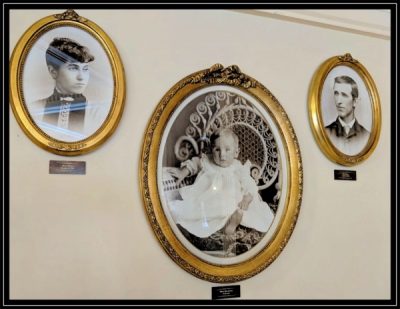 As soon as you walk into Walt's, you feel like you have walked into the living room of the Disney family. It has an elegant, but cozy vibe that will make you feel at home right away. There are family photos everywhere and I could have spent hours taking in the décor.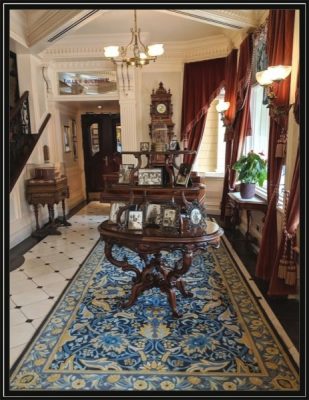 Once you are escorted upstairs, you will be seated in one of several dining rooms. These rooms are relatively small and each contains only a few tables. This certainly gives this restaurant a very intimate feel. Each room is themed to one of the lands in the park.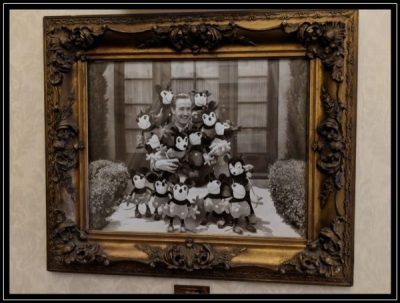 Our table was in the Frontierland room. This room looked like it could have been a study if there were no tables, as there were bookcases all around and steamboat photos adorning the walls. Some of the tables remained empty during our visit, making it very quiet and relaxing.
My favorite thing about this room was that it overlooked Main Street. I loved having a second-story view of the hustle and bustle below! I would have hung out there all day if I could have.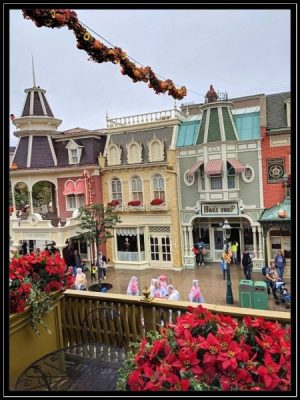 If you visit Walt's, make sure you take a walk around the restaurant to see the different rooms. Each one is unique and has character of its own.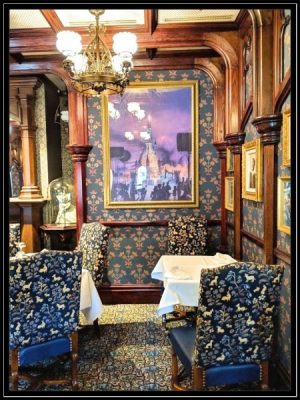 Walt's is a bit more expensive than some of the other dining options in the park with entrées ranging between €37 and €65. We had received a free half board plus dining plan when we made our resort reservation, which covered a portion of our meal and made it more affordable.
Once we had taken a look around the restaurant, it was time to eat! We opted to skip appetizers and go straight for the entrées so that we would have room for dessert. Paris is not a place where you want to skip dessert! I chose the gnocchi and my friend Lisa went with the beef tenderloin.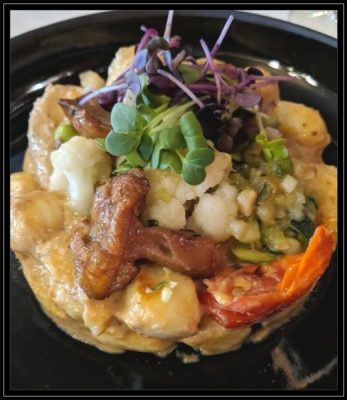 The gnocchi was tender and delicious. I enjoyed the sauce and the vegetables gave it a pop of color and flavor. Though it didn't look huge on the plate, this was a filling dish.
The tenderloin was also good. The way it was presented made it look a bit small, but we both enjoyed the flavor. It was served with a fried squash blossom, which was unique and a nice addition.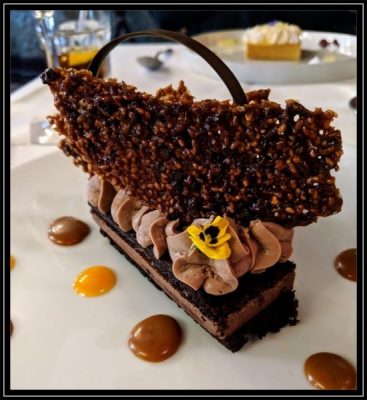 For dessert, we had the chocolate cake and Yuzu meringue pie. Again, both great options and I had zero regrets! Such yummy and pretty desserts!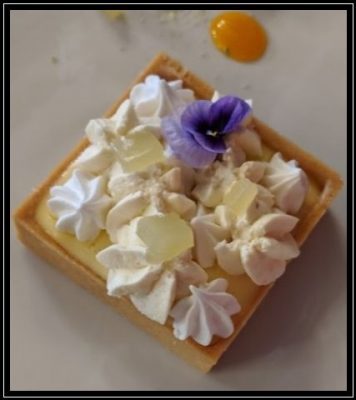 Walt's: An American Restaurant was lovely and I would put it on the must-do list of anyone who is a big fan of Disney history, Walt, or the Disney family. I wouldn't say my meal at Walt's was the best meal I have ever eaten, but it was tasty and what really makes the restaurant stand out is all of the personal family items found inside. The photographs and décor are what make it worth a visit. This restaurant is a beautiful tribute to Walt Disney and I truly enjoyed my dining experience!
Have you dined at Walt's: An American Restaurant at Disneyland Paris? What did you enjoy most about your experience? Let us know in the comments or on Facebook or Twitter!
Did you like this article? Make sure to share it with your friends! Check below for easy ways to share!
Want to visit Disneyland Paris? Contact The Magic for Less Travel for more information and a free, no-obligation quote.