This post may contains affiliate links for your convenience. If you make a purchase after clicking a link we may earn a small commission but it won't cost you a penny more! Read our full disclosure policy here.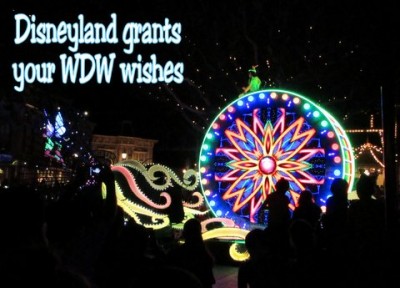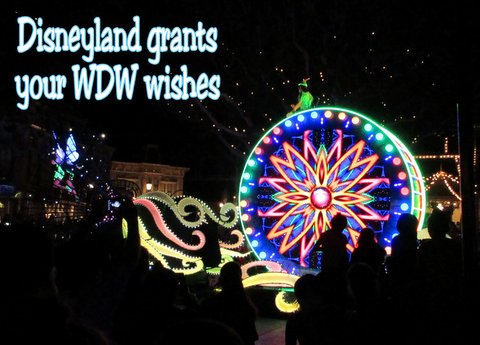 You've visited Walt Disney World enough times to navigate the parks without a map. You love vacationing with the Mouse, but some details of Disney's World are starting to get frustrating. Should you take a break? Perish the thought! But also consider a trip out West to Disneyland Resort, where some of the elements might be more to your liking.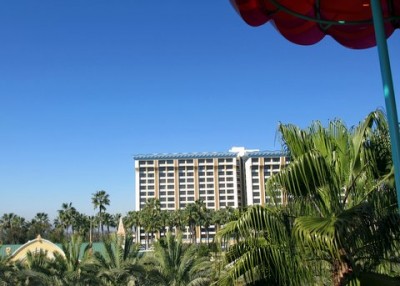 Paradise Pier Hotel, from inside California Adventure
"I wish I could walk to the parks from my hotel." Other than the Contemporary, none of WDW's hotels could be considered a "short walk" from a theme park. At Disneyland Resort, a stroll from any of the three resort hotels through Downtown Disney brings you to the Esplanade shared by Disneyland and California Adventure. All three hotels have theme park view rooms. Just outside of the "Disney bubble" are many offsite hotels that are as close, or closer.
"The lines for my favorite rides are long, and there really aren't enough rides in each park." Consider this: On the West Coast, Soarin' and Toy Story Mania are both in the same park, and neither is the headline attraction! Disneyland's two parks have as many attractions as all four of Disney World's parks put together.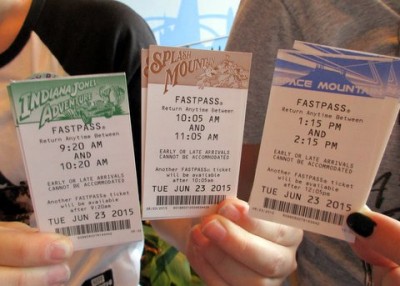 The retro glory of paper Fastpasses … and yes, we held 3 before 10 a.m. on a summer morning
"I hate deciding months in advance where to eat and what to ride." Disneyland planning is almost scary-easy — park hours aren't even posted until about 6 weeks in advance, dining reservations can be made days ahead unless you want a show/dining package, and feel free to pull paper FastPasses all day.
"So. Much. Walking." Did we mention that the two parks are only a football field apart, making park hopping a breeze? And that Disneyland is about 30 percent smaller than the Magic Kingdom but has more rides? That's a lot more magic per mile. If you're on the fence about whether you'll need a stroller here, you won't.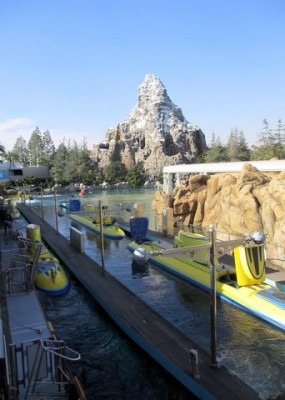 "I wish they still had _______ at Walt Disney World." Nostalgic for Snow White's Scary Adventures or Mr. Toad's Wild Ride? Disneyland's still got them. And the submarines still sail around the lagoon every day.
"Central Florida's weather is miserable in the summer." Brace yourself for sunny skies and low humidity if you travel West. Anaheim's weather is likely to beat Orlando's almost every day of the year. It doesn't rain much, but when it does, the locals clear out and you'll have the park to yourself.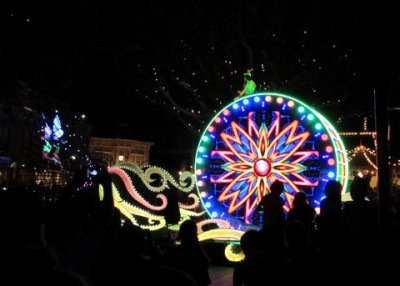 The all-new Paint the Night parade
"I just want some new entertainment." This year, Disneyland has unveiled new fireworks, a new night parade, and a new version of its unique World of Color. Add in Mickey and the Magical Map and Fantasy Fair stage shows, both unveiled in 2013. Just announced: a new full-scale Frozen stage show.
I haven't even touched on the atmosphere in the remodeled California Adventure, holiday ride overlays, and the general sprucing-up the parks and attractions received for Disneyland's 60 anniversary. There's only one thing left to ask your travel agent: "When can we go?"

Get your quote for a trip to Disneyland from The Magic For Less today!
Are you thinking of adding Disneyland to your theme park rotation? Check out our review of "Go West, Young Mouse" to start your planning.