This post may contains affiliate links for your convenience. If you make a purchase after clicking a link we may earn a small commission but it won't cost you a penny more! Read our full disclosure policy here.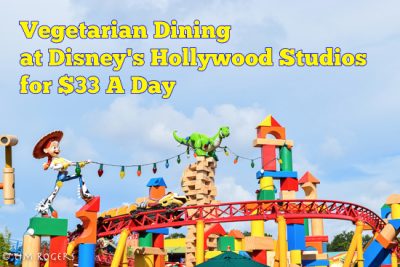 One of the most memorable aspects of any Disney trip is the food. We book our dining 6 months in advance and threaten to riot if our favorite menu item disappears. As Disney fans, we love food. But here at The Mouse for Less we also love saving on our trips, and food is a great place to start.
Currently, I am going park by park to try to plan a full day of vegetarian dining for $33 (for the explanation and choices for the Magic Kingdom, start here)
Today, we are taking a Friendship Boat from our last stop at Epcot and going to Disney's Hollywood Studios.
Whether it is a cliché, or a truism, or a fact, the nature of dining options, and especially counter service dining options at Disney's Hollywood Studios is a widely discussed situation. Basically, they aren't great. And especially when trying to hold true to my challenge of picking unique options in each park, the Studios are highly limiting. However, with some recent editions the following $33 day might be my favorite of them all.
Breakfast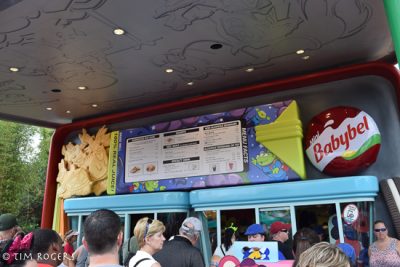 With the opening of Toy Story Land, a big challenge for outlining this day is to not just eat every meal at Woody's Lunch Box. I solved that problem by only eating two of the meals here. Now if I were to list out foods I like, s'mores, French toast, and sandwiches would all show up pretty fast. So Woody's Lunch Box decided to save me some time by creating a S'more French Toast Sandwich ($7.99). If you hadn't heard, it is Marshmallow and Chocolate Ganache stuffed in Grilled Custard soaked Brioche encrusted with Graham Cracker Crumbs. That's multiple food groups of nutrition right there.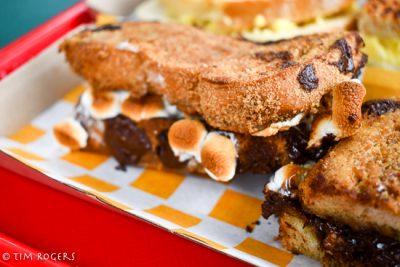 Is this completely ridiculous? Yes. Do I care? Not really. Will having this for breakfast mean there won't be some outrageous dessert later in the day? Not a chance.
Side note: When the menu for Woody's Lunch Box first came out I was also very excited for the Chocolate-Hazelnut Lunch Box Tart. However, I discovered through further description that it has bacon on it for some reason. I don't know if you can get it without the bacon, but it's worth the question. Also, I don't care for raspberry, but they do have a Raspberry one as well.
(Total after Breakfast: $25.01)
Lunch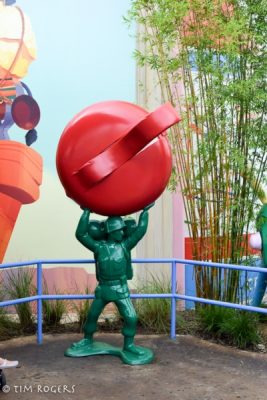 So like I said, Woody's Lunch Box is kind of a game changer for me as far as food at Disney's Hollywood Studios goes. And my lunch option is something I ordered on multiple days during my recent trip – the Grilled Three-Cheese Sandwich ($8.99).  This is Melted Provolone and Cheddar Cheeses with a Cheddar Cream Cheese Spread on Garlic Buttered Grilled Artisan French Bread and comes with a side of potato barrels.
(As promised, my sidebar into trademark and copyright. When the "Totchos" came out everyone noticed that the fried potato product in them was called "potato barrels" instead of "tator tots." As anyone who has ever gotten a "zip top bag" or "facial tissue" can tell you, we often conflate the name of a specific brand with the product itself. In this case, Ore-Ida is actually the only brand that has actual tator tots. Everyone else has potato gems, potato nuggets, potato puffs, or whatever you like. So…best guess is that once they made a menu item called "Totchos" someone might have noticed that they were using "Tater Tots" around the property and since then they have been renaming all of them as potato barrels. This concludes our obscure look into generic trademarks.)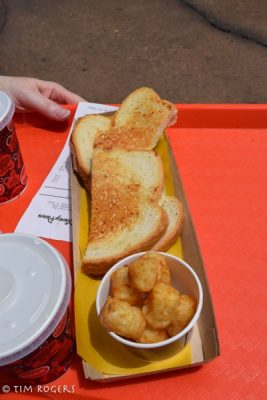 Back to the food, the grilled cheese is tasty, but more importantly it is unique. The combination of cheeses, especially with the cheddar cream cheese makes for a good mixture that is especially gooey. The potato barrels are crispy and flavorful (although the included side is a bit small). Overall, this is now a definite go-to meal anytime I will be in the studios, and is worth the trip.
(Total after Lunch – $16.02)
Dinner Options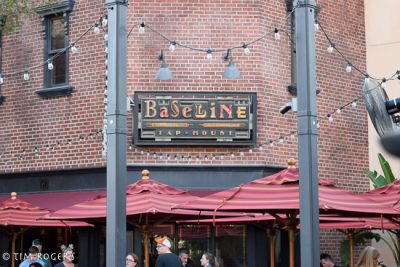 So sometimes when you are on vacation, it comes around to a meal time and you might not want a full meal but have some sort of specific craving. For me, whenever I am at Walt Disney World, I want a pretzel. Luckily, there are many good options, and one of the best is in Disney's Hollywood Studios.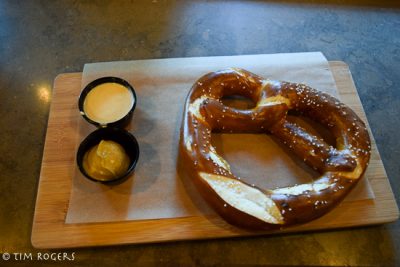 BaseLine Tap House is a fairly recent edition to the Grand Avenue section of the Studios. Mainly, it is a bar that serves California inspired wine and beer, but they also have a few snacks. One of those snacks could definitely be a meal for me, and today it will be – the Bavarian Pretzel with Beer Cheese Fondue and Spicy Mustard ($9.00). The pretzel itself is the perfect combination of textures and tastes you want in a pretzel – little bit of crunch, soft center, just enough salt. However, one of the things that sets this one apart is the set of accompaniments. The mustard is flavorful with a little kick, and the cheese fondue is delicious. It is also filling enough to make sure you won't be hungry for a bit. If you haven't thought about the food at lounges or bars to get a little bit more interesting bite of food while at Walt Disney World, hopefully this pretzel will show you a whole new world of possibilities.
(Total after "dinner" – $7.02)
Snack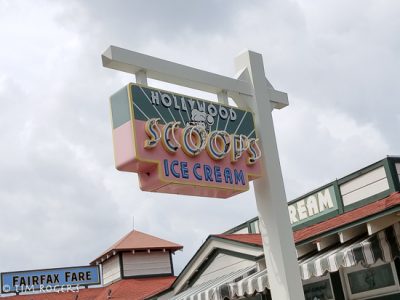 I mentioned before that I am a fan of sandwiches, and since we had one for breakfast and one for lunch, why not end the day with another? Of course, there is a bit of a twist – I am going to end the day with the Ice Cream sandwich on fresh baked cookies ($5.79) from Hollywood Scoops. All the components here are good, and if you have never had an ice cream sandwich on freshly made cookies you don't know what you are missing. This is the perfect handheld snack to end a lovely day at Disney's Hollywood Studios.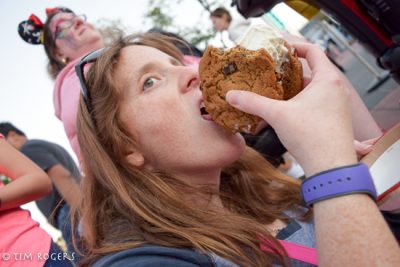 (Total after snack – $1.23)
Three down and one to go! Stay tuned for a vegetarian journey through Disney's Animal Kingdom.
What are some of your favorite items to get as a vegetarian at Disney's Hollywood Studios? Share your experience in the comments, or on Facebook or Twitter!
Did you like this article? Make sure to share it with your friends! Check below for easy ways to share!
Want to visit Walt Disney World? Contact The Magic for Less Travel for more information and a free, no-obligation quote.