This post may contains affiliate links for your convenience. If you make a purchase after clicking a link we may earn a small commission but it won't cost you a penny more! Read our full disclosure policy here.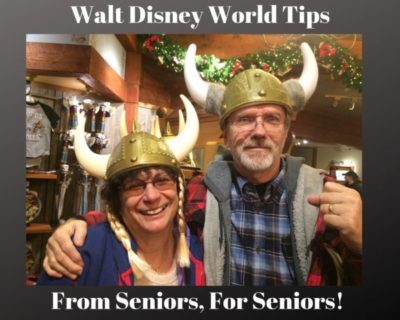 Age doesn't matter: Everyone is a kid at Walt Disney World!
My parents are largely responsible for my love of Disney travel. They first took me and my little sister to Walt Disney World in 1976. And Disney has been our vacation of choice ever since then.
It didn't take my parents long to figure out that going to Walt Disney World was amazing even when they (GASP) didn't take the rest of their family. Now they are Disney Vacation Club members, and visit Walt Disney World all on their own, just the two of them, as often as they can. Since they don't have to worry about their grandkids' school schedules, it gives them the opportunity to visit when the weather is usually nicer and the crowds are historically lower.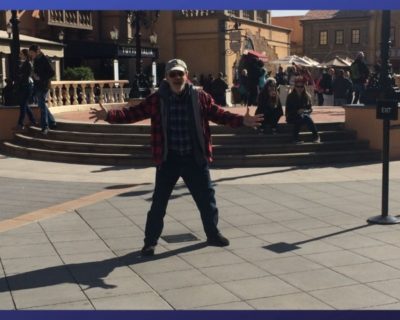 My Dad loves World Showcase!
I recently asked them what it was like to visit Walt Disney World as senior citizens, and what they said both surprised and delighted me. Here are my parents' tips for enjoying a seniors-only trip to Walt Disney World:
WHERE TO STAY
My parents agree that Deluxe is the best way to go, not necessarily for all the amenities, but because of location. They told me that at their age, leaving the parks for a rest in the middle of the day is crucial, and the Deluxe resorts simply offer the best transportation to and from the parks. It's for this reason that my parents' home resort with the Disney Vacation Club is the Polynesian Village Resort.
My Mom puts it best: "Stay on property in a place where you can get back to your room ASAP." My Dad emphasizes that you'll want to stay close to whatever park you plan on spending the most time at: "I recommend the Yacht or Beach Club for the easy access to EPCOT's World Showcase. We love to spend time in the countries, eating great food, wine and dessert"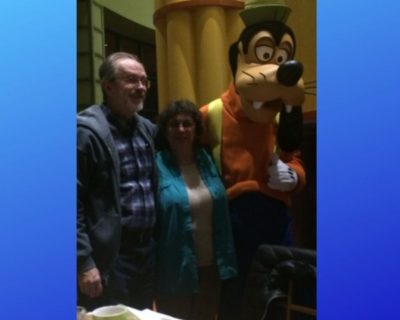 Goofy greets guests of all ages!
HOW MANY DAYS TO STAY
Both my parents said that no matter how long you stay, make sure that you don't try to cram your entire vacation full of park time. My Dad put it this way: "Don't overdo, plan some down time and get a good night's sleep." And my Mom joked, "Stay for as long as you can afford to!"
Both of them agree that taking a vacation with just the two of them is very different than going with their kids and grandkids. They are much less likely to race from attraction to attraction, and much more flexible in their planning.
PACE YOURSELVES
My Dad encourages seniors: "You can take it slowly and enjoy just being in a magical environment, free from worries." My Mom adds, "Younger people often miss the quiet places-just to sit on a bench, without viewing a parade, etc. I really enjoy sitting somewhere while Daddy goes on some wild ride. I love taking in the atmosphere, watching people."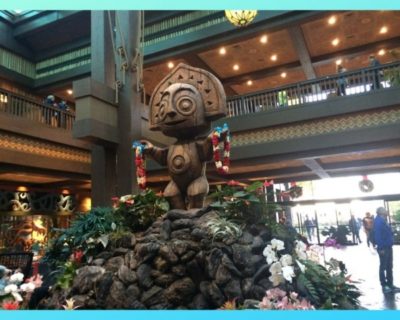 A Deluxe resort, like the Polynesian, has the best transportation options
WHERE TO EAT
It's perhaps no surprise that my parents pick restaurants that are relaxing and leisurely. My Mom loved the seafood buffet at the Garden Grove in the Swan Resort, and also, "Tiffins in Animal Kingdom. Any of the upscale places like Victoria & Albert's." My Dad concurs: "If you can afford it, Victoria and Albert's. Elegant, slow paced meal at a five star restaurant, away from the hustle and bustle of the parks. For quite a bit less, 'Ohana in the Polynesian resort. In short, pretty much any Restaurant at any one of the Deluxe resorts."
In other words, they don't mind leaving the parks and enjoying some relaxing meals at nearby resorts. They also emphasized that if you're going during a hot time of the year, pick places that are indoors and air conditioned!
EMPTY NESTERS CAN ENJOY WALT DISNEY WORLD
When people ask my parents why they go to Walt Disney World without kids, they have plenty of reasons, including what my Dad says: "There is so much for couples without children. Aside from the parks, which we still love, there is golf, wonderful places to walk, MANY excellent restaurants, great shows, with all the adult beverages you care to partake in."
My Mom agrees. "Who needs kids – we enjoy being on our own, just the two of us, having a good old time!" (Yeah, but Mom, you'll still take us sometimes, right? RIGHT?)
SENTIMENTAL JOURNEYS
My parents do enjoy all the new attractions, and appreciate that Disney always seems to have something new when they visit. On their next trip, they'll be exploring both Toy Story Land and Galaxy's Edge for the first time. But they have favorite attractions for sentimental reasons.
My Mom had a hard time listing her favorite attractions. "This is hard-they all hold great memories, but I guess Peter Pan because Dad was my Peter!" My Dad drew from his childhood when he thought of his favorite rides. "it's a small world, Carousel of Progress, and Lincoln in the Hall of Presidents, all of which we experienced at the 1964-65 World's Fair in New York."
TO SUM IT ALL UP
My Mom says visiting Disney is unlike any other vacation she's ever taken. "Disney knows how to make you feel welcomed and comfortable. I always feel 'at Home' when I'm there, but I don't have to do housekeeping, etc."
I am so glad that my parents enjoy going to Walt Disney World together, and it makes me look forward to the years in the future when I can go alone with my husband!
Are you a senior who visits Walt Disney World? What tips do you have? Let us know your thoughts in the comments, or on Facebook or Twitter!
Did you like this article? Make sure to share it with your friends! Check below for easy ways to share!
Want to visit the Walt Disney World Resort? Contact The Magic for Less Travel for more information and a free, no-obligation quote.

Incoming search terms:
https://www themouseforless com/blog_world/walt-disney-world-tips-seniors/
https://www themouseforless com/blog_world/walt-disney-world-tips-seniors/#:~:text=Age doesnt matter: Everyone of choice ever since then
https://www themouseforless com/blog_world/walt-disney-world-tips-seniors/#:~:text=Age doesnt matter: Everyone kid at Walt Disney World!
Whats the best Walt Disney World accommodation for seniors
how to let seniors enjoy disney world
Does Disney world have rest areas for seniors
disney world for 70 year olds
when iscthe best time fir seniors to go to disneyworld
https://www themouseforless com/blog_world/walt-disney-world-tips-seniors/#:~:text=My parents agree that Deluxe to and from the parks
senior bus trips to Disney