This post may contains affiliate links for your convenience. If you make a purchase after clicking a link we may earn a small commission but it won't cost you a penny more! Read our full disclosure policy here.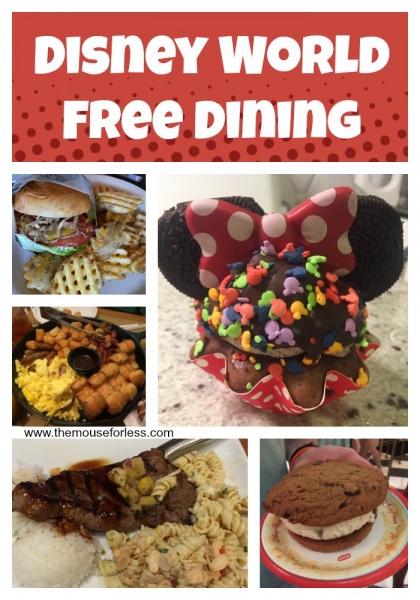 It is time! It is the most anticipated planning day, especially for those planning trips for the fall! Free Dining is here!
Here's what you need to know about this year's Free Dining promotion.
What is Free Dining?
Free Dining is exactly what it sounds like. It is a promotion that is offered for Walt Disney World Resort Vacation Packages that allows guests to save money and get the food on your trip for "free." Free Dining was a promotion  that was introduced by Disney a number of years ago and its goal was to fill rooms during traditionally slow times of the year, like late summer, early fall, (ie, late August through September) and early winter (ie, early December).
With Free Dining, each Guest in the room on the reservation receives one of the Disney Dining Plans for free with the purchase of a Walt Disney World Resort package. (A package includes the resort room and tickets.) Keep in mind that with the Free Dining promotion, you are paying full price for your resort room.
Free Dining is the most popular promotion that Disney offers its Guests, however, as it has grown in popularity, it's also grown in the difficulty in obtaining it. These discounts have been more and more difficult to snag in the recent past and often features many stipulations.
For example, when booking Free Dining, the level of your dining plan will be determined by which level of resort you have booked. Make sure you know what's being offered to you and make sure it fits your family's vacation desires.
What is the Disney Dining Plan?
The Disney Dining Plan is an optional add-on that only Guests staying at Walt Disney World Resort Hotels can purchase as part of their vacation packages. The Disney Dining Plan allows Guests the opportunity to prepay for your meals, making it so that you don't have to think about how much items are on the menu. You're free to just pick what you're in the mood to eat….so if you want steak every single night….go ahead and get steak every single night.
Also important to know: the Dining Plan is not based on the number of days you have tickets for; instead, it is based on the number of nights you are staying.
What Does This Year's Free Dining Involve?
Guests who stay at a Value or Moderate Resort will receive the Quick Service Dining Plan for free and Guests staying at a Deluxe or Deluxe Villa will receive the regular Disney Dining Plan.
Guests must book a 5 night/6day Magic Your Way package to take advantage of Free Dining.
What Are the Dates for this Year's Free Dining?
This package is available most nights for the following dates:
August 20 through September 29
November 24-27
December 7-23
To take advantage of Free Dining, you must book by July 7.
Have you come across this post after Free Dining was offered for 2018? Here are the historic dates that Disney has offered Free Dining.
Top 7 Free Dining Tips
Ok….so you're here for tips, right? Here are our Top 7 tips for using Free Dining. (Truthfully, most of these tips will work any time you're taking advantage of the Disney Dining Plan.)
Plan Your Restaurants
If you haven't done this yet, (and trust me, you should have already had your Advance Dining Reservations already made in preparation of today), you're going to want to make your reservations ASAP! With Free Dining, the popular restaurants are almost impossible to get reservations for, especially at peak times. If you haven't made your reservations yet, be a little flexible and you may be able to make something happen.
We strongly suggest you take a look at menus to get a general idea of what your family may order before deciding which promotion you should take advantage of.
Be Flexible
Speaking of being flexible, to take advantage of the Free Dining promotion, you must be staying at one of the specific Disney hotels that is eligible for the discount. In addition, with Free Dining, resorts that offer the discount disappear quickly. Have an idea of what hotel you want to stay at, as well as a back up option.
In addition, you may need to be flexible, not only in the resort, but you may also need to be flexible in the days that you're traveling. Free dining isn't offered for all dates in the fall. The more fluid you can be with your vacation, the better chance you have of getting Free Dining.
Don't let Credits go to Waste
One of the most common things that people say about the Dining Plan is that it's so much food! It's easy to just skip a meal and say, I'm too full. Especially when the food is free. But, if you're looking to maximize the free food, make sure that you use all of your credits before midnight on your check out day.
One helpful tip is that at select locations, you can use a counter service credit and convert it to three snack credits. Have a ton of snack credits? Use them for fun Disney treats that you can take home. My favorites are the cookies, candies, fudge, and more that can be picked up in the confectioneries, but there are also the great bagged options too that you may want to consider.
Use Credits Wisely
One of the best ways to use your snack credits are at the Epcot Food and Wine Festival. Free Dining takes place during this popular festival and you can use your snack credits on most of the food items (as well as the non-alcoholic beverages) that the booths offer. Items typically range from $4-$8. This means that if you use your snack credits on the items that are expensive (in that $6-$8 range), you'll get the best value for them.
In addition, you'll want to maximize your credits at Table Service dining locations too. Buffets, especially character buffets, are some of the most expensive meals on Disney property. Therefore, they are some of the best uses of Disney Dining Plan credits.  We have a list of the Best One Table Service Credit Restaurant options to consider.
Make Sure to Get an Alcoholic or Specialty Beverage
New for 2018 is the ability to choose from several new beverage options including non-alcoholic specialty beverages and, for Guests 21 and older, beer, wine and cocktails. If you're looking to get the absolute most out of Free Dining, make sure you grab one of these beverages to round out your Table Service or Counter Service meal.
Free Dining May Be Available For Days That Aren't Listed
While that may be a misleading title, one helpful thing is that for those who are looking to take advantage of this promotion, your whole stay does not have to fall within the promotional period dates, but your stay does have to start within the Free Dining dates. This means that you can have actually had the Free Dining option over holidays like Thanksgiving and Christmas! Kind of cool, huh?
However, this theory doesn't work in the reverse. Say you'll be at Walt Disney World prior to the start of the promotion, but part of your stay does include Free Dining dates. You won't be able to take advantage of Free Dining unless you choose to do what is known as a split stay. Split stays allow you to check out of your first reservation that does not include Free Dining and check back in on the first date of the Free Dining offer, giving you free food for the remainder of your vacation.
Run the Numbers
If you book the Free Dining promotion, you are paying rack rate for the room, which means that you are paying full price for your room, just to be able to save on dining. But, did you know that Disney often releases a Room Only discount at the same time they offer Free Dining? By running the math, you may find out that in reality, it's actually cheaper to book the Room Only discount and then pay for the Disney Dining Plan? If your goal is about saving money, this is the smartest tip I can give you! Make sure you run the numbers to see what really is the best option for your family.
One Secret Tip
The key to receiving Free Dining is to book as soon as the offer is released. That's where our partners at The Magic For Less Travel come in! With Free Dining, since there is a limited amount of availability, this offer tends to go quickly and The Magic For Less Travel agents are on the ball looking for discounts for you as soon as the offer is officially released. Their goal is to get you the best deal possible. Oh and The Magic For Less Travel is a fee free agency. You don't pay them, Disney does!
Our suggestion, for those who want to be in the know about Free Dining release dates is to make sure to sign up for our great free newsletter that lets you know when Disney discounts are released! We'll notify you know as soon as information is released.
If you are looking to book the Free Dining promotion, please consider contacting one of the agents from The Magic For Less Travel. They are a partner of ours and their goal is to get you the best deal possible.  Click to request your no-obligation quote today!

Are you excited about Free Dining? We certainly are!
Did you like this article? Make sure to share it with your friends! Check below for easy ways to share!