This post may contains affiliate links for your convenience. If you make a purchase after clicking a link we may earn a small commission but it won't cost you a penny more! Read our full disclosure policy here.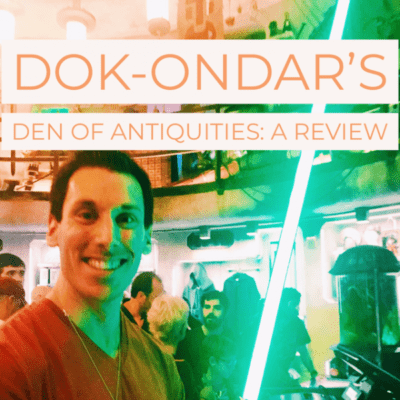 My husband is a big Star Wars fan. I'm talking, sees all the movies the day they come out, has original artwork from the original trilogy, reads all the fan theories, type fan. So when my parents surprised him with a trip to Galaxy's Edge for his 30thbirthday, he was obviously over the moon! I, unfortunately, even with all my Disney wisdom, didn't think to make us any reservations for him to build a Lightsaber at Savi's Workshop, but we luckily stumbled upon the Den of Antiquities, which saved the day!
Mind you, I'm writing this from a non-super-fan perspective, but I got to see it all through my husband's eyes, so I'm using his opinions here! When we got the devastating news that Savi's Workshop had booked up through the next week, we had to act fast to find the next best thing! If you don't need to build your own unique saber (don't worry, we got a reservation for Stuart to build his own during our next trip!) or prefer something authentic to a specific film or character, the Den of Antiquities is a great option.
The Den is located across the road from Ronto Roasters and right next door to Savi's Workshop in a little nondescript storefront; the only reason we stumbled upon it was because we spotted a Cast Member holding up a wait time sign and got curious!
When we arrived, there was a line out the door; said Cast mMember was holding a "60 minute wait" sign; we ended up only having to wait about 30 minutes, which was a great surprise. Upon entering the shop, you'll see Dok, himself, toiling away, occasionally letting his temper get the best of him. You'll also find lots of relics from the Star Wars universe strewn across the work space and hung on the walls, impressive to super-fans and to the rest of us, as well!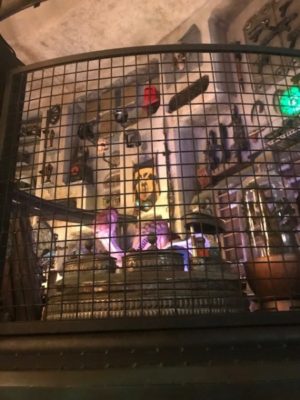 If you're not looking to purchase a Lightsaber, you can skip the line and walk right inside to purchase artwork, uniforms, artifacts, Kyber Crystals, and Holocrons. We, of course, were here for the Legacy Lightsabers, so we stayed in line and waited to create some magic!
During our wait, we were given a "menu" of sorts to help make our decision easier when we approached the display case at Dok-Ondar's. While you can mix and match parts to create a one-of-a-kind saber at Savi's, you select a specific Legacy Lightsaber at Dok's, meaning you can't mix and match here. For instance, Obi-Wan's saber will have it's signature blue blade, no trading for green.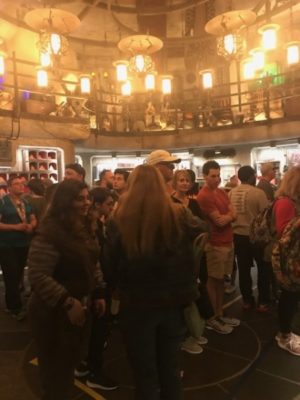 Purchasing Your Saber
When we got to the front of the line of Dok-Ondar's, my husband had a game plan ready, but that doesn't mean he skipped the opportunity to fan out! You're allowed to "test out" the different sabers, so Stuart had to hold Luke's and Obi-Wan's (a real dream for him, if you can't tell by his face!). Since he plans to build a green saber at Savi's during our next visit, he went with Obi-Wan Kenobi's saber. He was given the option of two different blade lengths. We were told that the shorter blade is typically for younglings, and the larger blade for adults, so we went with the latter.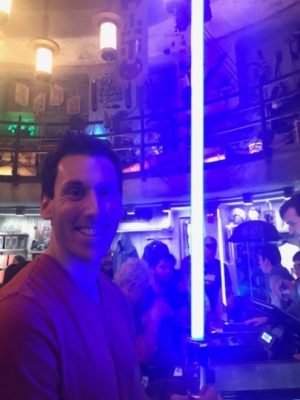 The prices at are listed for the Hilt and the Blade, separately, so if you want to build a complete saber, you'll need to buy both. The Hilts we saw ranged from $129.99 to $139.99, and the blades were $50.00. At Dok-Ondar's, you can also purchase belt clips, hilt stands, and other accessories. If you want to display your saber at home, the hilt stand will only hold, you guessed it, the hilt (not the blade). My husband found a wall mounting kit online for about $10 so he could mount it with the blade for display.
Altogether, my husband's saber was $179.99. He considered it a good value for the product, and felt that it was very well-made. And the process of trying and purchasing the saber is a lot of fun, even for a non-superfan like me!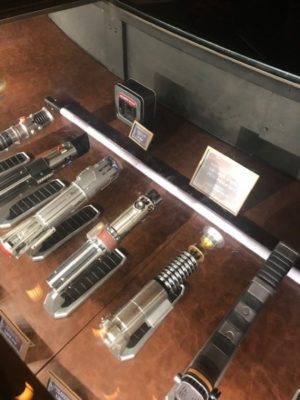 Transporting Your Lightsaber
Since my husband was buying two sabers (one for himself, one for his dad), he decided to have them shipped back to New York City. We asked the Cast Member about transportation options, and were told that you can carry your saber as one of your carry-ons when flying home (it comes in a nice compact carrying case), or could have it shipped. There are ground and air shipping options with price based upon your location and which sabers you purchased. We were told that to get to NYC, ground shipping would take 14-28 business days (yikes), and air shipping would take 2-4. Can you guess which option my Star Wars obsessed husband chose? We were able to ship 2 Obi-Wan lightsabers by air transport for $55. We could've saved about 20 bucks if we were willing to wait for ground shipping, but who wants to do that?!
Overall Thoughts
Overall, we agreed that the experience at Dok-Ondar's was a good one, especially if you don't have a reservation to build your own next door but want to go home with a Lightsaber. The line at Dok-Ondar's was shorter than advertised, the sabers were of high quality, and the experience of "trying out" your new saber was awesome!
Obviously a splurge souvenir, this is the perfect option for someone who wants a Legacy Lightsaber to display at home (and the Cast Member told us that you can actually duel with them, as long as you don't smack it on something too hard, which could bust the light inside). Though we're coming back to design another Lightsaber in the near future, my husband is very excited to own the exact replica of Obi-Wan's saber.
Have you visited Dok-Ondar's Den of Antiquities? What were your thoughts? Let us know in the comments or on Facebook or Twitter!
Did you like this article? Make sure to share it with your friends! Check below for easy ways to share!
Want to visit the Walt Disney World Resort? Contact The Magic for Less Travel for more information and a free, no-obligation quote.

Incoming search terms:
https://www themouseforless com/blog_world/visiting-galaxys-edge-a-review-of-dok-ondars-den-of-antiquities/
dok ondar best souvenirs
dok ondars den of antiquities
dok ondor best souveniers
Dok-Ondar's Den of Antiquities saber menu
galaxys edge dok ondar hilt reciew
legacy lightsaber disney review