This post may contains affiliate links for your convenience. If you make a purchase after clicking a link we may earn a small commission but it won't cost you a penny more! Read our full disclosure policy here.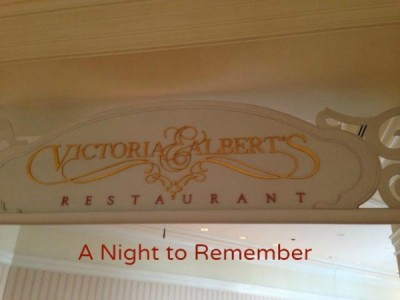 Since we are frequent visitors to Walt Disney World, I am often looking for new/special things to do on our vacations. We recently took a trip during which I would be celebrating a milestone birthday, so I browsed the available dining options for a special meal that my husband and I could share, but could not decide upon anything. A couple of days before we left for Florida, I saw there was an open table at Victoria and Albert's, despite my trepidation that the food may be too fancy, I am so glad I decided to try it. Our dinner was one of the best we've ever had (if not the best).
Victoria and Albert's is located at the Grand Floridian Resort and Spa, which is Walt Disney World's flagship hotel. It is a Victorian themed resort, and has an expansive lobby with comfortable seating and live music. I strongly suggest walking through the lobby and enjoying the ambiance on your way to Victoria and Albert's, because it will help set the mood for your meal.
Once it was time to sit down for our meal, we were met with great service. I was afraid that they might fawn over us, which can get annoying, but they didn't do that. They managed to be on top of everything without interfering with our experience at all. There are small touches to the service which help complete the experience, like a purse hook they brought out to keep my purse safely tucked next to me without the need to hook it on a chair or place it on the ground.
Ambiance in the restaurant is great- much like other "fine" restaurants try to do, but so often get it wrong. The place is well themed and decorated, but not over-the-top. Tables were far enough apart that you felt private, but could still peak to see what was ordered by other people if you wanted. It was quiet, but the harpist came in and played periodically, everything from classical music to current tunes to Disney standards. So even though it could have felt stuffy, it was surprisingly comfortable.
The menu changes slightly from season to season, so these offerings may no longer be available at the time of your visit, but all of them were delicious and some were too phenomenal for words. My husband was especially fond of his scallop dish (he said the best scallop he ever ate) and his lamb was a close second. My favorite was a pasta dish with black truffles, but there was also a chicken salad which looked so simple while being complex and delicious.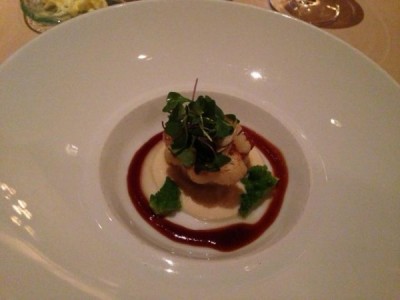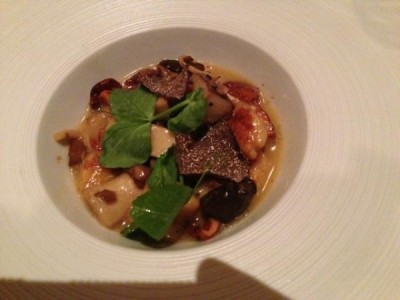 I wanted to try one of the dishes from the vegetarian menu, and the substitution was not a problem at all. The Cast Members also helped me to steer away from items I knew I wouldn't enjoy for personal preferences. Portions were smallish, but there are so many that you will leave completely full. They also bring out bread courses between the regular courses, and all of those were great too.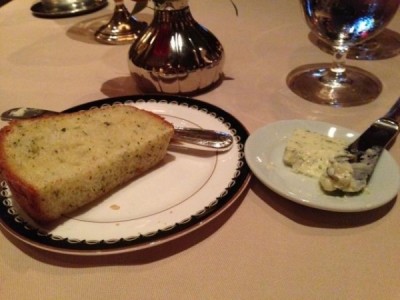 My husband did the wine pairing, but I did not. One of us needed to drive and I knew I couldn't drink that much wine. I had some sips of his though, and all of the wines were great, and complimented each course in an amazing way. They poured each of us some champagne to start, and even though I don't normally like champagne, this one was really good.
They also have an unusual vacuum contraption which makes coffee at the end of your meal. If you are a coffee drinker, you will not want to miss.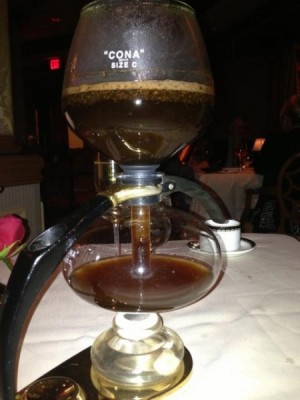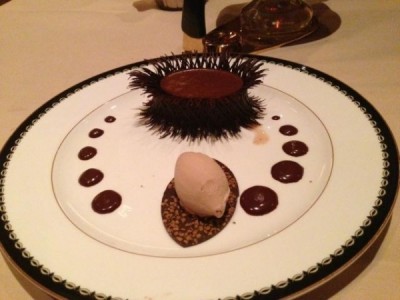 At the end of the meal, they brought out some petite desserts, but we were too stuffed to look at them, so they were boxed up along with a wonderful little loaf of breakfast bread, a fresh cut rose, and our souvenir menus.
Yes, the meal was expensive. We knew this going in and were not surprised by the bill, but I'll tell you that it was worth every cent. I'm so glad we got to try out this restaurant and hope that maybe someday we'll make it back again.
One thing to note: Victoria and Albert's is the only restaurant on Walt Disney World property with a strict dress code and age restrictions. Men must have a jacket (suit or sports coat) and women can wear a neat dress or pants/slacks.  Do not let the dress code deter you, just pack accordingly! This restaurant also has an age limit; guests must be 10 years old and older to dine and we did see a table with children, but they were teenagers/preteens.
Have you ever experienced Victoria and Albert's? What was your favorite dish you tried?