This post may contains affiliate links for your convenience. If you make a purchase after clicking a link we may earn a small commission but it won't cost you a penny more! Read our full disclosure policy here.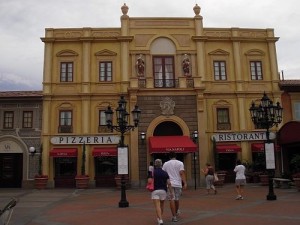 The first part of August brought a new restaurant to Epcot.  Located in Italy you now have another choice for a table service restaurant called Via Napoli.  They're located at the back of Italy just past their other restaurant, Tutto Italia.
As you enter the lobby, you're able to see directly into the restaurant and kitchen due to the glass walls.  Be sure to look up, though, as the chandelier is magnificent with many pieces of glass fruit hanging from it.   While waiting for your table you can watch the chefs at work, twirling their pizza dough like the best of them.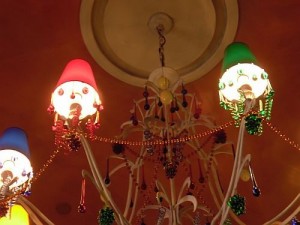 As you enter the restaurant you'll see one very large table in the center, perfect for a large group, or where they might seat you with other families sharing the table.  One side of the restaurant is the open kitchen, where the wall consists of three pizza ovens named Stromboli, Vesuvio and Etna.  Now, I have to say, these are rather creepy to see as they are made to resemble Roman god-like faces.  I could have just done with a regular pizza oven without the faces to go with them.  There is also an outdoor seating area although I didn't see anyone out there so I'm not sure there were using it that day.  It was terribly hot out so I'm not sure it was the place to be anyway.
Via Napoli's specialty is pizza.  They've recreated spring water that is suppose to be very close to water in Italy, which they say is the key to the pizza dough.  They've imported water from a spring in Pennsylvania and added minerals to make it as close to the Italian water as possible.   Their pizza comes in three sizes:  small, large and ½ meter.  It was just my daughter and I, so the server said large was the perfect size for two.  Well, he was wrong—try maybe four.  We had more than enough pizza and if we'd wanted to carry it around we could have had dinner as well.  However, it was excellent and I really wish I could have eaten more.  We had pepperoni, which had a great taste, however, my daughter felt like it was too greasy and used several napkins to blot up the grease.  I might say I can agree with her on that part although it wasn't as bad to me as she seemed to think, I really don't like to see grease standing on top of anything.  Next time I'll just try something other than pepperoni, which I'm sure is what produced said grease.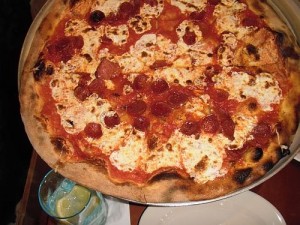 Along with pizza they do offer salads and pasta.  The salad I saw was quite large, so like most restaurants at Disney it's easy to share.  The Spaghetti E Polpettine (spaghetti and meatballs) looked very appetizing as well.  The lasagna looked to be made with penne pasta, which was different, but my daughter thought it looked to be wonderful and wants to try that on a future visit (I'm not a fan, but it did look pretty good).  Of course they have the usual Tiramisu and gelato, as well as a few other desserts, which I would love to try, but will have to do that after a small pizza instead of a large!
Overall, this is a great addition to Epcot.  Right now they're not taking reservations, except for seatings after September 10, so if you're planning on visiting be sure to try out this new addition.  You won't be disappointed!
Go to https://www.themouseforless.com/walt-disney-world/dining/menus/via-napoli-menu/ for an updated menu of Via Napoli.
Incoming search terms:
https://www themouseforless com/blog_world/via-napoli/
https://www themouseforless com/blog_world/via-napoli/#:~:text=Via Napolis specialty is pizza the Italian water as possible
pennsylvania water for via napoli in epcot
cia napoli drinkinf water
disney itsly watee