This post may contains affiliate links for your convenience. If you make a purchase after clicking a link we may earn a small commission but it won't cost you a penny more! Read our full disclosure policy here.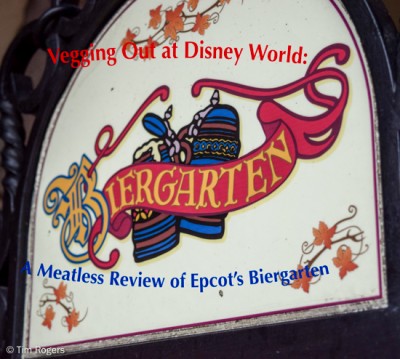 While taking a trip to Walt Disney World, one of the most exciting and interesting parts very well could be the dining. Disney World has a wide variety of restaurants, and quite possibly the epicenter of Disney Dining is Epcot's World Showcase.
This past December, my wife and I had the opportunity to enjoy lunch at the Biergarten in the Germany pavilion. For this meal there are two pieces of context that may be important – first, my wife and I are both vegetarians, and second, we had this meal as a part of the Candlelight Processional package.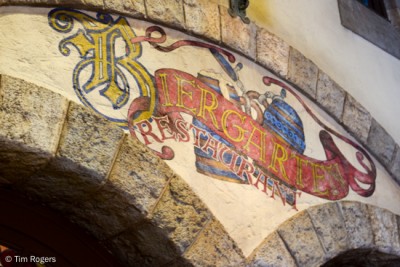 As a vegetarian, and a fairly strict one, I was a little nervous about going to a restaurant that was most notable for its selection of carved meats, and also being able to get a good value out of the fixed price of a buffet and processional package. As it turns out, I didn't need to be worried.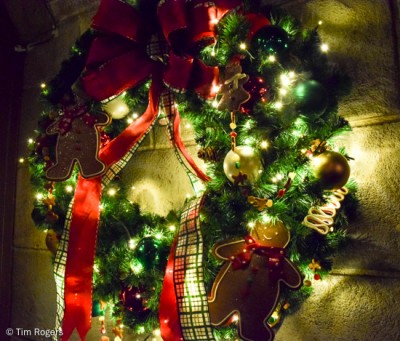 First, the ambience – once you enter the Biergarten restaurant, you are brought to long communal tables. There, you will notice that the whole restaurant is designed to look like you are eating under the stars at Oktoberfest. While the décor is impressive and immersive, a big part of what completes the feel of the Biergarten is the in house band, the Oktoberfest Musikanten. They are a fun group that plays traditional waltzes and polkas, or, in other words, are a great Oompah music group. The only way to see them is to eat at the restaurant, and if you go as a part of the Candlelight Processional you will get two great Christmas shows for the price of one.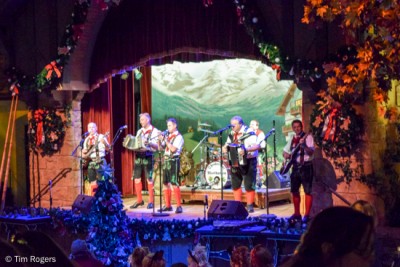 As for the food, let's just say we did not leave hungry. Also, because of a slight miscommunication when we checked in, one of the chef's came out to find us because he thought we had a food allergy (if you did not know, Disney is very responsive to concerns about food allergies). Since we had him there, we let him know we were vegetarians and he pointed out everything we could have, including letting us know that the Beer and Cheese soup was made with chicken broth. I usually avoid soups like this because of how many are made with chicken broth or beef stock, but it was nice to have someone who understood this concern let us know for sure.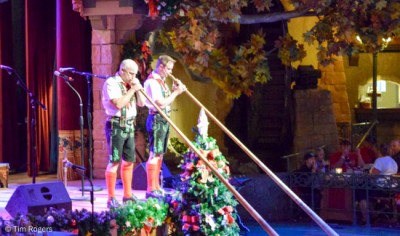 As for what we did eat, the buffets are set up on parallel sides moving toward the middle. The first area consists of cold foods, including all kinds of salads, including tomato salad, potato salad, and cucumber salad, all of which were tasty. In this section was also my wife's favorite part of the entire meal – the pickles. She generally loves pickles, but especially loved these and went back for them several times. Also in this area was the collection of rolls, including pretzel rolls, which I greatly enjoyed.
As I mentioned before, the focus of the hot foods section is generally a selection of meats, but that does not mean that there is a lack of choice for vegetarians. In this section we were able to enjoy roasted potatoes, a selection of cheeses, macaroni and cheese, and my favorite, Spätzle (as an aside, I remember going to the Biergarten with my family when I was growing up, and just eating a huge plate of the Spätzle). The soups also rotate, so while it was not vegetarian friendly when we were there, make sure to check for yourself if you go.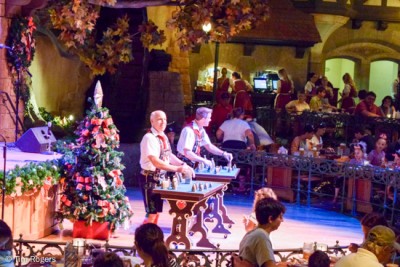 A great part about enjoying buffets is you can sample all of the dessert options, and when we ate at the Biergarten we enjoyed a selection of cakes, strudels, and fruit that was all excellent.
Overall, I was nervous going into a meal at the Biergarten, but I left incredibly full, satisfied, and entertained. A special note though, vegans will likely have a much more challenging time finding a full meal here, so if you are definitely going as a vegan you might want to contact the restaurant in advance to ask about your choices.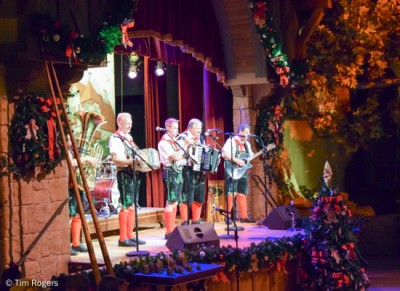 If you will be heading to Disney World this holiday season, the Candlelight Processional dining package reservations have just become available, and some of the narrators have been announced. As it was last year, this year Biergarten is still the least expensive option for the package.
If you are also a vegetarian and want to try out the Biergarten, I would also recommend aiming for a lunch reservation, since dinner is more expensive and the main benefit is additional meat options.
Whenever you go, sit back, fill up, and enjoy the atmosphere at this surprisingly vegetarian accessible gem of the World Showcase.
Have you dined at Biergarten as a vegetarian? What are your thoughts?
Incoming search terms:
https://www themouseforless com/blog_world/vegging-walt-disney-world-meatless-review-epcots-biergarten/