This post may contains affiliate links for your convenience. If you make a purchase after clicking a link we may earn a small commission but it won't cost you a penny more! Read our full disclosure policy here.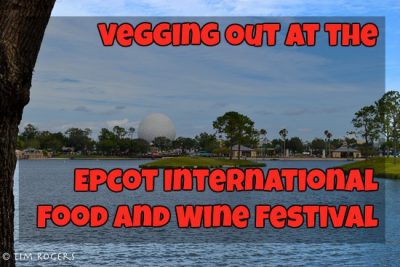 These days, Epcot seems to have a festival almost all the time, but the most excitement often seems to be centered in the fall. The Epcot International Food and Wine Festival is the kind of celebration of culinary delights that only Disney can produce, and since the dates for the 2018 festival have been officially announced (August 30-November 12), I wanted to reflect back on the 2017 festival and my experience going through as a vegetarian.
Last Fall, I had the opportunity to visit the Food and Wine Festival in late October. This was my second time attending the festival, and as with anything at Disney that meant I could revisit some highlights and discover some new favorites.
The first thing I want to say is that, for a variety of scheduling reasons, I was not able to take my own advice and I want to serve as a warning for all of you – I went to the festival on a Saturday. When people tell you that The Epcot Food and Wine Festival is busier on the weekends, they are telling you the truth. We arrived at rope drop, and were able to get a fair amount done then, but once the World Showcase opened around 11:00 a.m. it rapidly began to fill up. As one anecdote, it was my birthday and our group tried to go to Cava del Tequila to celebrate. When we went, the line from Cava went from the location, around the bottom of the room, and all the way up the ramp into the entrance room. And that was just after noon.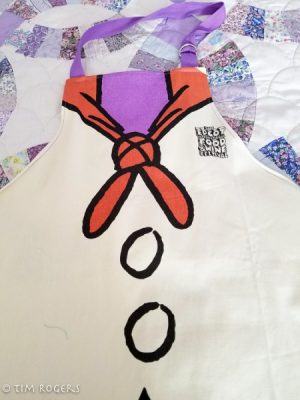 For the Epcot International Food and Wine Festival itself, a few general observations first. One is that the merch was, once again, fun probably due to the full incorporation of Figment. One fairly new thing (at least for me) was that some of the festival merchandise was available on Shop Disney as well. That let me, among other things, get a Figment Food and Wine kitchen apron and not have to worry about where in my luggage it was going to go.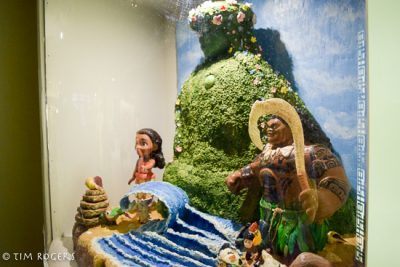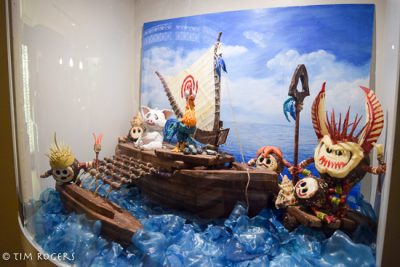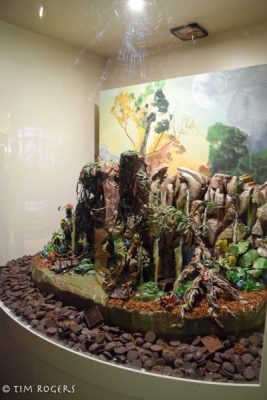 Besides the merch, we didn't spend a ton of time in the festival center since we were not partaking in any of the special tastings or sessions there. However, as always, the chocolate area was definitely a highlight. The chocolate creations made by Disney Cast Members were whimsical and wonderful and are a must see during any festival.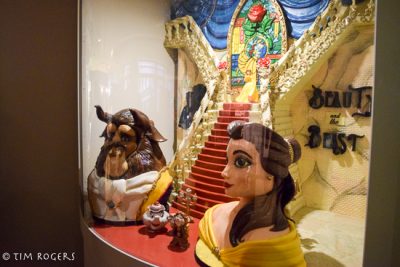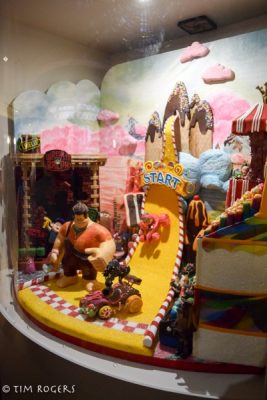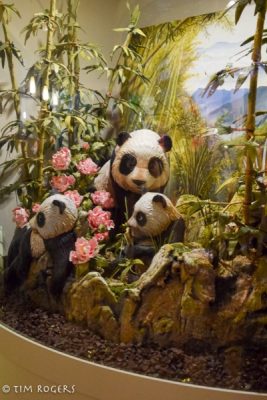 But to the food itself, specifically the kiosks. When I began looking through the kiosks menus ahead of time, I was happy to see vegetarian options marked (since sometimes the inclusion of meat is not obvious) but also noticed that the most plentiful vegetarian options were desserts. While going through and tasting around the world was great and filling for the one meal period we tried, I'm not sure how many more meals we could have put together (whereas meat eaters had food for days). The festival is definitely worth doing as a vegetarian, and as you will see the food options were unique and tasty, but if you have never been before and hear that you need to spend multiple days to get everything, you should take that with a grain pink Himalayan Sea Salt.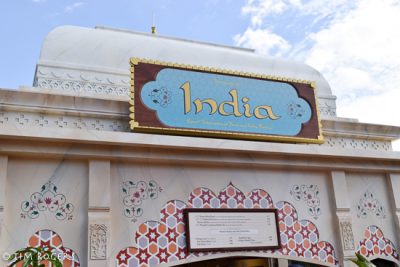 The first country we visited was India, a new (to me) country making a reappearance after many years. When I think of interesting vegetarian food, one of the first things that comes to my mind is Indian food, and this booth lived up to that.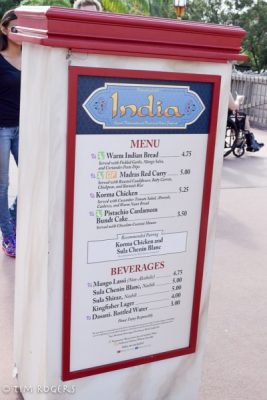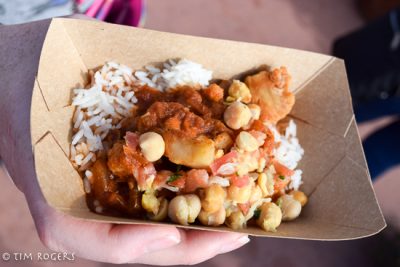 Normally I would be the first in line for the Warm Indian Bread, but since we knew we were heading over to Sanaa later that day, I resisted and just got the Madras Red Curry. It was flavorful, tasty, and had just the right amount of spice. Definitely a great start to our culinary journey.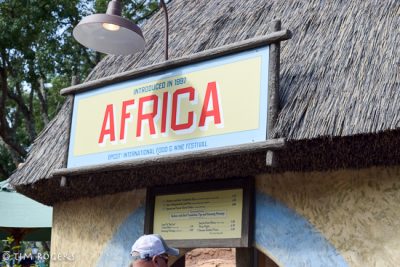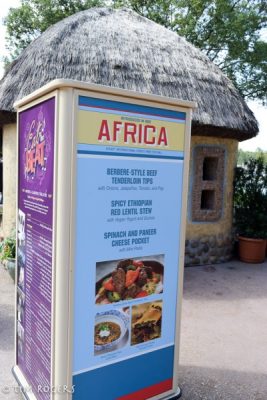 Next stop was Africa, where we got the Spinach and Paneer Cheese Pocket. This was easily one of the favorite things I had, and was kind of like if you took spanakopita (something I also enjoy) and made it more interesting in a few different ways.
We then traveled to Morocco to partake in the Spicy Hummus Fries. Now when I saw this item I was probably envisioning something like French fries piled with hummus and other such things, but that is not what this was. They were little blocks that were very close to falafel. Tasted good, just not what I was expecting.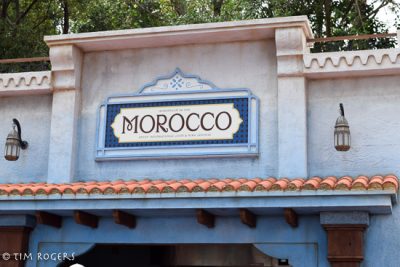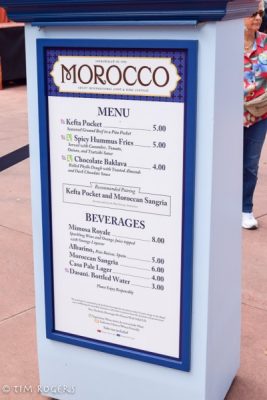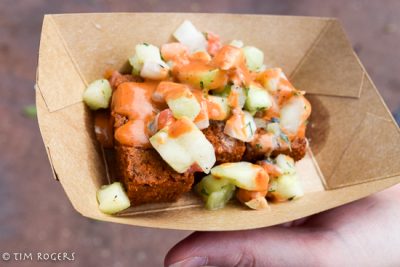 Closer to Future World, we went over to the Wine and Dine Studio. The Trio of Artisan Cheese here was paired well with things like honey and jam, and was a great variety of flavors.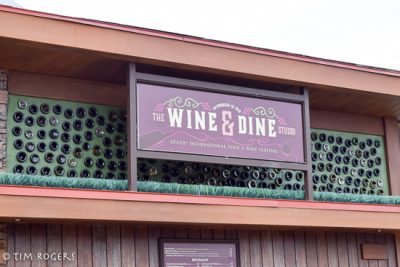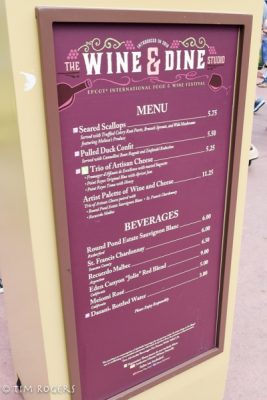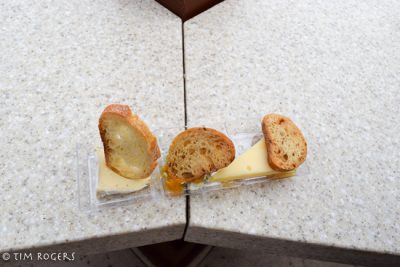 28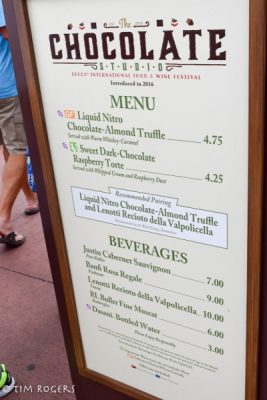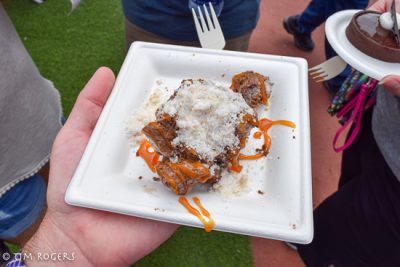 This dessert is inventive, flavorful, and delicious. My wife tried out the Sweet Dark Chocolate Raspberry Torte. I don't like raspberry so I just tried a little of the chocolate on the side, which was delicious, but she really enjoyed the dish as a whole.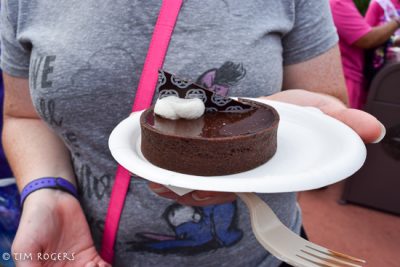 As we look forward to this year's Food and Wine Festival, may this be just a Disney Dining Plan eligible taste of what you might have in store (this year I didn't even get to the Brazilian Cheese Bread or the Ricotta and Zucchini Ravioli, two favorites from before). Because out of the 35 booths that took part last year, this is just five of them, letting us feel like we got a full and interesting day and meal, but leaving much of the world to still explore yourself.
Are you a vegetarian who's visited the Epcot International Food and Wine Festival? What have you enjoyed in the past? In addition, share your tips for enjoying the festival in the comments. 
Did you like this article? Make sure to share it with your friends! Check below for easy ways to share!